Miniature Pot-Bellied Pig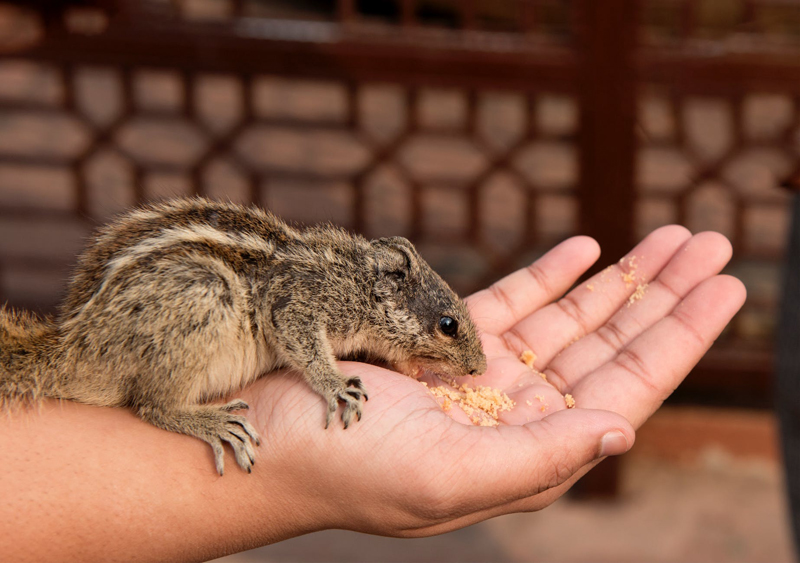 The Miniature Pot-Bellied Pig or pot bellied pig is intelligent, clean, affectionate, playful, easily trained and odor free. The Miniature Pot-Bellied Pig is a victim of the exotic animal fad problem. A 150 pound animal is not easily gotten rid of. Most shelters will not take pigs. Many pig rescue groups have attempted to fill the need for these unloved and abandoned pets. I cannot think of a nice way to put this, but many of these unwanted pets end up in the icebox.
The Miniature Pot-Bellied Pig first entered the pet industry here in the United States in 1985. They originated from Vietnam and China. They quickly became popular. Many families that have a pet pig love their pig and would never part with them. I can certainly see why after seeing how affectionate and smart they are. They are very easily trainable. They quickly become part of the family. They will live in your house and sleep with you in your bed.
A miniature pig is a wonderful animal they do have a few drawbacks as pets. If you allow them to live in the house with you be prepared to live with some destruction. You know that silk blouse you just bought? The pig redesigned it for you. Remember the food that used to be in the refrigerator? It has been relocated. They have a never-ending quest for food. They have strong rooting instincts. A good way to satisfy these instincts is to give him a place to satisfy these rooting urges. A place in the yard that can be his own to dig up as he pleases.
Another drawback of the pig being a pet, most pigs do not bite; however, there are some that are going to bite. They have very sharp canine teeth and very powerful jaws that can inflict very serious damage. If you have children, or are, ever planning to have a child in the next 18 to 20 years a Miniature Pot-Bellied Pig is not a good choice as a pet. If you do have children supervise the child and pig 100% of the time.
Purchasing a pig
Before you even look around and take the chance of falling in love with a sweet little piglet. Think about where you are going to keep this animal. Are you planning to keep him in the house? Now, please imagine a 150-lb animal sitting in the recliner. He will be getting into your stuff and tearing it to shreds.
Do you have a safe place in the yard to keep him? The proper temperature for a pig is seventy degrees. If you build a pen for the pig, it will need to be of adequate size. The pen will also need a heat source to keep the temperature above 70 degrees. The pig will have to be kept cool if the weather gets warm. Pigs do not perspire and need to cool off with water. This is why through the ages pigs have been depicted as wallowing in mud. They need to cool off. If it gets cool out they need a warm place to sleep and live. He could live in an extra bedroom with a litter box. If he lives in the house, he will need a pool outside to cool down in. There are many things to consider!
Toilet Training
Pigs can be trained to eliminate outside or they can be trained to use a litter box. I just as soon not clean a litter pan of a 150-lb animal. It is a good idea to train them to do one or the other so they do not become confused. Most likely, they will catch on to using both methods on their own.
When you first bring your pet pig home, confine him to a small area. Take him outside frequently, at least every couple of hours and after eating and waking up. When he does go, praise him, and tell him what a good piggy he is. This will establish a routine and he will quickly catch on. Never punish your pig. When he has an accident and you catch him in the act, gently scold him by saying no and take him outside. Clean the soiled area with vinegar or a pet stain and odor remover so he does not return to that spot again because of the odor.
Nutrition
There is commercially prepared Miniature Pot-Bellied Pig food available. Feed this along with vegetables and fruits. Pigs like humans enjoy variety. Make sure he has plenty of fresh water available to him at all times.
Grooming
Miniature Pot-Bellied Pig does not need a bath very frequently. Their skin has a tendency to dry out and is sensitive. Use a mild shampoo. They should be brushed everyday with a soft bristle brush. This is also an excellent time to bond with him. They do need to have their hooves trimmed on a regular basis. Male pigs have husks; these will need to be trimmed also.
Vaccinations
There are several vaccinations your pig will need. At six weeks of age, he will need an atrophic rhinitis, erysipelas, leptospirosis, and transmissible gastroentertis. The pig will have to receive booster shots again at nine weeks and six months. Then the boosters will be needed once a year.
Legal Issues
This could be a potential problem. Many areas consider the Miniature Pot-Bellied Pig as livestock. If your are is not zoned for livestock your out of luck. Check on the regulations before you consider a purchase.
Summary
Pigs are intelligent and can make a wonderful pet for some people. They can become an entertaining and a very loving pet. Many people mistakenly think of the Miniature Pot-Bellied Pig as a small pig. Only when they are babies! The average weight of a miniature pig is 125 lbs. Pigs are sensitive but can also be very stubborn and headstrong. They also become bored and very destructive. Pigs can become territorial and become quite aggressive.
It is important to know the many downfalls as well as the advantages. Exotic pets often are not what people expect and quickly become bored and disillusioned with their pet. If you are interested in purchasing a Miniature Pot-Bellied Pig, please do a complete job of researching this animal. Above all else enjoy your pot bellied pig!
Anytime you are considering an exotic pet, or any pet for that matter, you truly need to know as much as possible about the pet. My articles are brief overviews of the pet. There are a number of books on the market that claim authority about the animal. It takes diligence to weed out the bad to mediocre books to find the book or books that will help you the most.
Pot-Bellied Pet Pigs: Mini-Pig Care And Training
Pot Bellies and Other Miniature Pigs (Complete Pet Owner's Manual)


Subscribe free to the exotic pets newsletter. It is quick and easy Just glance to the right or scroll a bit to the bottom and subscribe. I will only bug you once a week :) Be the first to be in the know! Your information is always private!

I am also the Bird editor if you enjoy pet birds subscribe to the Birds newsletter. Birds BellaOnline





Diana Geiger Exotic Pets Editoron
This site needs an editor - click to learn more!

You Should Also Read:
Exotic Pet Site Map
Ferrets - A Complete Guide Paperback and Kindle
Exotic Pet Shopping




Related Articles
Editor's Picks Articles
Top Ten Articles
Previous Features
Site Map





Content copyright © 2021 by Diana Geiger. All rights reserved.
This content was written by Diana Geiger. If you wish to use this content in any manner, you need written permission. Contact BellaOnline Administration for details.