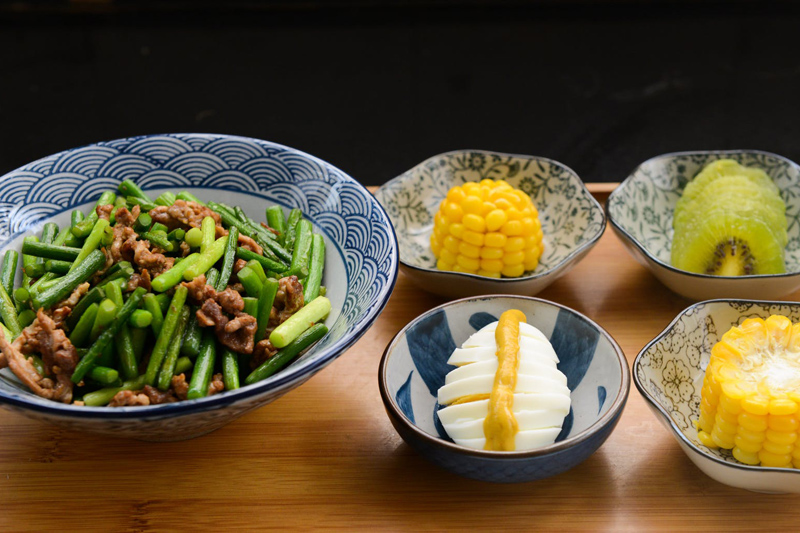 Ma Po, which when translated means pocked marked old lady, is a delicious tofu dish! Legend has it that an old pocked marked face lady invented this dish and sold it to travelers passing by her home. The dish consisted of mainly tofu and ground meat swimming in a very spicy Szechuan sauce. Today, there are many different versions of Ma Po Tofu. Most of them are not nearly as spicy as the original and have varying meats and beans added as well.
Below is my version of Ma Po tofu in which I use a chili garlic sauce and a black bean sauce both made by Lee Kum Kee. These sauces are what give this dish it's traditional "Ma Po" spicy bean flavor. Both sauces are usually found at your local grocery store in the ethnic section or at your oriental grocer. I also use a can of sweet peas which gives this dish a unique texture. Some recipes call for black beans, water chestnuts, and spicy Szechwan pepper. I've tried to make this a simple, delicious, and not too spicy dish so that everyone can enjoy the flavor. Please feel free to experiment at home by adding extra spice or vegetables as you see fit. Remember the best part about cooking is that you are creating from your heart! Enjoy!
1 14oz pkg firm tofu
½ lb ground pork
1 tsp chopped garlic (pre-chopped garlic in a jar is great for this!)
1 tsp ground ginger
2 tbsp peanut oil
1 tsp salt
1 cup chicken broth
1 tsp chili garlic sauce
1 ½ tsp black bean sauce
1 tbsp soy
1 15oz can sweet peas
1 tbsp cornstarch
When opening the tofu, the easiest way is to do it over the sink. The tofu is packed in water, and I don't know how many times I have spilled that water trying to open the package. Take the tofu out and blot it with paper towels. Then cut it into ¼ inch cubes and set aside.


In a large non-tick pot or wok heat 2 tbsp peanut oil on medium high.


Add the garlic and slightly brown. Then add the pork and ground ginger. Using a fork or spatula, break up the pork into the tiniest pieces possible and cook until brown.


To the pork, add the chicken broth, chili garlic sauce, black bean sauce, and soy.


Open and drain the sweet peas. Slowly add the peas and tofu and bring to a boil.


In a separate cups mix together 1 tbsp cornstarch and a little hot water. Then add the mixture to the pot and stir until thick.


Serve in bowls. Makes about 4 servings.


Related Articles
Editor's Picks Articles
Top Ten Articles
Previous Features
Site Map





Content copyright © 2019 by Lila Voo. All rights reserved.
This content was written by Lila Voo. If you wish to use this content in any manner, you need written permission. Contact Lila Voo for details.