I was recently given the
Corolle Tidoo Bath Baby
as a gift - thank-you, Susan, and from the moment I opened the box I have been delighted with her. She has a very sweet face with a touch of color and slight gloss on her lips and sleep eyes with lashes. As you can see in the photo, she can suck her thumb, which is an adorable touch in a baby doll.
She has a nice fragrance to her that seems to me like a cross between vanilla and baby powder, but for those of you that don't like fragrance in dolls, it is very mild.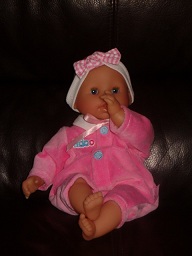 Tidoo
is a 12 inch doll that is part of a line of dolls intended for children 18 months and older. She is a good size for little hands to hold and little arms to hug. In the interest of safety, her clothes have
velcro
closures. Her pajamas are made of soft velour and are loose enough to make it easy for little ones to take them off and put them on again. She also comes with her headband and a washcloth.
Tidoo
has a soft cloth body and vinyl head, arms and legs. Since she is intended to be able to bathe with her new friend, she comes with instructions for drying her, and a little loop at the back of her neck to hang her up to dry on.
My doll is the
Tidoo Suce Pouce in Pajamas
, she is also available in Strawberry, Sorbet and Graceful. I highly recommend this doll for doll lovers of all ages.
Making and Dressing Cloth Dolls
Ebook with patterns and instructions to make 5 cloth dolls as well as chapters on general doll making techniques.The book includes 21 inch Lalena Doll, 21 inch David Doll, Bear Dolls, 9 inch Destiny Doll and 15 inch Annie Doll, all together in one handy book. 53 pages.
Making and Dressing Cloth Dolls
.
The most popular dress on the Doll Making Site, The Spring Dress for 18 Inch Dolls, is included as well as 5 other outfits, underwear, and accessories such as jewelry, a bag, a knitted hat and scarf, and the new scrub suit. There are also patterns for slender Magic Attic type dolls as well as full-bodied American Girl dolls and an antique Saucy Walker doll from the 1950's.
If you love 18 inch dolls, and want a collection of patterns for a wardrobe, all in one handy Ebook, this is for you! All these patterns are available on the Doll Making site, but I have brought them all together in one book for ease of finding and using them.
Make Clothes for 18 Inch Dolls
.