It is Germany's children who bring light and music to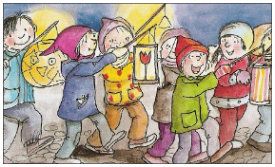 those early winter evenings when darkness is highlighted only by street lights, or stars on cloudless nights. Because November 11th is
Sankt Martinstag
,
St. Martin's Day
. The feast day for St. Martin of Tours and celebrated with a lantern walk.
In procession, usually following behind
St. Martin
in his Roman soldier's uniform and riding "Shimmel" a white horse, they carry illuminated, often self-made,
decorated paper lanterns
while singing traditional songs, and one of the most popular is:
Ich Geh' Mit Meiner Laterne
, and it also has the rest of the verses:



Ich geh' mit meiner Laterne
Und meine Laterne mit mir.
Da oben leuchten die Sterne
und unten da leuchten wir.


I'm walking with my lantern
and my lantern walks with me.
There above, the stars shine,
And we shine here below.

But who was St. Martin? Born around 316 AD, the son of a Tribune in a Roman army unit in present day Hungary, at 15 he had to join the Roman army. Legend has it that three years later, while riding through the gates of Amiens in a snow storm, he saw a starving beggar with little to protect him from the icy temperature, so with his sword he cut his cloak in two and gave one half to the freezing man.
As he slept that night St. Martin had a dream in which
Christ appeared to him as the beggar, saying to the angels around him,
Here is Martin, the Roman soldier who is not baptized, he has clothed me
.
Not long after this dream Martin decided that a soldier's life of fighting and killing was not one he wanted to follow, he became a baptized Christian and successful missionary, and the remains of his cloak, in Latin "cappa", was kept as a sacred relic in a building called a "cappella", the origin of our present day words chaplain and chapel.
Unlike the saints before him St. Martin was not a martyr, and over the years has become the patron saint of quite a mixture including
France, Beggars, Soldiers, Innkeepers, Alcoholics, Winegrowers, Tailors, Equestrians, Animals
, and
Geese
.
Until his death from old age, in November 397 AD, he was a much loved and exemplary man who lived a simple compassionate life, although against his wishes he had been made the Bishop of Tours in Gaul which is now France.
One of the legends which surround him is that it was the cries of geese, in a barn where he was hiding from those who wanted him to accept the Tours bishopric, which led to his being found.
The first goose of the season, a St. Martin's goose,
die Martinsgans
, has been the day's traditional meal for centuries. However that was because the geese were ready for harvesting, their feathers useful for winter pillows and bed covers, and the fat suitable for everything from soothing seasonal chilblains and sore throats to cooking.
Not because of any vendetta St. Martin had against the cackling geese who had supposedly given away his hiding place.
Despite most Protestant churches not recognizing saints, St. Martin's colorful lantern procession tradition has been widespread throughout Protestant areas of Germany for generations, with most processions ending alongside a large bonfire with lanterns which probably no longer glow, unless they are battery powered or have been fed with a steady supply of tea lights or fresh candles, but nevertheless with songs still ringing out through the air.
And there a
St. Martin Weckmann
, a sweet yeast dough "Bread Man" with raisin eyes and a clay pipe, together with an inviting cup of hot chocolate, or some
Gluewein, heated mulled wine
for the grownups, are waiting to warm up a cool November night. Some children will go around later in small groups, singing from door to door to be rewarded for the originality and attractiveness of their lanterns, as well of course of their singing, with fruit, nuts and candy amongst other treats.
Beginning in France the St. Martin's Day tradition spread across Europe where, as the Christian Church set Christian holidays and celebrations at the same times as former pagan festivities, it took the place of the pagan early winter light and fertility festivities celebrating the end of the harvest and winter seeding season and beginning of winter. As this was a time when many animals were slaughtered, these were real feasts.
However St. Martin did die on the 8th November and was buried on the 11th. The date
Martinmas
, the celebration of his life, begins at the eleventh minute of the eleventh hour of the eleventh day of the eleventh month,
11:11
at
11:11
am, when many people attend the church services held in his honor.
It is just one of Germany's customs and traditions which take place that day, as at exactly the same time the preparations for the following year's
Karnaval, Fasching or Fastnacht,
, the name depending on the region, officially begin.
For the rest of Europe it marks
Armistice
or
Remembrance Day
, with its two-minute silence in memory of those who died fighting wars and commemorating the precise moment the first world war's cease fire took effect, while in the USA it is
Veterans Day
.
A St. Martin's Day tradition with few devotees these days is the
strict Advent Fast which used to begin the next day, making it the last chance to have a rich and hearty meal for the forty days until
Christmas
.
But for generations of happy children with their lanterns, St. Martin's Day, and the 11th November, is just the culmination of weeks of excited anticipation, and an enjoyable celebration which brightens those first dark winter evenings.
El Greco oil on linen painting of Saint Martin and the Beggar, currently in National Gallery of German Art, Washington DC, St. Martin Procession Bonfire, photo Die Zuckerschnute, courtesy de.Wikipedia, "Ich geh' mit mein Laterne" clip - courtesy Zeit.de
For topics in the news

And you can follow German Culture on Facebook
Here is a St. Martin's Lantern imported from Germany, which features St. Martin on Shimmel his horse helping the starving beggar
And here a smiling sun design on another St. Martin's Lantern from Germany