Talk About Ups and Downs!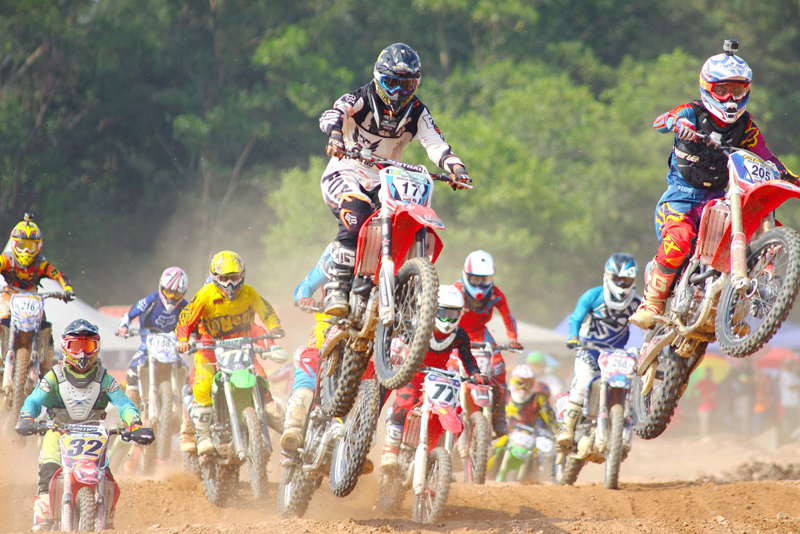 Talk about ups and downs! I don't think even Brian France could have anticipated that there would be less than 100 points separating the top eight drivers in the Chase with only four races to go. We certainly couldn't complain that the Subway 500 from Martinsville this past week wasn't exciting. In fact, it was nail-biting until the very last lap with rookie Denny Hamlin bearing down on Jimmie Johnson more with every restart during the last few laps. He almost got him with five laps to go, and it almost looked like it was going to be a replay of Talladega with the two leaders taking each other out as they bumped and traded paint for those last five laps. Hamlin had to settle for second as Johnson raced to the checkered flag.

"I'm just happy to finish where we should have," said Johnson, "We've been running up front the last three of four races and haven't been able to close the deal. [Sunday] we did." In fact, not only did he close the deal, but thanks in part to the bad luck of Jeff Burton, who had an engine failure, he was able to move up in the standings by four positions, to 3rd place. Burton's 42nd place finish dropped him from having the Chase lead down to fourth place and also gave every other driver in the Chase a points gain on him. Matt Kenseth overtook the lead, and Kevin Harvick is now 36 points back in 2nd. Johnson's win puts him a mere 41 points out of the lead, and with the way that his team has been performing for the last few weeks, I'm sure that thoughts of actually winning the Championship are back in their thoughts. Every driver except Kasey Kahne changed positions, and although still in 8th place, he is now only 99 points out of the lead.

Now that the season is winding down, the rookies are now more like seasoned veterans, at least compared to the pre-rookies. David Ragan, who has been chosen by Jack Roush to take over driving Mark Martin's car next season, is a pre-rookie that needs all the track time that he can get, but maybe he needs a few less cars on the track with him. At Martinsville, he was involved in three different crashes that were caused by him, and one where he was the victim. He took out Travis Kvapil on lap 242 and Kyle Busch on lap 447. The worst however, was on lap 331 when he sent Ken Schrader flying into the wall. Schrader was understandably upset, and for a few moments, looked as though he was going to retaliate as he picked up a piece of his battered car. He kept his composure and threw the piece of his car into his own pit. Schrader had been having an excellent day, and was in the top ten when the assault occurred. "I moved him earlier because you can't run like that two laps down," Schrader said. "Got back around him and he paid me back for moving him, but he was two laps down." Ragan has been very remorseful and is admitting fault, which is at least a good quality for the young driver. "I just flat-out overdrove it into [Turn] 1," Ragan said. "Locked up the brakes. That was totally my fault." Stewart had a good view of the event, but thankfully wasn't caught up in the carnage. "The best thing would have been to black-flag [Ragan] and park him for the rest of the day and save half of the cautions," Stewart said. "We had a rookie out there that was kind of a dart with no feathers out there." I'm sure there are many drivers out there who are thankful that Ragan wasn't approved to drive in Atlanta this week.

Johnson was able to celebrate what the commentators call 'The Emotional' win. Of course we were reminded of this ad nauseam once Johnson took the lead. As we all remember, two years ago, the plane carrying ten members of the Hendrick organization, including the brother, son, and nieces of Rick Hendrick crashed on the way to the Martinsville track. It was a tragedy that touched all in NASCAR, and is certainly an event that should be acknowledged and grieved. However, since the crash there have been 19 wins by a Hendrick driver, and each and every one of them has been called an emotional win. In fact, anytime that a Hendrick driver has taken the lead in any race since that time, we have been reminded of this tragedy. I don't want to come off sounding cold and callous about this, but there is a time and place for it. Actually, Martinsville was the perfect time and place, since it was the anniversary of the tragedy, however, hearing about it for the entire race, and every single time that a Hendrick driver wins any race, or gets the lead in any race really gets to the point that you want to hear about anything else, like maybe the race that is happening at the time. My question is, would we have heard about how emotional it would have been if Tony Stewart had won? His close friend and helicopter pilot, Scott Lathram was also on that plane. Somehow I don't think it would have been discussed nearly as much. Perhaps one of these days, we can revisit tracks where we are reminded of tragedies in a way that is respectful without making it the sole focus of the race. It would be nice in the future if the commentators would focus on the race at hand and not so much on the tragedies of the past. Johnson had an incredible win, emotional or not, and I for one, think it would have been much better to focus on that.

We are now headed to Atlanta for the Bass Pro Shop 500. Being such a fast track, once again, I am expecting the unexpected and perhaps another shake up in the points standings.

As always, I've enjoyed your e-mails this week, many of you that wrote in are very animated and anticipating a great finish to the season. Keep letting me know how you feel!

Til next week....
This site needs an editor - click to learn more!


Related Articles
Editor's Picks Articles
Top Ten Articles
Previous Features
Site Map





Content copyright © 2022 by De Powell. All rights reserved.
This content was written by De Powell. If you wish to use this content in any manner, you need written permission. Contact BellaOnline Administration for details.