How Do You Get Attention if You Aren't a Chase Driver?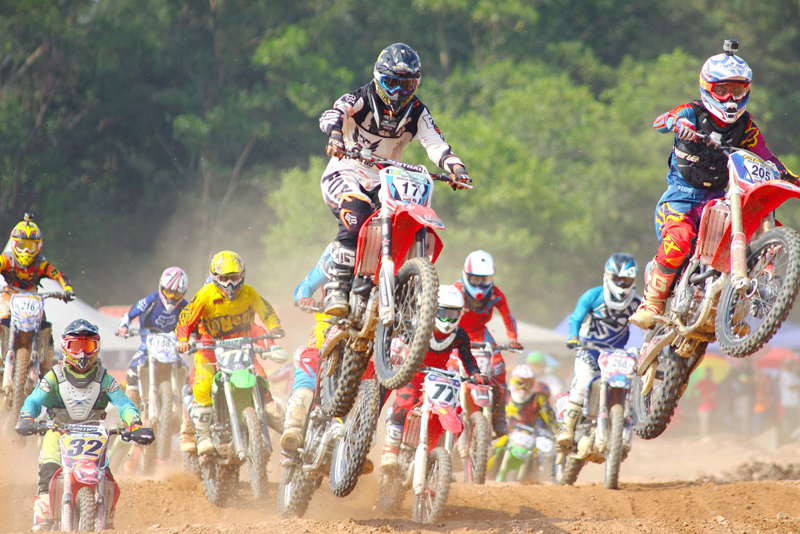 How do you get attention if you aren't a Chase driver? You not only win the race, but you dominate it just as Tony Stewart did this past weekend at the Bass Pro Shops 500 from Atlanta. Being out of the Chase has certainly not slowed Stewart down! Stewart held off Jimmie Johnson to get his fourth victory of the season, and his second win during the Chase. An exuberant Stewart leapt out of his car and did his now traditional fence climb after leading a dominating 146 laps. With every spectacular finish, he gets closer to that million dollar prize for finishing in eleventh place. With only 3 races left in the season, he now has nearly a 300 point lead over Carl Edwards.

There are still many that think Old School. Using the old points system, Stewart's win would have put him in fourth place, whereas with the new Chase format, the best he can finish is eleventh, even if he wins all of the remaining races. Even though it has been stated that the points system is going to change somewhat next season, it won't change anything this year. I'm still hoping that they will start rewarding winning to the degree that a poor finish is now devastating.

It seems as though we can't go a single week without some type of controversy out on the track, and this past week was no different. No matter when they are thrown, caution flags can be a great advantage to some drivers while being the total downfall of others. Debris cautions tend to be the ones that cause the most controversy. There are times when the cameras will focus on the debris, but sometimes they don't. This week, they showed the debris that brought out the caution that saved Dale Earnhardt, Jr. from going a lap down. So, unlike many of those that scream conspiracy every time that something happens that benefits him, this was a caution that needed to be made. The piece of debris was shown and it looked like something that could cause damage to any of the cars on the track.

However, the intentional caution that came on lap 291 was another story. When the cameras focused on the debris, it showed a piece of rollbar padding. There is really only one way for something like that to appear on the track, and that way is via the window, by manual propulsion. In other words, it was thrown. The big question is, who threw it? Thanks to technology and many cameras, it wasn't hard to find a suspect. The padding appeared to come from the car of Robby Gordon, who was the Lucky Dog from that caution, and thanks to that caution, he finished in tenth for the race. So, due to motive, means, opportunity, and benefit, as well as video evidence, Gordon was found by NASCAR to be guilty of intentionally causing a caution, which carries a hefty penalty. He was fined $15,000 and docked 50 driver points as well as 50 owner points. His crew chief was also fined $10,000 and both were placed on probation for the remainder of the year. Immediately following the race, the commentators confronted Gordon and showed him the video evidence, but he denied any wrongdoing. "I definitely did not throw anything out of the window," Gordon said. "We began a thorough review of this situation on Monday," NASCAR's Kerry Tharp said Wednesday. "The further we got along in the process the more conclusive it became that a violation been committed. It is a very serious matter when a team attempts to manipulate the outcome of a race."

The unlucky recipient of that caution was Chase driver Jeff Burton, who had really needed a long green flag run. Burton had to pit early and needed the other drivers to also make green flag pit stops to get back on the lead lap. This caution caused him to be caught a lap down, and he wasn't able to recover his position, finishing in 13th, 84 points away from leader Matt Kenseth. Burton was understandably upset, and he was quite possibly the reason that NASCAR investigated this event so thoroughly. "It's ridiculous. It happens too often and NASCAR gets on everybody when they do it. They need to figure out who did it and penalize them. We were going to be OK and they threw the caution for a piece of roll-bar padding," Burton said. "They ought to stop every car on pit road, and they ought to check every car. It had a huge impact on the race, and NASCAR needs to put a stop to it." Gordon plans to appeal the decision, but unfortunately, it won't change the outcome for Burton. It is sad when others suffer because someone felt compelled to cheat. I for one, think that NASCAR should continue making each incident of cheating harsher than the one before. Maybe that would put a stop to it.

This week we are heading to Texas for the Dickies 500. Every race in the Chase has shaken up the points standings for the Chase drivers and this one will probably be no different. As the season winds down, anticipation and even desperation could put the top drivers into an 'anything goes' mode. No matter what happens, it should be exciting, and I am looking forward to a great race.

Thanks for your e-mails this week! There were a few of you that were quite vocal about your disagreements with me, but that's one of the great things about NASCAR. We can agree to disagree sometimes. Keep letting me know what you think by e-mailing me at letsgoracin8820@yahoo.com or visit my website at www.bellaonline.com/NASCAR

Til next week....
This site needs an editor - click to learn more!


Related Articles
Editor's Picks Articles
Top Ten Articles
Previous Features
Site Map





Content copyright © 2022 by De Powell. All rights reserved.
This content was written by De Powell. If you wish to use this content in any manner, you need written permission. Contact BellaOnline Administration for details.