Colored eggs and rabbits play a large part in an
Ostern in Deutschland
, Easter in Germany, together with many other religious, secular and folk traditions and customs. While Good Friday and Easter Monday, which were originally "free days" for workers so they could attend church services, are public holidays throughout the country.
Palm Sunday,
Palmsonntag
, the Sunday before Easter and beginning of
Karwoche
, Holy Week, is a time
for young people to take their first communion. Often combined with church parades in towns and villages that symbolize the journey made by Jesus as he rode a donkey along palm branch covered roads to Jerusalem. A poignant sight.
Processions led by priests and choirs, young and old, fit pushing the infirm in wheelchairs, families, children in baby carriages and babes in arms, singing and carrying
Palmbuschen
, decorated pussy-willow bouquets, in lieu of difficult to find palm branches, which will be blessed during the morning church service.
This blessing was believed to give Palm Bouquets protective qualities, as well as being a sign of protection for the home and family until Ash Wednesday of the following year. They are also often the first Easter decorations in a home.
The Thursday is Maundy Thursday,
Gruendonnerstag
Green Thursday, celebrated since the 13th century and originally with no connection to green but stemming from an old German word,
greinen
to groan, mourn or weep, because it commemorated the Last Supper and the betrayal by Judas.
Over time this association was lost, and been replaced by "green" as the color of hope and symbol for the awaking of nature after the winter.
Homes are cleaned and decorated with green branches or ornaments, while green food, green vegetables: spinach, beans, broccoli, leeks with chives and other herbs, make up the meals of the day. Popular ones are
Gruene Bohnensuppe
, Green Bean Soup, and
Sieben Kraeuter Suppe
, Seven Herb Soup, because of a custom based on an old superstition that green foods eaten on
Gruendonnerstag
give protection for the rest of the year.
Good Friday
Karfreitag
is from
kara
- "care",
Caring Friday
, and the week after Palm Sunday, Holy Week, is known as Karwoche "Caring Week" in Germany. Monday, Tuesday and Wednesday used to be dedicated to an account from the bible, but now only Friday is marked by a special liturgy, a day of remembrance for the crucifixion, with church services and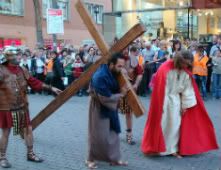 religious processions.
Including the
Kreuzwegandacht
, which is a walk in prayer along the 15
Stations of the Cross
usually held at 3 p.m. The time it is said Jesus died on the cross.
No church bells are rung and children are told they have flown to Rome to be blessed.
Fish is usually on the menu on Good Friday, and it could be anything from herring salad or fish soup to an extravagant fish terrine.
In many areas the bakers mark the crust of that day's bread with a cross, although its four sections could also have represented the quarters of the moon honoring the pre-Christian
Eostre
, the goddess of spring, which later become
Easter
. A religious festival controlled by the lunar calendar.
Easter Bonfires
, "Osterfeuer", are a custom that takes place on the Saturday, or in some regions on Easter Sunday or Monday, following a Christian belief fire is a sign of the resurrection of Christ. Although the tradition in this form dates back to at least the 16th century its origins are probably from pre-Christian days, and the families, friends and neighbors who gather around bonfires, which are made mainly from old Christmas trees, are not all Christians
but there to have "fun". Perhaps enjoy a grilled bratwurst while the tradition, light and warmth of fire symbolize the end of winter and arrival of spring.
Osterraeder
, huge flaming wood and straw wheels, are an alternative way of marking Easter and winter's end just as they were used to represent the sun 2,000 years ago. Especially in areas of North Rhine Westphalian. A spectacular sight, they roll down hills leaving hundreds of meters of burning tracks, and a wheel that makes it to the bottom of the hill is a sign the next harvest will be successful.
Karwoche finishes and it is
Ostersonntag
, Easter Sunday. A day of celebration for the triumph of life over death, and when the Easter rabbit or hare brings colored and chocolate eggs, hiding them or leaving them in nests already prepared by children.
This odd combination of
rabbit, eggs
and a
Christian Festival
began in the Middle Ages. Rents due from tenant farmers had to be paid on the Thursday before Easter, and as eggs should not have been eaten during Lent Medieval landlords were paid in those cooked and preserved. In addition to any hares caught on their property.
Nevertheless it was not until the mid 20th century that finally the rabbit/hare was chosen as
Egg Bringer
, winning over the foxes, storks and cranes that had shared the tradition up until then.
And with all those cooked eggs around
Frankfurter Gruene Sosse mit Eiern
, Eggs with Frankfurter Green Sauce, using herbs left from Green Thursday, is a favorite dish often added to the Easter Sunday end of Lent meal.
Ostermontag
, Easter Monday in Germany, is the final day of Easter celebrations and a public holiday. It's a family day when the entire extended family could meet for lunch, this used to be lamb but the tradition is no longer as strong as it was, and then there might be egg rolling competitions, visits to the countryside, to sports events or festivals.
There are special festivals and processions and one
is in Traunstein, Bavaria, where Joseph Ratzinger the former Pope Benedikt XVI lived when young.
It is the scene of the St. George Parade, a horse mounted pilgrimage in traditional dress accompanied by brass bands, with riders in armor and
maidens
in medieval costumes. The climax of the parade is a blessing given to a gathering of around 500 local horses, a complete mixture of various shapes, sizes, ages and types, none of whom are outshone by "St. George's" pure white steed.
The last day of Easter celebrations, but not the end of Eastertide.
That is Whitsun, Pfingsten, and in Germany many of the trees, branches, wells and fountains decorated with colored eggs, together with greenery remaining from Palm Sunday, will stay in place for fifty days until the celebrations for Pfingsten and Pfingstenmontag have ended.
Frohe Ostern! - Happy Easter
Illustrations: The Stations of the Cross, 9th Station Jesus helped by Simon of Cyrene, photographer Unterillertaler, de.Wikipedia - Osterraederlauf in Luedge, photographer Nifoto, de.Wikipedia - Horses leaving the ancient Ettendorfer Kircherl, Traunstein, on Easter Monday, ChiemgauOnline
For topics in the news

And you can follow German Culture on Facebook