Guest Author - Jeanette Stingley

Me: A Personal Journal


This one offers prompts and then plenty of space to write.



Woman's Journal: A Blank Book with Quotes by Women



Sporatic quotes to inspire!



Thick Black Bonded Leather Journal (7x9)



This has 400 pages for lots of writing!



Bombay Brown Leather Journal with Tie 4x6



This one is just plain beautiful. The leather is so soft.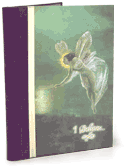 "I Believe" Journal



A fairy on the cover and the words "I Believe". Beautiful.



Anything Book



A simple elegant design



New Diary: How to Use a Journal for Self-Guidance and Expanded Creativity



The first few chapters are a little dry but get past them and you won't be able to stop writing in your journal!



Journalution: Journaling to Awaken Your Inner Voice, Heal Your Life, and Manifest Your Dreams



When I began my journey of self healing, a counselor recommended this book to me. I loved it and recommend to everyone I know.