Beginning in the spring and continuing until early autumn
The Rhine in Flames
, "Rhein in Flammen", a spectacular annual
'Fire, Water, Light and Culture'
festival, is staged along stretches of Germany's longest river, the Rhine.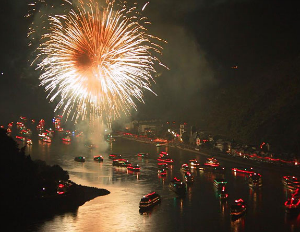 Its origins go back to the 1930's but war and indifference brought the festival to an end, however a successful revival began in the mid eighties and the first of five displays takes place in May.
Centered around
Bonn
Germany's former capital,
Die Nacht der Bengalfeuer
, "Nights of Bengal Fire", is an interplay of music, fire, water and light with 60 illuminated ships traveling from Bonn to Linz past mountains and castles bathed in light, and under a sky filled by multicolored cascading fireworks.
The festival continues for one night in July and August, with two individual displays in September, in different locations along the river and with each having its own theme.
July's theme is "The Night of Fire Magic",
Die Nacht Des Feuerzaubers
, and floodlit boats travel alongside the picturesque and ancient towns of
Trechtingshausen, Bingen, Rueddesheim
, and
Assmannshausen
, on the Upper Middle Rhine Valley. Often known as the Rhine Gorge it is not far from Frankfurt, and is an area of Germany settled in, or conquered by, among others the Celts and later Romans.
For centuries this has been one of the country's major wine regions. With its stunning beauty, fairytale castles, terraced vineyards and steeped in history and culture, not surprisingly it is one of Germany's UNESCO Heritage Sites.
As the night draws in at around 10 o'clock, and accompanied by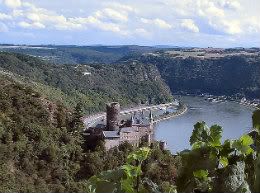 the echoing of firecrackers, a first firework display begins below Trechtingshausen's "Reichenstein Castle". An ancient and extraordinary background to a dazzling display of color, light and stars.
August is "The Procession to Coblenz",
Strecke Spay-Koblenz
, where an original festival dates back to 1766.
With 70 ships, castles, mountains and centuries of history ablaze with light this procession is perhaps the most eye-catching.
The first in September is
Die Nacht der Tausend Feuer
, "The Night of a Thousand Fires", and accompanied by music it travels from St. Goar to Oberwesel featuring some of the most spectacular of the firework displays.
The finale of the season is on the third Saturday of September, between
St. Goar
and
St. Goarshausen
, "The Night of Lorelei"
Die Nacht der Loreley
, named after a 19th century legend of the beautiful water spirit 'Lorelei' who bewitched the hearts of seamen, and lured them to their deaths. Although these were probably caused by the very strong current, and rocks lying just below the waterline, sinking their ships.
A huge firework display takes place on both sides of the river over two medieval castles, Katz and Reinfels, as well as from a ship moored in the middle of the Rhein, and the procession passes the "Loreleyfelsen", the Lorelei Rock that towers over 120 meters, almost 400 feet, above the waterline.
The riverside panorama when traveling down the Rhine River is always spectacular and inspiring regardless of the time of year, but the massive light show of historic buildings and monuments, together with an illuminated flotilla of ships, makes viewing from a boat even more impressive.
Tens of thousands of tourists and locals line the banks of the river, enjoying not only the party atmosphere and live music but also a free view. Despite being summer evenings the lights from the illuminated, garlanded and crowded ships are mirrored in the water as they sail by the floodlit towns. Their churches, castles, palaces, and centuries of living history, ablaze with lights.
A fascinating scene that intensifies as darkness falls.
The heavens seem ablaze with the sight and sound of fireworks, a multicolored glow highlighting surroundings, from castles and historic ruins to steeply sloping vineyards and cliffs. The Rhine River's glimmering waters, its fleet of illuminated ships silhouetted against a night sky, and the historic riverside and hillside buildings bathed in light, make these evenings an unforgettable and magical experience.
A summer and autumn in the beautiful and historic Rhine Valley, with "Rhein in Flammen".
Rhein in Flammen Festival photographs by courtesy Wikipedia.de photographers Holger Weinandt, King (Felix Koenig) and Manfred Heyde
Germany (Eyewitness Travel Guides) - This has to be the best travel book for Germany out there. I wouldn't go anywhere without my copy while the beautiful illustrations and detailed descriptions also make it ideal for arm chair travelers, or anyone who is just interested in Germany.
For topics in the news

And you can follow German Culture on Facebook