He wears bishop's vestments, red cape embroidered with gold and a miter, and carries a golden crosier. A bishop's staff. In many European countries elderly white bearded "St. Nicholas" will arrive on doorsteps of children's homes on December 5th, St. Nicholas Eve - Nikolausabend, and December 6th,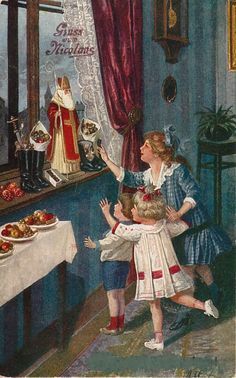 St. Nicholas Day - Sankt Nikolaustag.
In some German regions he is accompanied by a brown clad, hooded and soot smudged attendant "Knecht Ruprecht", Servant Ruprecht, and together they visit schools or meet children out and about in the days leading to St. Nicholas Eve.
In German speaking Alpine regions his companion is more frightening. Demon-like Krampus with a horned wooden mask, sheep or goat skin suit, cows bells hung around his waist, and sack large enough to carry away naughty children.
"Lustig, lustig, tralalala...bald ist Nikolaus wieder da!" but excitement as well as some work fill those days. Winter boots or shoes must be carefully cleaned and polished ready to hold carrots, apples or hay put into the one each child can place in front of a door, or perhaps on a windowsill, on the evening of 5th December. Nikolaus, St. Nicholas Eve.
This is when the saint visits, feeds his white horse the boot's contents and, if their owners have behaved well during the previous year, refills them with candy, perhaps the first letter of their name in chocolate and some
Spekulatius
as well as small gifts. All to be shared with family and friends.
Although should they have been somewhat less than "good", it could be that in the morning when they rush to inspect their "Nikolaus Stiefel", Nikolaus boot, it will be to find only a piece of charcoal or a twig.
Poems and songs must be learned for St. Nicholas' visit, small presents made for him, cookies and
Niklaus Bread Men
baked, and as evening comes families, friends and neighbors wait while he moves from house to house knocking on doors.
For children it's a time of wonder and mounting excitement. At least on the first occasion after that there could be some trepidation, because he carries a large golden book and somehow this book has a list with the year's deeds and misdeeds.
Children, and often adults, stand in front of Sankt Nikolaus while he reads aloud from the list and questions them:
Have you been well behaved this year?
Did you work hard at school?
Was it you who broke that window?
St. Nicholas opens the sack held by
Knecht Ruprecht. In the past a dark frightening figure, who wore a torn dirty robe and carried a large sack on his back, where he would put all who had been naughty. At least that is what the children were told.
Although his reputation as a disciplinarian is no longer as terrifying as it was in those days, he can still strike a little fear into the hearts of children who have been "naughty", and not "nice", in the build up to Saint Nicholas arrival.
If the list of "misdeeds" in St. Nicholas book is too long then it could be the hopeful recipient will not only receive no praise but also leave empty handed this year; perhaps with the intention that for the next St. Nicholas Day they will make sure things will turn out differently.
Songs are sung, poems recited, talents displayed, handmade gifts given him, then St. Nicholas and his traveling companion must leave because there are many homes to visit before the night is over.
Who is St. Nicholas? These days thought of more as a kindly old man than a Catholic "Saint".
He is a mixture of several beliefs and traditions but thought to be based upon "Nicholas of Myra", now a region in Turkey but in the 4th century part of Greece, and "Nicholas Abbey of Sion" later Bishop of Pinara.
Both men were renowned and admired for the work they did helping the sick, oppressed and poor.
The historical and legendary St. Nicholas, Bishop of Myra, a Christian bishop celebrated for performing miracles, and secretly leaving gifts in the shoes of the poor and deserving, never existed.
Although no longer recognized as a saint by the Catholic church,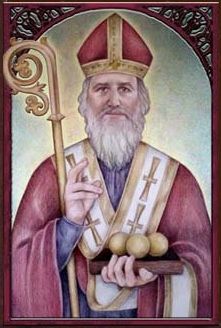 "St. Nicholas" is remembered and revered among both Christian and secular people around the world, and is the patron saint of Children, Sailors, Marriageable Girls, Travelers and Amsterdam; as well as the protector and friend of all those in need or in trouble.
Nicholas of Myra died in 343 AD, on December 6th the date commemorated for generations as St. Nicholas Day; a day of enchantment and the spirit of Christmas for young children, while the folklore surrounding him is an inspiration to live a selfless and considerate life.
As Nicholas was a Catholic saint when Martin Luther introduced the protestant religion to Germany he ordered a "Christkind", Christ Child, celebration on Christmas Eve as a substitute for the earlier Catholic Nikolaus festivities.
A tradition still followed by many protestants, and religious families sometimes choose to focus on December 6th as their time for gift giving as by this they make sure it is Jesus' birth that is celebrated at Christmas.
Not the commercialized "Father Christmas" or "Santa Claus" who has grown from the legends and tradition surrounding St. Nicholas.
So in many homes on December 5th and 6th a benevolent old man with a white beard, red cape and bishop's miter will appear, and ask "Have you been good this year?". To be answered with "Yes" even if there are sure to be one or two lapses to be seen in his golden book.
While those who don't actually see him will know they have not been forgotten because, instead of the treats left for a white horse, chocolates, candy and gifts will be lying in their highly polished boot or shoe.
Frohen Nikolaus!
Images
Vintage St. Nicholas postcard
courtesy St. Nicholas Center Collection,
Knecht Ruprecht
Realschule Balingen,
St. Nicolas of Myra
, Saint Vincent Archabbey
For topics in the news

And you can follow German Culture on Facebook