As the title states, in this article I am sharing with you my very oldest dolls. I'm not sure whether that makes them "vintage" or "antique" but they are almost as old as I am!
When I was a child I had an aunt that traveled a lot and she would bring back a doll for my sister and me from each place she had been. My parents believed that children should be able to enjoy their toys, so these dolls were not placed on a shelf. As you can see they are much the worse for wear, but they are precious to me none the less.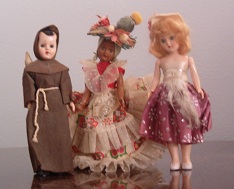 We had quite a collection of dolls, as children, but the only ones from that time to survive in my possession are these three. When I married and moved out of my parents home, all my dolls disappeared. Since my Mother never through away anything, I assume she found a new home for them, but I don't know for sure.
The little figure of St. Francis of Assisi has lost one of its birds, there was originally another attached to his left hand, in addition to the one on his shoulder. His robe is made of heavy paper and his rosary is of string.
The center doll was from a trip to Jamaica. She has paper mache fruit on her hat that is starting to crumble and lose some of its color. I have always loved her brightly colored outfit and all the pretty little fruits attached to it.
Of the third doll, in the lavender dress, I know nothing. I don't remember where she came from or when I received her. I think my sister's doll like this one was dressed in pink, but I'm not even sure of that. My sister and I are only 1 1/2 years different in age and we were the only two children, so we always got the same things, just usually dressed in different colors.
These three dolls went with me when I moved from home because they were always on my dresser. I regret that I didn't take the rest of my dolls at that time, not only for the sentimental value, but also because I had an original titian bubble cut Barbie which today, would be quite valuable. Oh well, older and wiser.
Making and Dressing Cloth Dolls
Ebook with patterns and instructions to make 5 cloth dolls as well as chapters on general doll making techniques.The book includes 21 inch Lalena Doll, 21 inch David Doll, Bear Dolls, 9 inch Destiny Doll and 15 inch Annie Doll, all together in one handy book. 53 pages.
Making and Dressing Cloth Dolls
.