If America likes its tropical fruit punch steeped in high fructose corn syrup, Latin America and the Spanish Caribbean have a better alternative: the 'batida'. This delicious combination of blended fruit, evaporated milk, crushed ice and enough sugar to power an entire elementary school is ubiquitous wherever the sun is shining and the sound is salsa. Although the authentic batida is sold at the roadside or from stands sweltering in the tropical heat, anyone with a blender and access to fresh fruit can recreate the Caribbean in a glass at home, summer or winter.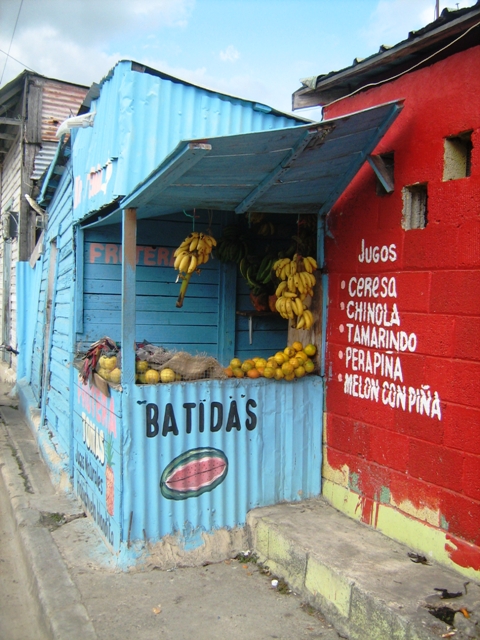 One of the most popular batidas uses papaya (also known as pawpaw). This deliciously creamy fruit smoothie is typically called 'Batida de Lechoza' in the islands, for the simple reason that the word 'papaya' doubles up as vulgar slang for something else entirely, a linguistic quirk that presidential candidate Mitt Romney once found out inadvertently to assembled guffaws during an interview on a Miami radio station.
Chop up fresh papaya into cubes, seeds removed, and blend with a can of evaporated milk, crushed ice and sugar. The consistency should be thick enough to stand a straw in upright. Some prefer to cut back on the sugar, others add a dash of vanilla essence at the end. The evaporated milk can be replaced with full cream milk or even soy milk to taste, but anything less than full cream will be watery. Soursop, banana, mango or even pineapple work just as well instead of the papaya.
A magical twist on the batida is the 'morir sonando', unique to the Dominican Republic. Literally translated as 'To die dreaming', this smoothie subs out the papaya and defies conventional wisdom by replacing it with citrus. The result is an outstandingly refreshing drink with enough tartness to cut through the dairy.
The secret to stopping the milk from curdling is to keep the ingredients cold. Chill the evaporated milk first in the fridge and add plenty of ice to the freshly squeezed citrus juice (grapefruit, passion fruit, orange or lime all work, although orange is the traditional one). Dissolve the sugar into the fruit juice and then pour the juice into the milk (not the other way round), stirring vigorously. Add ice throughout the process. A cup of fruit juice for a cup of evaporated milk is sufficient, but reduce to half a cup of juice if using lemon or lime.
Surprisingly, the batida comes in only at around 140 calories per serving, with less sugar than a soda. Perhaps this says more about how much sugar is in soda rather than how healthy a batida is, but reducing the amount of sugar added established it as a perfectly nutritious smoothie. Give it a try!