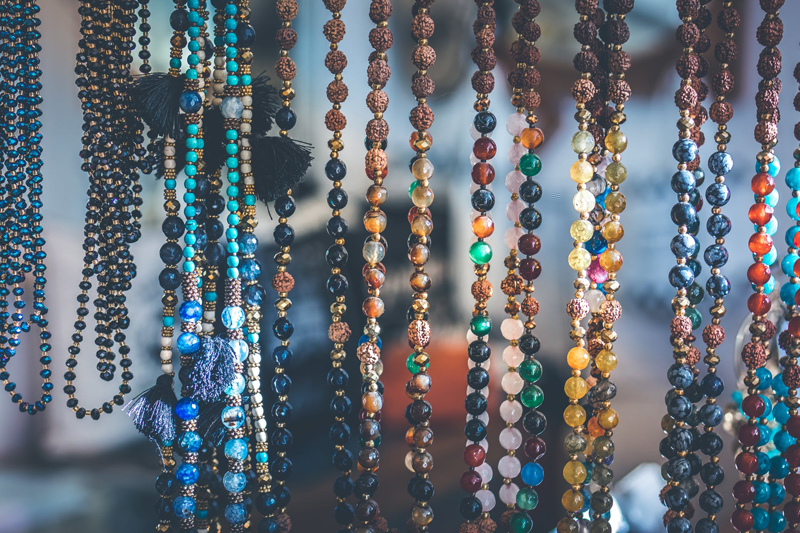 There are a lot of methods for doing this, this is my favorite because instead of starting with a ring of beads slightly smaller then the cab then increasing around it, you work down, the disadvantage to this method is that you do have to weave through the netting to do the other side, so it may not work well with very small beads that can't accept that much thread. It does work fine with 11s and 14s, I wouldn't suggest cylinder beads for any kind of netting. Illustrations are NOT to scale. Some of you may recognise the instructions, they are almost the same ones I posted on my
personal site
nearly ten years ago.
Start by making a ring of beads slightly larger then your cabochon in a multiple of 6, for your first one to help keep track, I suggest using 2 colors, a main color and accent color, referred to as MC and AC for the rest of this tutorial.String them 2 MC, 1 AC all the way around.Count your AC and see if it's an even number, if it is, it's a multiple of 6. It's supposed to be a little loose, so it's better to add 3 beads then to take away 3 usually. Tie in a knot, leaving enough of a tail to weave in.
Coming out of an MC, add 2 ac,1 mc, 2 ac, skip the next 2 ac, 1 mc, 2 ac, and go through the next mc bead on the base row, continue around, ending by passing your thread and needle through the first 3 beads you added to come out of the first mc bead you added. Work a couple rows that way, generally most cabs and beads only need 3 rows of netting worked, but it will vary according to bead size and cab thickness, but you want your bead net to be a little wider then the height of the cabochon.
Coming out of the MC bead on your last 5 bead net, add 3 beads, 1 ac, 1 mc, 1 ac, or if you want it solid, whichever color you want, go through the next mc bead, pulling it tight, work around. That tightens up the net on cab and creates the bezel.
If you need to work one more row, add 2 beads between in between the center beads in the 3 bead row. Go back through all the beads in your last row a second time and pull tight (but not so tight you break the thread!) Weave through the netting to other side and repeat.
This example was done on a donut I bought from local artist, Donna Schelin. I love the look of fused glass!


Related Articles
Editor's Picks Articles
Top Ten Articles
Previous Features
Site Map



Follow @shala%5Fbeads
Tweet





Content copyright © 2021 by Shala Kerrigan. All rights reserved.
This content was written by Shala Kerrigan. If you wish to use this content in any manner, you need written permission. Contact Shala Kerrigan for details.