As soon as spring appears throughout Germany, and even more especially in Bavaria, the beer gardens,
Biergarten
, begin to open, and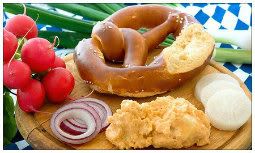 from spring through to the autumn their chestnut tree shaded areas, originally developed to cover and keep the underground beer storage cellars cool, are one of the most popular ways of spending a few hours during warm and balmy days and evenings.
As long as you buy a beer, or another beverage, it is possible to bring your own snacks just like a picnic. However each beer garden will offer its own local, and invariably homemade, specialty to accompany the beer, perhaps grilled half a chicken,
fish on a stick
, pork knuckle, and in Bavaria there is always
Obatzda
on offer, a sometimes pungent type of mixed cheese blend which is usually accompanied by a large pretzel and thinly sliced white or whole red radishes.
All beer gardens serve a slightly different interpretation of Obatzda, although the Camembert type of cheese as a basis and the 'pink' colour remains the same, and here are two recipes, one is from a countryside Biergarten in the Five Lakes area outside Munich, and the second from one that lies alongside the River Isar not far out of the city.
Normally really ripe cheeses are used, which give the mixture quite a pungency as well as add to the taste, however less ripe, and less pungent, cheese can be used if preferred, and although that is not the authentic way it is also possible to mix the ingredients with a mixer until they are a fine blend rather than a chunky one.
OBATZDA RECIPE I
Ingredients for 8 small portions
100 gr Romadur, which is similar to a Limburger but less pungent, ripe
100 gr Camembert type soft cheese, ripe
100 gr Softened Butter
Salt and Pepper
Red Paprika spice, sweet, hot or both
2 tsp Cumin seeds, or more to taste
2 small Red Onions or 6 Spring Onions, Scallions, with green, chopped very finely
Cream
Method:
Mix together Salt, Pepper, Paprika, Cumin and chopped Onions
Mash the cheese with a fork and add cream until it is the consistency you prefer.
Add onion and spice mix and combine thoroughly.
The paprika will not only season the mix but also colour it red, while the onions will add a crunch.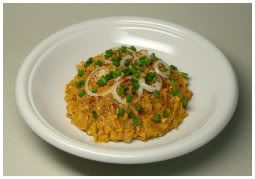 OBATZDA RECIPE II
Ingredients for 10 small portions:
300 gr Camembert type soft cheese, ripe
200 gr Romadur, which is similar to a Limburger but less pungent, ripe
250 g Philadelphia or similar cheese
2 red onions chopped very finely (white or yellow if no red are available)
80 g softened Butter
Salt, Pepper
3 - 4 tsp Cumin seeds to taste
Red Paprika sweet, hot or both
Beer
Method:
Combine ingredients with a fork, then add enough beer to make a thick cream consistency while pressing the mixture as you work, this forces some of the juices from the onions as well as making sure it is completely blended and tinted red. It can be left chunky or if preferred made relatively smooth.
Serve with some good farmer's type bread, pretzels, salad or use as a type of dip with veggie sticks etc. and, in Germany when sitting at home, with a picnic in the countryside or in a shaded beer garden it would be more that likely be accompanied by a cold beer.
PROSIT and ENJOY!
Bavarian Obatzda/Obatzter,courtesy photographer Rainer Z, de.Wikipedia
For topics in the news

And you can follow German Culture on Facebook
Exactly like the ones at most Beer Gardens and the Munich Oktoberfest, this is a genuine 1 Liter HB "Hofbrauhaus Munchen" Dimpled Glass Beer Stein
And here you will find the Oktoberfest "Masskrug" or Mass krug with the traditional Hacker-Pschorr logo, 1 Liter Hacker-Pschorr Glass Beer Stein
They are the only two remaining of the original brewers from the days of King Ludwig I.