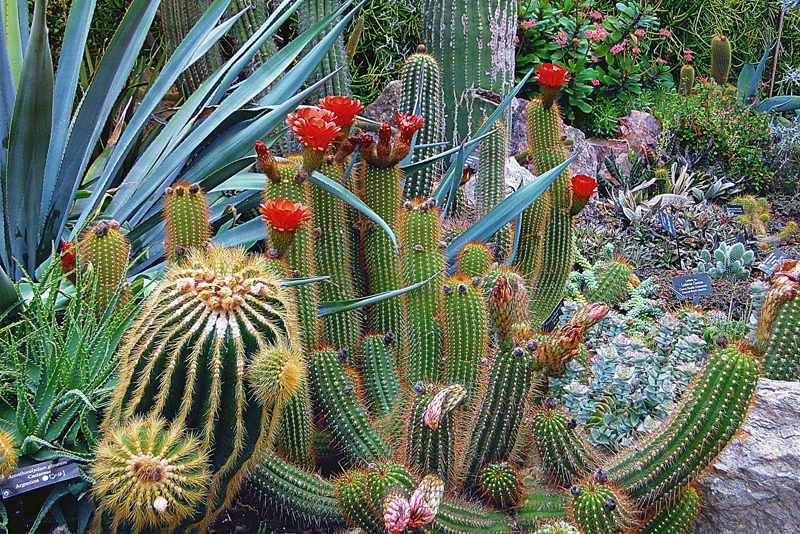 Melon cacti are among the most attractive species.

Also known as melon thistle, these are best known for their prominent cephalium. In these species, this assumes the form of a dense woolly cap at the top of the plant. This emerges when plants are mature. It can take several years, typically about five years, to begin to take form. Some species are slower than others. The cephalium can essentially be defined as the flower-bearing cap which arises from the apex of the plant where spines and hairs are particularly concentrated. New growth arises from this point. The cephalium is covered with either wool, hair, or bristles.

The melon cacti can range in color from deep green to blue green or even gray green. These vary somewhat in size according to the species up to three feet tall with a diameter of about half the height.

The spines occur in clusters along the ribs. These can vary in color from white or tan to reddish-brown or even black or yellow. ome species will have offsets.

The small bell-like flowers vary widely in color from pink or purple to red or orange. These open during the spring and summer months on short tubes. They appear in a ring around the cephalium. With a few exceptions, these plants can be challenging to grow. Use a shallow pot as they have short root systems. These cacti will need full sun.

This needs a very light, coarse, well drained soil. One rich in organic matter or humus is good. Fertilize about every three weeks or so during the summer. But, only use about ¼ the strength listed on the fertilizer label.

During the winter, keep the temperatures warm and the humidity high. These thrive under humid conditions. Reduce watering somewhat for the winter months.

Melocactus will not need repotting once they develop a cephalium and reach a mature size. Their roots are fragile. So, it is best to leave them undisturbed.
These are grown from seed as well as grafting.

Several species of melon cactus are in cultivation. These include
Turks cap cactus (Melocactus intortus) This can reach three feet in height. The cephalium is rather elongated. Its blooms are pink.

Another species is also known as Turk's cap (Melocactus bahiensis). Native to Brazil, this is deep green. It has a rounded body that becomes more elongated in maturity. There are around a dozen widely spaced ribs. It can reach around six inches across and four inches or so in height. This species has a very large, pronounced cephalium that covers the entire upper portion of the plant. In older plants, this can actually divide into segments. The spines are white, tan, or brownish. The pink blooms are rather small. Later, these will produce little berries that ripen to red. This plant is very slow growing and needs a very quick draining soil. Don't let the temperature fall below 60 to 65 degrees Fahrenheit.

Melocactus matanzanus is a very low growing miniature. This only reaches about four inches in height. It tends to have a faster growth rate than some and quicker to bloom—in about five years. This one is considered easier to grow than most of the others.

Melocactus concinnus is native to Brazil. This is a rounded plant with closely spaced ribs. It is rather small, only four inches tall with a slightly larger spread. Along the ribs are clusters of spines that are initially red and mature to white. The cephalium is short but very pronounced, covering the entire apex. This has reddish bristles and white woolly growth. The red blooms are large—nearly three inches across. The berry-like fruits ripen to blue-pinkish or red. This needs a dry soil. Propagate by seed. This can be grown in a small pot.

This site needs an editor - click to learn more!


Related Articles
Editor's Picks Articles
Top Ten Articles
Previous Features
Site Map





Content copyright © 2023 by Connie Krochmal . All rights reserved.
This content was written by Connie Krochmal . If you wish to use this content in any manner, you need written permission. Contact BellaOnline Administration for details.