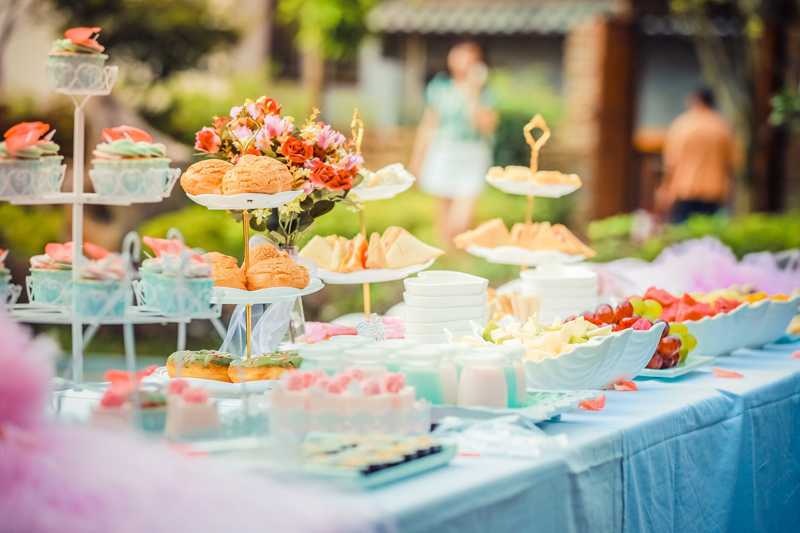 Vegetable Kabobs
Grilled vegetable kabobs are healthy and low in calories. Veggie kabobs are also easy to make. Try skewering mushroom, onions, red and green bell peppers, tomatoes, and zucchini. Brush each kabob with a low fat garlic and herb marinade before grilling. Two large kabobs will have about 75 calories.

Spinach Salad
Salads made with spinach or other leafy greens are nutritious enough, but the key is in the dressing. When choosing a dressing opt for raspberry or homemade balsamic vinaigrette as they typically have less calories per serving. A cup of fresh spinach with a tablespoon of vinaigrette has about 80 calories. Add sliced fresh strawberries on top for added texture.

Stuffed Mushrooms
Stuffing mushrooms, instead of potato skins helps keep the portion size down. Portobello mushroom caps filled with cheese and breadcrumbs have less than 50 calories each. That means you can eat half a dozen and still keep your appetizer under 300 calories. These appetizers are not only tasty, but a great healthy appetizer choice.

Shrimp Cocktail
This classic appetizer is easy to prepare and a will be a nutrition boost to your guests. Shrimp cocktail is very low in saturated fat and calories. It's also a good source of omega 3 fatty acids. A serving of shrimp with cocktail sauce has about 140 calories.

Vegetable Soup
A bowl of soup can curb how much you eat during the rest of the meal. The key is choosing a low-calorie option, such as a tomato-based vegetable soup. A 12-ounce bowl has about 160 calories. When buying canned soup, look for those marked low in sodium stay away from cream based vegetable soups, which are higher in calories and saturated fats.

Lettuce Wraps
For a chicken appetizer, skip the wings and try lettuce wraps. You can make these at home by wrapping diced spicy chicken and vegetables in a lettuce leaf. Each wrap has 160 calories. These appetizers wont stay long at any party!

Beef Skewers
If you're craving a beefy appetizer, opt for beef skewers. You can grill skewers of lean beef with onions, garlic, hoisin, soy, and barbecue sauce. A quarter-pound serving of this appetizer has about 130 calories.

Edamame
These green pods are a popular appetizer in Asian restaurants. Go out on a limb and try something different as a healthy appetizer choice. Guests will find it fun to open the pods, and pop the soybeans into their mouth. They are also easy to prepare and nutritious. One serving has 120 calories, that's about 20-30 single pods.

Many of these appetizers are simple enough to prepare yourself with minimal effort. They are also healthy alternatives to more traditional appetizers, and will leave your guests satisfied. Try one of these appetizer ideas at your next function.



Related Articles
Editor's Picks Articles
Top Ten Articles
Previous Features
Site Map





Content copyright © 2021 by Shalia Hayes . All rights reserved.
This content was written by Shalia Hayes . If you wish to use this content in any manner, you need written permission. Contact Shalia Hayes for details.