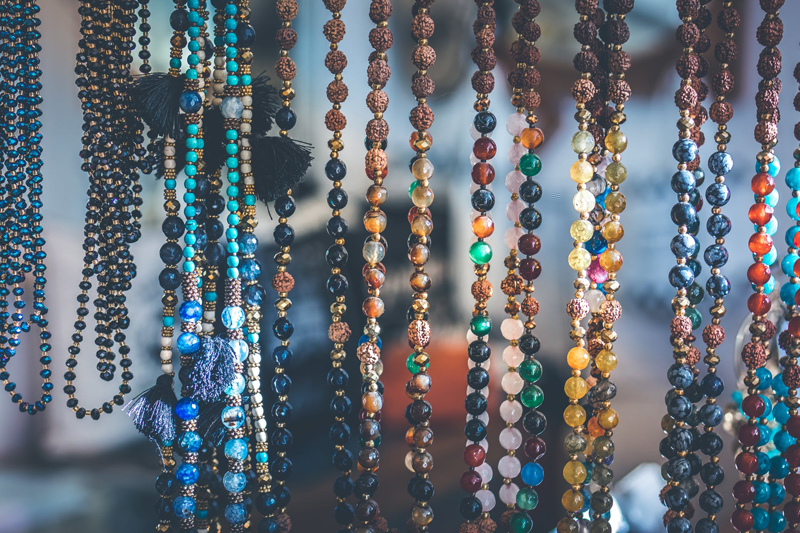 The other day I was finishing a bracelet, and I didn't have any idea what I wanted to do for the clasp. Usually I do, but this one was a wider then I usually make them, and after the hours I spent beading, I didn't want to just throw on any old clasp. I liked the idea of a toggle clasp, but also didn't want just a simple chain of beads to put it through. This is what I came up with, hopefully some of you can use it in your designs too.
The bracelet is made with size 11 Japanese cylinder beads, I used size 11 Japanese seed beads for my example of how to bead the ring, and did each row in different colors so it's easier to see what's going on.
You will need needles, scissors, beads, and thread.
Start by stringing on 24 beads, and tie the thread closed in a ring. Leave a tail to weave in, it will help strengthen it, although it is pretty stiff on it's own if you work with tight enough tension.
Round 2 is peyote, add a bead, skip a bead, pass needle and thread through the next bead, so you wind up adding 12 beads total.
Round 3- Bringing your needle and thread out of the first second round bead you added, put one bead between the first 2 beads of round 2, and 2 beads between the next two. You are increasing every other stitch.
Round 4- Coming out of the first bead added in the last round, put one bead between each bead of round 3. You might have to pull a bit to get the beads in the increases to sit properly.
Weave in ends.
The toggle is a simple flat even count peyote strip zipped up into a tube, I found 8 beads wide was perfect. It slides into the ring and if it's at least ten beads long, it's long enough to be very secure. My example up on top is 10 beads long.
When I stitched everything in place on my bracelet, I reinforced it by running the thread through a few times, clasps are the part jewelry that gets the most wear and tear from handling. As you can see, I stitched the ring directly on to the end of the flat peyote edge of the bracelet, the toggles I attached with 2 count peyote 16 beads long (8 rows back and forth).
The rings on my bracelet were done with gold for the first row, black for the second, and gold for the last 2 rows, but you might want to try something more complicated, so here's a graph.


Related Articles
Editor's Picks Articles
Top Ten Articles
Previous Features
Site Map



Follow @shala%5Fbeads
Tweet





Content copyright © 2018 by Shala Kerrigan. All rights reserved.
This content was written by Shala Kerrigan. If you wish to use this content in any manner, you need written permission. Contact Shala Kerrigan for details.