The world of music in Germany offers something for everyone, from renowned classics to jazz and 'pop', and over the years it has often produced contemporary music considered revolutionary for its time, one of the 'revolutionaries' was Ludwig van Beethoven.
Ludwig van Beethoven's
birth date is believed to be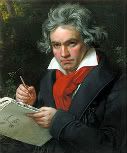 December 16th, 1770, in Bonn the Capital of the Electorate of Cologne and part of The Holy Roman Empire of the German Nation, his father was one of the Court of Bonn's musicians and the family's origins were in Flemish Brabant, Belgium.
Now celebrated as a classical composer during his lifetime Beethoven pushed recognised boundaries with some of his music, and was thought of as radical with many finding a number of his compositions too complicated to listen to, and difficult to enjoy.
Something that he himself recognised apparently, telling a puzzled listener,
They are not for you but for a later age
.
Musically gifted Ludwig was seven and a half years old when he gave his first known performance in Cologne, although his father, hoping to further impress the audience, gave the boy's age as six.
Up until that time his father had been his music tutor, but Beethoven's musical education continued with musicians such as the official court organist Christian Gottlob Neefe, who also opened the boy's eyes to the worlds of the ancient and modern philosophers, and at 11 years old, in 1781, his first work,
Nine variations in C Minor for Piano
, based on an Ernst Christoph Dressler march was published.
Three years later Beethoven was appointed 'court organist' at the Elector's Court, and when aged 17 was sent to Vienna, at the time the major centre of music and culture, by the then Elector, Prince Maximilian Franz, in 1787 to broaden his musical knowledge and skills. However the ultimately final illness of his mother brought about his almost immediate return to Bonn where he stayed until 1792 to care for his younger brothers, the Elector then made it possible for him to return to Vienna after which Beethoven never again lived in his birthplace.
Joseph Haydn became one of his teachers, his first public performance in Vienna was in 1794, and, despite a tendency to erratic and extreme behaviour, Viennese society, musical and aristocratic, was impressed by Beethoven's talent, piano improvisations and compositions during what was later called his
First Period
.
His first symphony performed at a concert in 1800 showed the initial signs of Beethoven's breakaway style as it seemed to some listeners to be both excessive and in a way brash. However now it is considered
classical
, and similar in form to some of Mozart and Haydn's compositions.
By 1801 it was already becoming clear to Beethoven that his hearing was deteriorating and one year later, at the age of 32, he contemplated suicide as he did not want a future without the possibility of hearing music, however it was his love of
Music
that convinced him to give up those thoughts, subsequently producing some of his greatest works in what is known as his
Middle Period
.
When Beethoven planned to leave Vienna in 1809 wealthy friends offered to guarantee him an annual grant of 4,000 Florins to stay, and this he did, becoming for a few years, until his backers died or had financial problems so ending the agreements, one of the first musicians able to be financially independent so free to write whatever he wanted. Although composers such as Bach, Mozart and Haydn, and tied musicians, had added responsibilities for both composition and performances their status was only that of an aristocrat's servant with no additional rights or freedom.
After the collapse of his backing, financial problems were a constant companion of the composer, added to the additional worries and expenses brought about by his nephew Karl, for whom he had been asked by his brother, who died in 1815, to share custody with the boys mother, however Beethoven made many attempts at saving his financial independence, from inventions to symphonies, nevertheless crooked publishing practices of the time and some legal and business naivety made this difficult.
These years became known as his
Late Period
, his compositions were intellectually deep, filled with intense and personal expression, sometimes shocking the music world, and often giving the impression of having been written for himself, his own pleasure or ideals.
By 1823 both the Missa Solemnis and his famous
Ninth Symphony
had been almost completed. The Ninth Symphony, which had been comissioned in 1817 by the Philharmonic Society of London and composed when he had no hearing whatever, was a huge success from its first performance on May 7th 1824, and its fourth movement featured German Poet Friedrich von Schiller's poem, An die Freude,
Ode to Joy
, an optimistic hymn promoting an idealistic vision of the human race becoming brothers, a brotherhood of humanity.
An ideal, and a vision, that was shared by Beethoven who, at the age of 22, had already decided he wanted to set Schiller's poem to music.
Groundbreaking, one of the most influential composers of all time, and regarded as a central factor in Western classical music's development from the Classical into the Romantic era, his last years had been chaotic, while his deafness and temper, together with a lack of manners and disinterest in his appearance, had given him a probably exaggerated bad reputation.
When the ill health from which he had suffered for many years deteriorated after catching a cold in 1826, he was confined to bed where he began, but did not finish, a Tenth Symphony.
Ludwig Van Beethoven
died on March 26th 1827, surrounded by close friends, in Vienna, Austria.
Portrait Ludwig van Beethoven when composing the Missa Solemnis circa 1823, currently in Beethoven-Haus Bonn, Germany. Courtesy de.Wikipedia

And you can follow German Culture on Facebook