Peyote Stitched Beaded Hairstick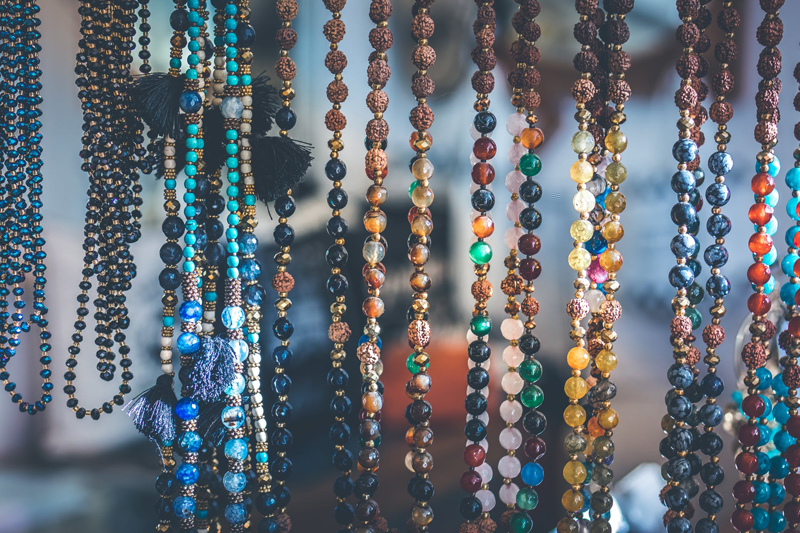 If you were wondering what I did with the
forget-me-not flower
this is it. I attached it to a beaded hairstick and added lots of fringe.
The hairsticks I used were from a local beadstore, and have nice grooves in them to hold the beads.
Most don't though. Years ago, Teri Packel suggested to me wrapping a crystal in thread, and gluing that into place to create a lip for the peyote stitching to "grab", so if I'm working on something that's not plastic, that's what I still do, I wrap it in thread to create the lip, then go over that with clear nail polish. For plastic, also following a suggestion from Teri, I use transparent tape. A lot of glues can react with plastic to soften or degrade it.
This isn't a step by step project like most of them are, it's a tutorial for a process.
You can make very inexpensive hair sticks by cutting dowels to length, sharpening them in a pencil sharpener, then dulling them a bit with sandpaper, I'd also suggest smoothing them with fine grade sandpaper. A lot of hardware stores have some lovely hardwood dowels that are very inexpensive, so if you can, I'd really recommend them over craft store type dowels. They also work wonderfully as knitting needles, so cutting longer lengths and making sets of beaded wooden knitting needles for the knitter in your life would be a wonderful gift idea. For knitting needles, you really need to sand the surface of the stick very smooth.
You will need
Something to bead, a hair stick, knitting needles, et cetra.
Needle and thread
seed beads. I used 11s here, but smaller beads will be tighter and neater.
tape or thread and glue or nail polish to create that lip.
Step 1- create slightly raised lips on the piece you are beading unless it's grooved. The lips will mark the top and bottom of what's being beaded.
Step 2- String enough beads on your needle and thread to go around the lip of what you are beading, an even number. For me, the number of beads that went around was an odd number, so I took one bead off and instead of beading it very tightly, let the slight gap remain, with the bead distribution after adding the second row of beads, the gaps between the beads were small enough not to be noticeable.
Step 3- Tie beads into a ring leaving a tail to weave in around the stick, then I worked in even count peyote to cover the area. Because you will need to be able to tighten down the first and last rows of beading, I worked half of it up to the top groove, then reinforced the last row and pulled tight, and then wove back to the first ring of beads and worked down to the next groove and reinforced it and pulled it tight. Working with thread or tape lips, you'll work until just over the lips, then pull the last rows tight with the stick. Then the raised areas hold the beadwork in place.
For the top of the stick, you'd do the same thing, except instead of creating a top lip, you'll decrease around the top, add a bead, go through the next two up beads (decrease made), pull tight, add a bead, then the next row, you'd add a bead between each of the beads of the previous row. Decrease rows as needed until you've covered the top. The bottom of the band you do the same way as above.
For fantastic directions on how to work tubular even count peyote, check out
Suzanne Cooper's
wonderful
jump start classroom
.
After I finished beading the top of the hair stick, and weaving all the ends in, I stitched my flower to it and added lots of fringe. I'm all ready for spring!


Related Articles
Editor's Picks Articles
Top Ten Articles
Previous Features
Site Map



Follow @shala%5Fbeads
Tweet





Content copyright © 2021 by Shala Kerrigan. All rights reserved.
This content was written by Shala Kerrigan. If you wish to use this content in any manner, you need written permission. Contact Shala Kerrigan for details.