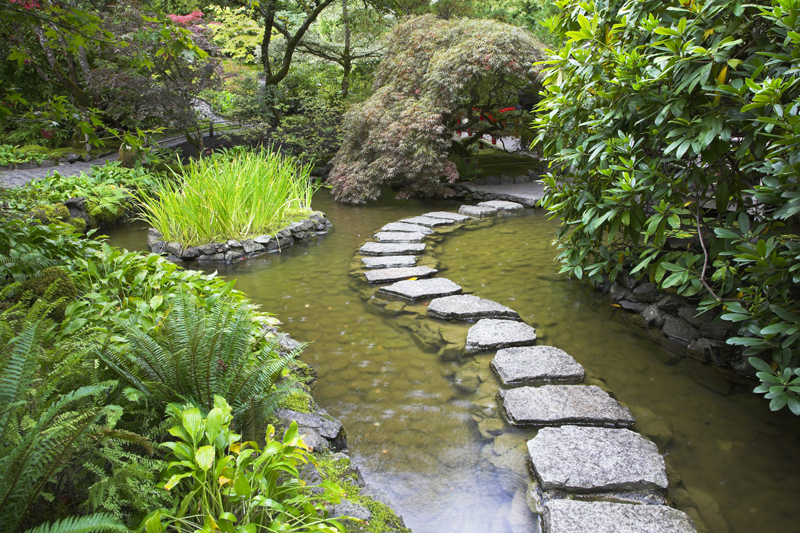 In a normal lifespan of 70 years, the average American will spend about 16 years of that time working. Americans definitely work too hard and get much shorter vacations than Europeans and others. One way of compensating for such long hours is to create a restful home and garden, such as Japanese gardens, where we can recharge our batteries.

Creating a Japanese garden is by no means easy. It should be done with care. For that reason, you may wish to visit either private or public Japanese gardens, such as the ones in New York City and Portland, Oregon.

There are various kinds of Japanese gardens, and these are intended for different uses. Among these are the Japanese stroll gardens, hill and knoll gardens as well as tea gardens and Zen meditation gardens. For use as a relaxing, sanctuary garden, I would suggest the meditation garden for most landscapes.

Japanese courtyard gardens are also suitable for most landscapes. These are primarily designed for viewing from indoor, such as through sliding glass doors or picture windows of bedrooms and living rooms.

In Japan, interior décor follows the same aesthetic principles as the gardens. So, the two areas seem to flow seamlessly together. In this manner, we can encourage a sense of sanctuary-like calmness and relaxation. The courtyard gardens are an example of how this can be done. In essence, a Japanese courtyard garden becomes an outdoor living space, an extension of the indoors.

One thing to keep in mind when designing a Japanese meditation garden for the home landscape is that only a small number of plants are needed. Rather than emphasizing vegetation, this style makes extensive use of stone, gravel, and sand as well as other non-plant features. If you look at any book on Japanese gardens, the first thing you will notice is that it probably doesn't devote a lot of pages to plants. Don't be surprised when you see that, because this isn't an oversight by the author. Western gardens tend to emphasize plants, while the Japanese style concentrates on the garden as a whole.

Each item in a Japanese garden has a very special ritualistic meaning, and must be placed with the utmost care. These would include hand carved Japanese lanterns and basins made from granite. Sometimes it is hard to locate such items in local garden centers and nurseries. You may find it necessary to order them online or by mail-order. Some of these items may be heavy, so the cost of shipping can be high.

There are a number of books on Japanese gardens. My favorite by far is "In the Japanese Garden" with text by Elizabeth Bibb and superb photos by Michael S. Yamashita, her husband. They spent over a year visiting and photographing gardens in Japan. While in Japan, they were under the guidance of Shiro Nakane, a master garden designer, who wrote the foreword. He helped them choose which gardens to study and photograph. This exquisite, informative book was published by Fulcrum Publishing.

In the book, Bibb provides a thoroughly enlightening history of Japanese gardens. She explains the role of the various elements, and includes chapters on stone, and water. There are also ones on suitable plants and the use of sand and gravel. Space isn't something we think of as an element in garden design, but it is a very important consideration in Japanese gardens. Bibbs gives complete details on how this is done in her chapter on space and its use. In other words, the empty space or void it creates is just as important as the other design elements.

The beauty of a Japanese garden is that is looks so natural, while in fact every detail is carefully planned. This is one reason that this book is so helpful. The author provides rare insight as to how this is done. It serves as a complete history and introduction to Japanese gardens and their creation.

Whether you create a tranquil Japanese courtyard garden or a Zen meditation garden, these have much to offer overworked, harried Americans.




Editor's Picks Articles
Top Ten Articles
Previous Features
Site Map





Content copyright © 2022 by Connie Krochmal. All rights reserved.
This content was written by Connie Krochmal. If you wish to use this content in any manner, you need written permission. Contact Connie Krochmal for details.