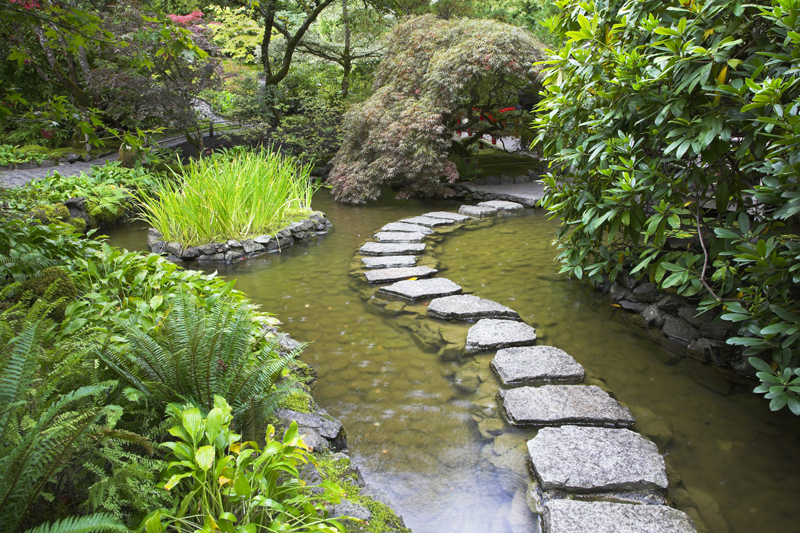 This is Part II of a three part series on soothing gardens. The last two are about fragrance gardens, their design, and the science of smell.

A fragrance garden is the ideal place to relax and take a break. From the stresses of life. This garden need not be large. It can be simply a deck or patio decorated with containers of scented geraniums. First, before we go into the design and plant selection, let's look at the historical basis of fragrance gardens.

The history of fragrance is an interesting one. In ancient Greece, a form of aromatherapy was used. They planted fragrant plants close to the windows of sickrooms so the fragrance would reach the patients.

During the Renaissance, fragrant plants were a top choice for Renaissance garden designs.

Empress Josephine was especially fond of fragrant plants. Her gardens featured fragrant ones from all over the world. Her husband, Napoleon, wasn't into gardening, but he was known to use eau de cologne lavishly after baths. He couldn't tolerate foul odors in his vicinity. His cologne contained essences of lemon, citron, rosemary, and bergamot.

Somehow in the 20th century, scented plants were neglected for bold, new varieties that focused on color and large size.

Now in the 21st century, fragrant plants are once again gaining in popularity. The sale of fragrant herbs is just astronomical. Plant breeders are at work learning how they can put the scent back into plants through genetic engineering. They hope to create fragrant plants almost on demand. As an example, they eventually hope to insert a gene representing the desired fragrance, for example that of lemon, into any plant they wish.

The scent in a flower is more complicated than it seems at first glance. This factor is genetically determined. Scientists have learned that flower fragrance is the result of over 200 separate aromatic chemicals. The plant releases these substances in the right order at the right time to create fragrance.

Though plant breeders have bred longer-lasting flowers, the natural fragrance has sometimes been lost in the process. The reason for this became clear when researchers found that the genes for scent and vase life were tied together. In their attempts to breed longer-lasting flowers, they manipulated the gene for ethylene, a gas released by the plant. In doing so, they learned that this gene is also tied to fragrance. When the gene for ethylene production is turned off, fragrance is lost.

For several decades plant breeders have also been working to create plants with larger, more colorful blooms. During this breeding process, the old-fashioned scents of many roses, carnations, and others were lost. Happily, that is now changing. There are a number of newer carnations that are pleasingly fragrant.

Fragrant plants are widely available at local sources and online. Monrovia, a wholesale nursery, has a complete line of scented plants that should be available at most local garden centers and nurseries.

One of my favorite fragrant blooms is the flowering tobacco. This annual readily self-sows, so you usually only have to plant it one time. Other obvious choices are the lilacs. Though it is true that most lilacs bloom in early to mid-spring, there are later-blooming varieties. There are also a number of fragrant daylilies and hostas as well. Other scented perennials include lilies and phlox. Many scented shrubs are available, including the tantalizing daphne, butterfly bush, fall-blooming clethra, and some viburnums. Of the trees, you can choose from the katsura tree, Amur maple, a small tree with fragrant blooms, and many more.

Be aware some blooms may release scent only at certain times of the day.
Examples would include Datura. which is often grown as a container plant.

There are many ways we can use fragrant plants in our landscapes. Plant an entry or front yard garden to greet your guests. Some gardeners interplant scented plants in perennial beds and borders. I prefer to have the fragrant plants as close to the house as possible so I can easily enjoy them. Among the best locations are those spots near walkways, porches, decks, patios, and other areas of the landscape that are used most frequently.

There are some public gardens for the visually impaired with fragrant plants and ones with soft, wonderfully textured foliage. The fragrance garden at the Brooklym Botanic Garden is an example. This was designed by Alice Ireys. This was one of the first gardens developed in North America for those with visual problems.

This concludes Part II of the three part series on soothing gardens. Part II deals with books on fragrant plants, and the science of smell and how we can use it to our advantage.






Editor's Picks Articles
Top Ten Articles
Previous Features
Site Map





Content copyright © 2022 by Connie Krochmal. All rights reserved.
This content was written by Connie Krochmal. If you wish to use this content in any manner, you need written permission. Contact Connie Krochmal for details.