Kartoffelpuffer
,
Rieberkuchen
or
Reiberdatschi
,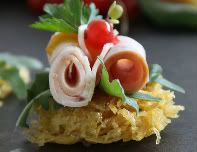 Roesti
are German potato pancakes, and although the names are different, depending on the region, the pancake recipe doesn't change and they are hugely popular throughout the country.
Especially during the winter and cold weather months few festivals, open markets or even large railway stations are without an appetizing aroma drifting through the air from stalls offering the delicious
Reibekuchen
, which are literally
"grated cakes"
.
Served on a little paper plate, together with a plastic fork and their toppings of
apple sauce, cinnamon sugar
or
salt
, they are a warming treat as well as traditional winter food.
While potato pancakes also make a base for an "open sandwich", perhaps layered with cold cuts, pickle and a little garden salad.
Restaurants in Germany serve Reibekuchen throughout the year to accompany
smoked salmon and sour cream
, or as a side dish for anything from steak tartar and schnitzel to mushroom ragout.
Kurbis Kartoffelpuffer
,
Pumpkin Potato Pancakes
, are an ideal way to use up any left over pumpkin, or a simple tasty alternative recipe for those months when the vegetable counters are filled with squash of all shapes and sizes.
Conventional German potato pancakes can be made just by doubling the quantity of potato and leaving away the pumpkin, but otherwise following the recipe.
Kurbis Kartoffelpuffer
-
Pumpkin Potato Pancakes Recipe
(Serves 4)
Ingredients:
1 lb prepared pumpkin
1 lb floury potatoes, peeled
1 white onion
3 eggs beaten
1 oz flour
1 tsp. salt
1 tsp thyme
Freshly ground black pepper
3 tbsp finely chopped parsley
Vegetable or sunflower oil
Grate the pumpkin and potatoes with a cheese or
vegetable grater, put into cloth and squeeze out the excess moisture.
Chop the onion very finely, add to the pumpkin/potato mixture together with the rest of the ingredients and combine.
Heat oil in a frying or griddle pan and either drop spoonfuls of the mixture into the pan or fill it to make one large pancake, flatten lightly, and turn once cook cooking until golden brown and crisp.
Drain on paper towel and serve immediately.
Kurbis Kartoffelpuffer are often served together with garlic (Knoblauch) sauce, and this is a basic and popular recipe
.
Garlic Sauce
Ingredients:
2 or 3 (or to taste) cloves of fresh garlic, minced or pressed
8 oz plain yoghurt
8 oz cream cheese
1 tsp lemon juice
1 tsp sunflower or vegetable oil
2 tbsp finely chopped parsley
Salt and freshly ground pepper to taste
Mix the yoghurt and cream cheese until well blended
Add garlic and parsley stirring until well distributed
Add enough lemon juice and oil to make a smooth creamy texture
Season to taste
Or if you simply want a different "potato" recipe, then how about Apple Potato Pancakes.
Apfel-Kartoffel-Roesti
- Apple Potato Pancakes (Serves 4)
Ingredients:
1 lb potatoes
4 oz soft apple
Slice apples into thin slices.
Peel potatoes, grate and mix with the apples.
Heat some sunflower or vegetable oil in two pans.
Halve the potato mixture and add one portion to each pan.
Spread into a rounded shape and press down lightly.
Increase heat and cook for 3 to 4 minutes until crisp.
Turn and cook for further 3 to 4 minutes.
Drain on kitchen paper, season with salt and pepper and serve with anything from fish, especially smoked salmon or trout, to chicken and pork.
Guten Appetit!
And enjoy your 'Reibekuchen', they taste as good as they look
.
I have Taste of Old Germany: Recipes from my Colorado Restaurant and my Childhood, it was given me as a present and I have used it so many times, every recipe was a success.
For topics in the news

And you can follow German Culture on Facebook