They spend their summers 'working' in the garden, but when warm balmy nights are replaced by damp autumn air, little red cheeked, bearded folk in workman's trousers and shoes, red pointed hats often bent at the tip, are taken into homes. 'They' are Germany's
Garden Gnomes
.
Time will have arrived for most of the country's 25 million Gartenzwerge, garden dwarfs, to begin 'hibernating' until those first days of spring, and not for them a battered cardboard box or dusty shelf in an outhouse or attic, cold weather quarters are often a clearly visible spot in the home.
It is a land that for generations has produced talented landscape gardeners and famous garden architects, including the prince who inspired the creators of New York's Central Park and in many areas it's a 'Garden Gnome' who is king.
Perhaps sitting on a perfect lawn or peering out from an otherwise faultlessly coordinated flowerbed. Sometimes in the rafters of farm yard sheds protecting the farmer's crops and livestock. Believed to bring "Good Luck" inside or outside the home, the Gartenzwerg,
garden dwarf
, has been a part of German culture for over a century.
In the mid-nineteenth century craftsmen specialized in ceramics, who lived in Graefenroda a Thuringian village, took advantage of the legend gnomes helped and protected gardens at night and began to mass produce in terracotta the Gartenzwerg that had been made in clay since the early 1800's.
Suddenly a gnome, (pronounced nome), was a
must have
garden ornament, even in the gardens of ancient and stately homes until the end of the 19th century when the general public began to follow the trend.
To keep up with the increasing demand, across not only Germany but also France and England, German manufacturers of all sizes and capabilities began to produce them.
World Wars, an East German government that considered them symbols of capitalism, together with changing tastes and circumstances, including the advent of plastic replicas, and after the fall of the Iron Curtain inexpensive poorly produced designs from the Polish and Czech Republics followed by China flooding the market, almost led to the destruction of the industry.
Only one of the original German manufacturers remains, the fourth generation of Philip Griebel's family, and on the 'birth certificates' of those Graefenroda garden gnomes their species is given as
Nanus hortorum vulgaris
, 'common garden dwarf'.
The garden gnome's history has passed from garden status symbol through
kitsch
, and is back to becoming something of a cult, but in Germany they have never gone out of fashion.
What are they, and why put them in a garden, on a windowsill or hanging from rafters.
One of several theories for the tradition stems from 'Priapus',
a fertility god in Greek-Roman mythology, who with wooden sickle in his hand was reputed to protect gardens, farm animals and agriculture, and 'in real life' was used as a scarecrow in Roman gardens. And garden gnomes are indeed effective small scarecrows.
A German myth however describes gnomes who during the night frighten away any two or four legged prowlers, while also helping with the weeding and the rest of the garden work.
The word
gnome
is based on a Greek phrase for
Earth Dweller
, as in ancient times not only were certain gods believed to live underground but later strange and wayward beings were supposed to inhabit the woodlands, living in burrows and coming out only to cause chaos.
Something which was not difficult for people to assume with the cold, dark and overgrown European forests of those days.
Even the Harry Potter books of J. K. Rowling describe garden gnomes as "wretched creatures to be cleared away at every opportunity", although in 'The Gnome', the collection of stories by The Brothers Grimm, there are kind as well as malicious.
France and Italy have Garden Gnome Liberation groups who
Free
gnomes from gardens to release them back into their natural habitat, but for a terracotta gnome this is rather unfortunate because close contact with soil and inclement weather will shorten his or her life considerably.
Some Britons have taken to traveling with gnomes and photographing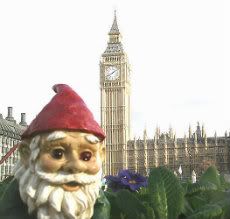 them in front of the Taj Mahal or sunbathing on Bondi Beach, and
Amelie
, is a French film that features the world travels of a stolen garden gnome, while in 2002 summer solstice, June 21, was established as International Gnome Day.
However in Germany apart from a few digressions that have been dealt with swiftly, such as garden gnomes dressed as Nazis, German Gartenswerge just continue to do what folklore decrees that they does best: wake up as darkness falls and start work in the garden, keeping soil moist and healthy, helping plants come into flower, leaves to change their colors, and frightening away those two and four legged prowlers.
Then as temperatures drop and daylight decreases worker gnomes such as
Instus
with his Wheelbarrow, and leisure and culture gnomes like
Heinz
the fisherman and
Willi
with his book, are brought inside, dusted down and carefully placed somewhere warm and dry to wait for the spring, just as they have been for many years in the past and as they will continue to be for generations to come.
"Gartenzweg" photos 1 and 3 via de.Wikipedia, "Rupert und Alois maehen um die Wette" by Ludahid
For topics in the news

And you can follow German Culture on Facebook