Maibowle, Woodruff Punch A German Spring Favorite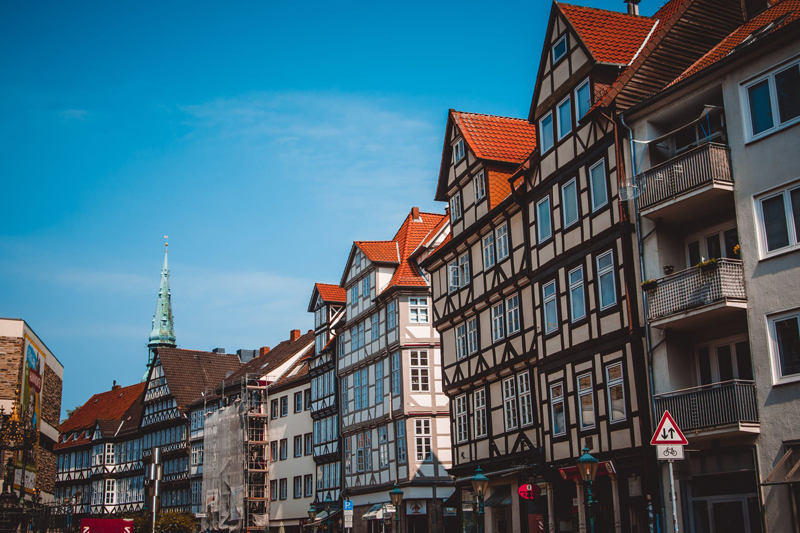 May
, with nature's rebirth after the dark winter months and the feeling of "new life and beginnings" it brings, is one of the most popular and celebrated months of the year in Germany; with festivals, processions and customs that differ not only from region to region but from village to village.
Some are Christian traditions, others based on Pre-Christian spring and pagan festivities. Beginning with
Walpurgisnacht
, on April 30th through to May 1st, when it was believed witches met on Der Brocken, the highest peak in Germany's Harz mountains, "partying" until morning.
The "Beltane" festival of fire has huge bonfires to chase away winter as well as any demons who are around, marking the ending of spring and beginning of the summer. While festivities around May Day's raising and decorating of new Maypoles live up to the ideal of "Dancing into May".
The month is also part of the brief time a real Maibowle can be enjoyed.

May Punch is also known as Waldmeisterbowle Woodruff Punch, and made from fresh Sweet Woodruff, Waldmeister.

A perennial spring herb with small white flowers that grows wild in Germany's forests.
Served everywhere during May, and hopefully even a few days afterwards, it's a perfect match for those warm spring or early summer evenings.
In season only between April and June when the leaves are tender, the dried whole plant is used for traditional medicines; the sweet smelling dried flowers and leaves for potpourri; the fresh herb for flavoring food. Including
Maibowle
. Although outside Germany if you are not sure of the source it is best to use a cultivated plant.
Waldmeisterbowle, May Punch with fresh Sweet Woodruff
Ingredients:
2 Bunches Sweet Woodruff (use young shoots that have not already blossomed)
2 Bottles light dry white wine (dry wine tastes fresher and the Bowle can always be sweetened with brown sugar later if necessary)
1 Bottle semi-dry sparkling wine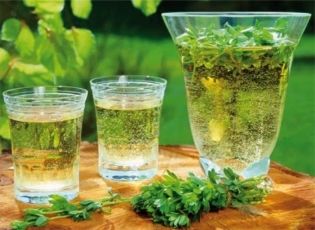 1 untreated or well scrubbed Orange, sliced
Optional - Sugar
Method:
Wash the two bunches of sweet Woodruff and let them dry. If time allows it is better to wash the herbs the evening before they are needed and allow to dry over night. This will intensify the flavor.
Empty one bottle of wine into a large bowl, together with the slices of unpeeled orange.
Gently crush the leaves between the fingers then immerse the green part of the bunch of Woodruff into the wine, by tying and hanging from string.
Don't let the stems submerge as they are toxic.
Cover and marinade for one hour in a cool place, tasting from time to time as the herbs vary in intensity; if left too long the mixture can become bitter.
Remove the Sweet Woodruff; add the remaining bottle of white wine and the bottle of semi-dry sparkling wine. Stir through.
If wanted some sugar can now be added to taste.
Place the Maybowle, which can be decorated with individual leaves and blossoms, (carefully inspected to make sure there are no "visitors" living in there), on a bed of ice if possible. This keeps the punch cool.
Serve chilled with ice cubes in a glass with one of the orange slices.
Strawberries will just be coming into season and a popular variation when serving is adding a few, sliced or quartered, to the glass.
And now for an alcohol free version, ideal and refreshing on a warm day.
Alcohol free Maibowle, May Punch
Ingredients:
1 Bunch fresh sweet Woodruff
1 untreated Orange
Juice of one Lemon
3 bottles or cartons (2 pint) white grape juice or apple juice
mineral water
Sugar
Method:
Wash the Waldmeister - sweet Woodruff, and bind with string. Allow to dry, overnight if possible.
Cut the unpeeled orange into slices, place in a bowl.
Hang the bunch of Waldmeister on the side of the bowl after gently crushing the leaves between the fingers, and fill with the grape or apple juice and the lemon juice.
Allow to marinate for an hour, covered and in a cool place, tasting from time to time.
Remove the Woodruff and shortly before serving add chilled sparkling mineral water and sugar to taste.
PROST !..........and enjoy your Maibowle
Illustrations: Wild Woodruff in a forest botanikus.de, Maibowle photo courtesy zurbuche.de
If you don't have a suitable bowl already then the Artland Simplicity 8-Piece Punch Bowl Set is just ideal. It is attractive, easy care and does what it was designed for perfectly.
For topics in the news

And you can follow German Culture on Facebook
You Should Also Read:
Walpurgisnacht, Maibaum and May Day
May's Wedding Traditions in Germany
May Day Traditions


Related Articles
Editor's Picks Articles
Top Ten Articles
Previous Features
Site Map



Follow @GermanKultur
Tweet





Content copyright © 2019 by Francine McKenna-Klein. All rights reserved.
This content was written by Francine McKenna-Klein. If you wish to use this content in any manner, you need written permission. Contact Francine A. McKenna for details.