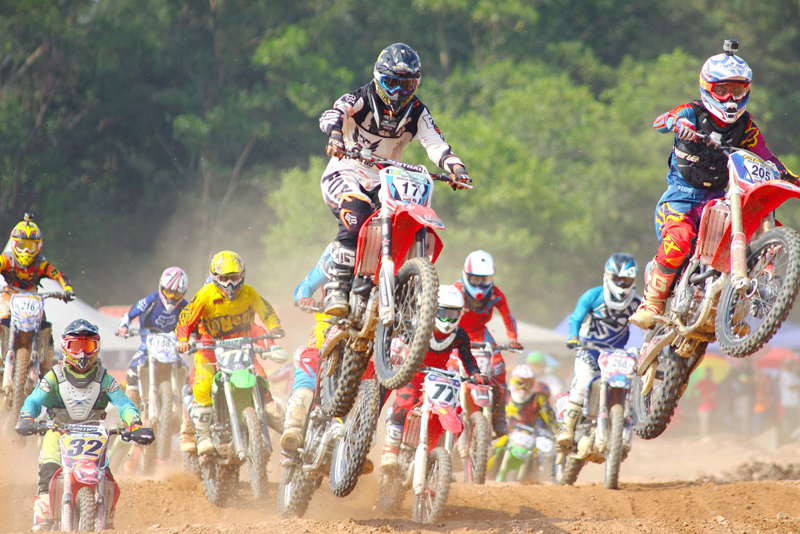 We all know there's a red flag, a blue flag and a chequered flag, but I was quite surprised to learn that there are actually ten types of flag that could be waved at some point during a race weekend. Here is a reference guide to the different flags and what each of them mean:
Chequered:
The black and white checked flag means that the race has ended and the winner has crossed the finish line. It's shown to every car to cross the line behind the winner, even though some of them may be a lap down and won't have technically completed all the laps – the race is still over.
Red:
If the red flag has been waved, it means there are dangerous conditions on the track and the race is stopped. It could be that there has been an accident and a car is in a precarious position, or it could be that the weather is too hazardous.
Yellow:
A single waved yellow flag means that there is danger ahead on this section of track. It is usually when a car has spun off and there are marshals on the track. Cars must slow down and overtaking is prohibited. Double waved yellow flags mean the driver needs to be prepared to stop if necessary.
Green:
The green flag means that whatever danger was there has now been removed and cars can proceed at their previous pace. This usually occurs on the corner after the previous yellow flags.
Blue:
The one that causes most consternation during a race, a blue flag is waved to warn a driver that he is about to be lapped and he must move out of the way. Officially the flag is to say a faster car is behind and trying to overtake, so it could be shown to the leaders at the front, but this seldom happens. Usually it is to the back markers, who have to steer clear of the race leaders without losing positions to their rivals.
Black:
A car must return to the pits and that driver's race is over. This is usually for dangerous driving, as we saw this year in Canada, when both Massa and Fisichella were black flagged for exiting the pit lane through a red light.
Red and Yellow Stripes:
This means the track surface is slippery (usually oil) and caution is needed.
Black with Orange Circle:
With a car number attached, this flag is displayed to a driver when his car has mechanical troubles and should return to the pits. With the pit to car radio, this flag is rarely seen.
White and Black Diagonal:
With a car number this is like a yellow card is in football. It tells the driver that he is warned for his behaviour and a black flag could follow.
White:
A white flag warns that there is a slow-moving vehicle on the track, such as a tow-truck, but the cars are usually behind a safety car when this is occurring.
Keep your eye out in upcoming races and see how many flags you can spot!
This site needs an editor - click to learn more!


Related Articles
Editor's Picks Articles
Top Ten Articles
Previous Features
Site Map





Content copyright © 2022 by Christine Blachford. All rights reserved.
This content was written by Christine Blachford. If you wish to use this content in any manner, you need written permission. Contact BellaOnline Administration for details.