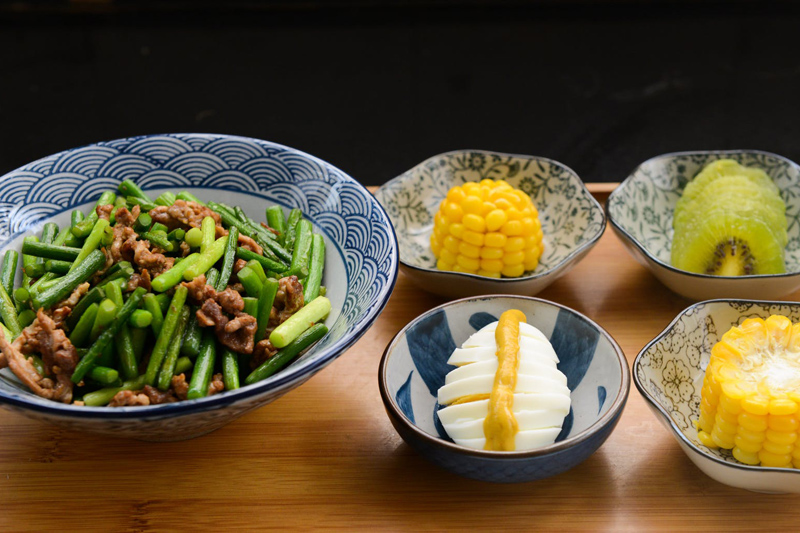 The process of stir frying requires oil with a high smoking point. The smoking point of a particular oil is the temperature at which that oil begins to burn. For stir frying we need to cook with oils that can withstand high temperatures without burning. Following are the oils that are best suited for stir frying:
Peanut oil - The peanut oil that you find at your local grocery store is a bit different that the peanut oil found in a Chinese grocery store. Most grocery stores carry the highly refined peanut oil, which makes it almost flavorless while the oil in the Chinese grocery store has a very nutty flavor. Either one of these can be used for stir frying depending on the flavor you want in the final dish.


Vegetable Oil - Most vegetable oils found in your local grocery store are good for stir frying. They have a high smoking point with little to no flavor. Bottles labeled vegetable oil are usually made up of one or a combination of the following oils each of which is great for stir frying.


Corn oil


Canola oil


Soy bean oil


Safflower oil


Sunflower oil


Light Olive oil - Light olive oil has no flavor and a high smoking point. The extra virgin olive oil has a low smoking point and a distinct flavor that is not quite suitable for Chinese cooking.


"Stir fry oil" or "wok oil" - Some companies make what they call "stir fry oil" or "wok oil." These oils are actually great because not only do they have a high smoking point, but they are infused with traditional stir fry flavors such as green onion and ginger. If you are shopping for a "stir fry oil" check the ingredient list on the bottle to see what flavors are infused in that oil. Then when you make your stir fry, you can eliminate the need to add any of the ingredients that are already infused in your oil.


Chili oil - Chili oil is a very spicy oil that can be used to cook a stir fry. It is usually mixed with another oil to reduce its heat.
Note that sesame oil is used in stir frying for only for flavor and it is always added at the end of the cooking process. Its smoking point is very low and would burn if used to cook with.


Related Articles
Editor's Picks Articles
Top Ten Articles
Previous Features
Site Map





Content copyright © 2023 by Lila Voo. All rights reserved.
This content was written by Lila Voo. If you wish to use this content in any manner, you need written permission. Contact Lila Voo for details.