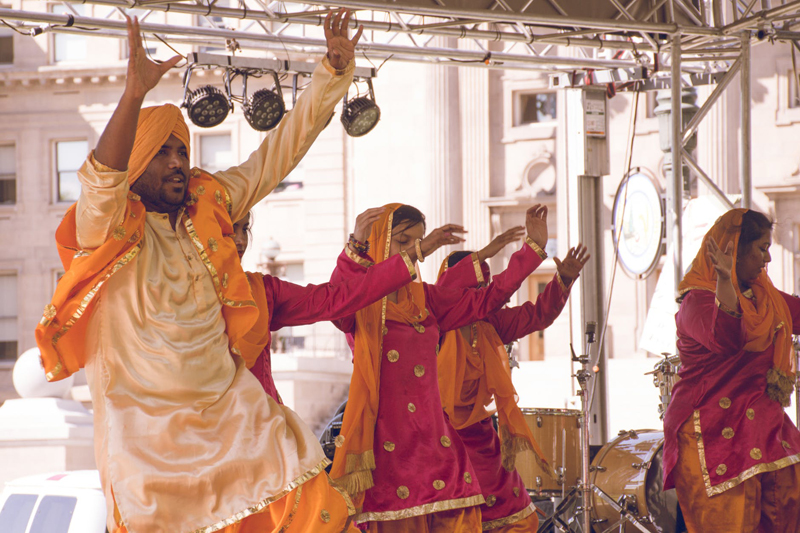 This form of belly dance is truly American. With dance movements that originated from belly dance, tribal dance is modern, hip, and fun. More and more belly dancers are turning to tribal because of its earthy feel.

How people want to look at this art form of dance, is totally up to the individual. Just like asking someone about the origins of belly dance and what country contributed what, tribal dance has created controversy. Some people turn their backs to tribal and others praise it.

Personally, I see tribal belly dance as the punk rockers of belly dance. I mean that in the most sincere way and I hope it is taken as a compliment. There is this punk/rebel vibe that I get when I look at a tribal belly dance performance. I just love the performances! The costumes are simply not textbook and each dancer has their own unique look. Immediately when you see the dancer in all her tribal gear, you know it is tribal.

Unlike the cabaret style of belly dance where the dancer is in a flashy bra, belt and skirt, the tribal belly dancer is in a choli top, harem-styled pants called pantaloons, skirt, and a tribal headpiece. The dancer is covered in jewelry that is not flashy but earthy, just like everything else that covers her body. A tribal belly dancer will point out to you that each piece of her costume represents different countries. The belts from Africa, skirts from India, and the turbans from the Middle East.

The founder of tribal belly dance in the United States was Jamila Salimpour. Around the late sixties early seventies, Jamila performed tribal dances at the Renaissance Pleasure Faire in California. A student of hers continued to teach and soon her students were adding their own elements to the dance.

Carolena Nericcio is known as the founder of American Tribal Style (ATS), and she is the founder of FatChanceBellyDance. Go to any tribal belly dance site and you will find that Carolena is credited for what tribal is today. Tribal belly dancer Devi Mamak learned from FatChance and now has her dance group in Australia.

Now, google tribal belly dance websites and you will see that they too have different styles. There is Jamila's Bal Anat, ATS, Urban Tribal, Tribal Fusion, and even East Coast Tribal (because the origins tended to stay in the West Coast). As for Gothic dance, that form tends to separate themselves from tribal.

You will find that all types of tribal belly dance are similar in costume, music, and trance-like dance movements. The music is earthy, with a concentration on percussion. That is not to say that all tribal music is like that, since new tribal belly dance groups use techno music during their performances. Techno music is similar to other tribal music because it is repetitive.

American Tribal Style is improvisational in that the dancers move based on the transitional cues from the lead dancer. A lead dancer will usually stand on the left side of the group. The dancers have an inner and outer circle, so with ATS, you will not see soloists.

Rachel Brice is known for her style of Tribal Fusion. Her performances are stunning, and if you see a performance on YouTube, you will notice that she performs alone. There are several other Tribal Fusion videos that show soloists.

Since tribal belly dance is normally done in groups, which is by definition a tribe, there is this sense of bonding. Many tribal belly dancers report that they are happier as tribal dancers.


Editor's Picks Articles
Top Ten Articles
Previous Features
Site Map





Content copyright © 2021 by Ronnette Ramirez. All rights reserved.
This content was written by Ronnette Ramirez. If you wish to use this content in any manner, you need written permission. Contact Ronnette Ramirez for details.