Nikki Grimes--Children's Poet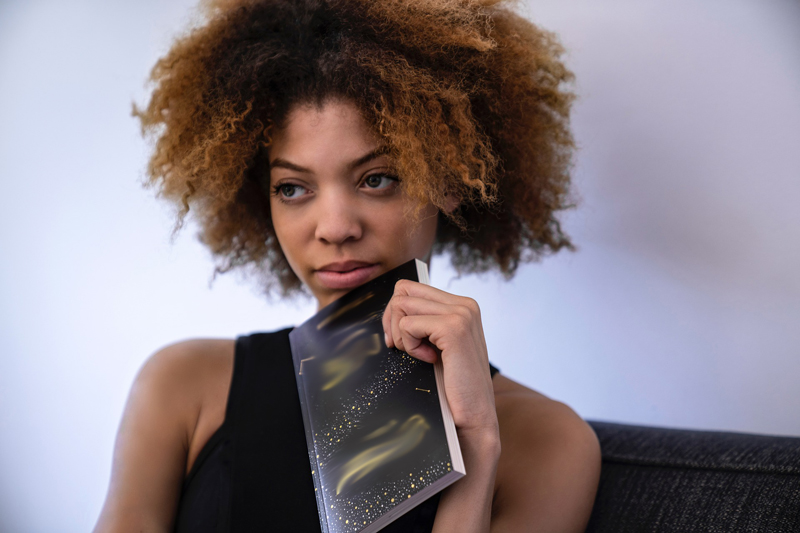 Like many great architects of the written word, Nikki Grimes is happy to wear the title of "poet". Nikki Grimes is a prolific poet and storyteller who truly writes stories that children and young adults can relate to.

Nikki Grimes was born on the 20th of October in 1950 to parents Bernice and James Grimes. It is fitting that this poet was born in Harlem, the home of the Harlem Renaissance. Ms. Grimes parents separated and got back together numerous times before they finally called it quits for good. It was during this time period that Grimes and her big sister Carol were moved from one relative to another. They were put in various foster homes.

When Grimes was five years old she and her sister were separated. They were each sent to separate homes. Many of the homes Nikki went to were horrible but her last foster home in upstate New York was where she felt comfortable and loved.

When Grimes was ten years old, her mother remarried and invited her and her sister to move back in with her. Though Grimes loved her foster family, she wanted to get to know her mother again so she agreed to move back in with her and moved back to New York City. Unfortunately her sister did not remain with the family.

The remainder of Ms. Grimes' childhood was spent in the city of New York. She had a number of rough years on mean streets of the city and attended rough schools but she survived the rough times by reading and writing.

Books allowed Grimes to survive the rough times in her life. They helped her cope by carrying her away to another time and place. The future poet spent many hours in the library reading books endlessly.

Even so, no matter how much she loved her books, she felt betrayed by them. She did not see anyone that looked like her in the books she read. She also didn't see any book that talked about the troubles she faced as a member of a dysfunctional family, a broken home and as a foster child. She knew she wanted to write books for children who looked like her and went through the same situations she had went through.

Ms. Grimes attended William Howard Taft High School in the Bronx, it was the sixties and she became involved in sit-ins, political demonstrations and grassroots activities. It was during this time that Ms. Grimes suffered a great loss, her father died. Ms. Grimes became stressed, angry and hurt.

Her guidance counselor helped her through those difficult times. A woman by the name of Mrs. Wexler was a holocaust survivor and her English Teacher. Mrs. Wexler helped her focus on the future. She helped her focus on her studies, preparing for college and the life that she wanted for herself

Another inspiration in her life was the author James Baldwin. The poetess met the author during her junior year in school and he mentored the aspiring artist. Grimes credits Baldwin as the most important influence in her literary life. Through Baldwin, Grimes learned to honor her talent and to write with integrity and honesty. She also learned the responsibility she had to her audience. He encouraged her to master her craft and expand her knowledge.

Throughout her schooling, Nikki Grimes wrote stories and poem and read everything she could get her hands on and like most artists, she dreamt of having her books on the shelves on the library. While in high school she published poems in the school's literary journal and other publications. Since she spent most of her life in the inner city, many of her books and poems have the city as a backdrop.

Ms. Grimes' mother was not supportive of her career aspirations. When she spoke of wanting to be a writer to her mother, she would tell her that writers are a dime a dozen. Many years later Grimes wrote an autobiographical collection of poems and named the piece, "A Dime a Dozen".

After graduating from high school, Grimes joined a writer workshop at Columbia University. It was here that she met and became friends with the renowned poet. Nikki Giovanni. Two years after that, Grimes attended Livingston College, Rutgers University in the state of New Jersey. Grimes got to meet professors that were working artists. She met artists such as bassist Larry Ridley and novelist Nathan Heard.

Nikki Grimes has written a significant body or work. Grimes has succeeded in writing poetry and fiction featuring African-American characters that young adult and children can identify with. Using scenes from her childhood in New York City, Grimes is credited for conveying the black experience and writing of themes of family, friendship, tolerance, and community. Despite her own difficult childhood, her stories are filled with warmth and optimism.

Nikki Grimes has written several award winning books and poetry collections. Her novel "Bronx Masquerade" won the 2003 Coretta Scott King Author Award and "Jazmin's Notebook" was the Bank Street College Book of the Year. She also wrote the popular poetry collections, "Danitra Brown, Class Clown", "Danitra Brown Leaves Town" and "Meet Danitra Brown."
Nikki Grimes has said that she is blessed to be doing what she had always dreamed of.



Related Articles
Editor's Picks Articles
Top Ten Articles
Previous Features
Site Map





Content copyright © 2022 by Sonya L. Wilson. All rights reserved.
This content was written by Sonya L. Wilson. If you wish to use this content in any manner, you need written permission. Contact Nina Guilbeau for details.