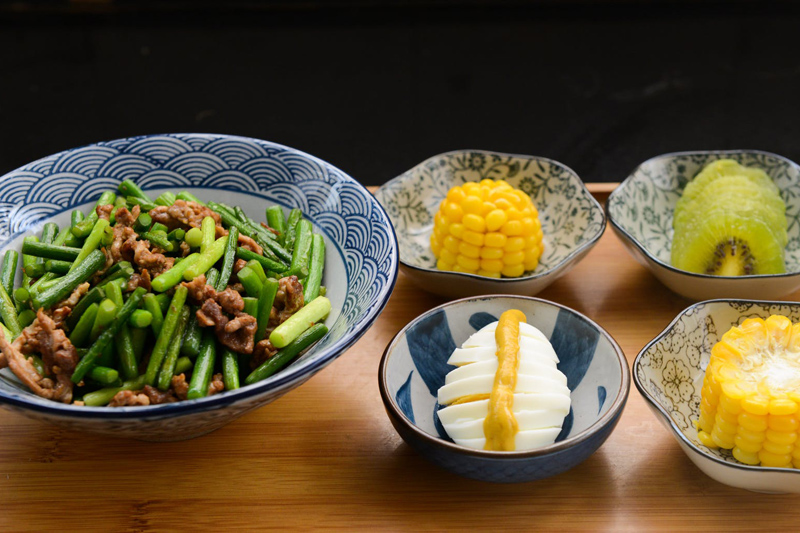 Moo shu is one of my favorite Chinese dishes. It is both delicious and fun to eat. This dish comes with several thin pancakes along with a stir fried mixture of cabbage, mushrooms and meat, and is eaten just like a fajita. The pancakes used in this recipe are called moo shu pancakes or moo shu wrappers and can usually be found in either the bakery section or the frozen section of most oriental grocery stores. If you have trouble finding these pancakes you can simply substitute them with flour tortillas. Try this delicious quick and easy moo shu recipe and let me know what you think in the Chinese food forum. Enjoy!
3 dried shitake mushrooms
1.5 lbs lean pork
1 green onion
1 tsp salt
3 tbsp peanut oil
¼ tsp garlic salt
16 oz pg coleslaw mix
1 tbsp soy sauce
10 moo shu pancakes
Hosin sauce (optional)
Marinade:
1/2 tsp sugar
2 tbsp soy
1 tbsp sherry
1 tbsp cornstarch
½ tbsp oil
Soak the mushrooms in a bowl of hot water for about 30 minutes.


While the mushrooms are soaking, remove all of the fat from the pork and cut it into thin skinny strips.


Place the strips of pork in a container with a tight lid and then add the marinade in the following steps.


First add the sugar by sprinkling it sparsely so that it hits each piece of meat. Next add the soy and the sherry and stir thoroughly. Then sprinkle on the cornstarch coating each piece.


Finally add the oil and stir to coat all of the meat. Let the pork marinate at room temperature for 30 minutes.


While the meat is marinating, rinse and dice the green onion.


The shiitakes should now be about finished soaking. Squeeze them out and dry them thoroughly with a paper towel. Then slice them into small slivers and set them aside.


When the meat is finished marinating, bring a pot of water with the salt and 1 tablespoon of the peanut oil to boil.


Once the water boils, add the meat and let it boil for 1 minute. Then remove it with a slotted spoon and set it aside.


In a non stick pot or wok, heat the remaining 2 tablespoons of peanut oil on high. Add the coleslaw mix and garlic salt and stir fry for about 3 minutes, or until the cabbage is soft.


Add the pork, green onion, shitakes, and soy and stir fry for one more minute. Remove from heat and serve with the pancakes.


To eat simply place a little Hosin sauce on the pancake and spread it evenly. Then add about 2 tablespoons of the cabbage and pork mixture in the center of the pancake, roll it up, and eat it.


Makes 3 servings.


Related Articles
Editor's Picks Articles
Top Ten Articles
Previous Features
Site Map





Content copyright © 2019 by Lila Voo. All rights reserved.
This content was written by Lila Voo. If you wish to use this content in any manner, you need written permission. Contact Lila Voo for details.