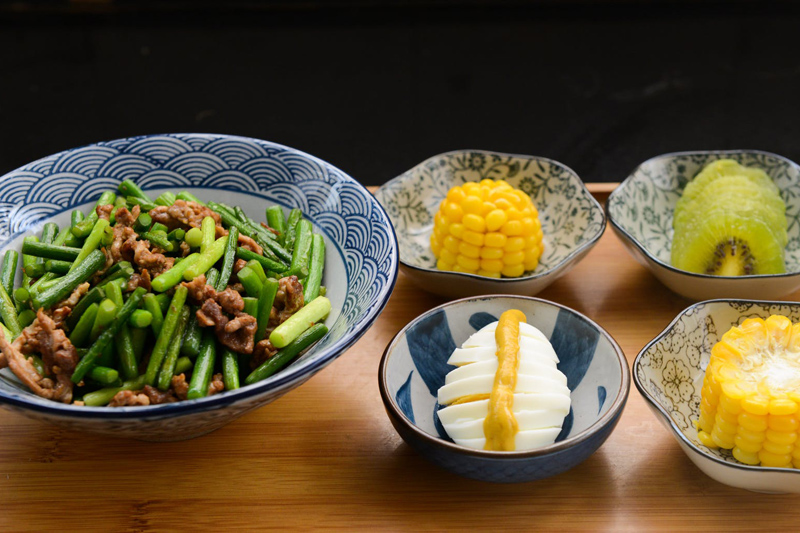 Red cooked beef is both a delicious and warm dish. Very similar to American beef stew, red cooked beef makes the perfect meal as we head into these cold October days. Red cooking, or red stewing as some call it, is a simple cooking technique in which meat is simmered in a liquid consisting of large amounts of soy sauce and sugar. It is a very popular cooking technique used in China today, which can be used on almost any type of meat except for fish.
There are two main differences between Chinese red cooking and American stewing, or braising. First, the meat in red cooked dishes is never browned as in an American beef stew recipe. Second, the liquid in a red stew is never thickened, it remains thin like soup. Other than these two differences, the remaining steps of these cooking techniques are very similar.
In the recipe below I use a boneless shoulder roast that is cut into chunks. If you prefer, the meat can be left whole and then cut thin after the cooking process. Just keep in mind that the larger chunks of meat will take a bit longer to cook. To test to see if the meat is done, simply poke it with a fork. If the fork slides through the meat easily, then it is finished. This is what we call "fork tender." In addition to the meat in this dish, vegetables may be added as well to create a complete and easy meal. Carrots and other root vegetables work very well with this dish. Experiment with this recipe and let me know what you think in the Chinese food forum. Enjoy!
2 lb boneless shoulder roast
2 cups water
½ cup soy sauce
3 tbsp sherry
½ tsp ground ginger
3 tbsp sugar
Try to remove all of the fat from the beef and cut it into 1 to1 ½ inch chunks.


Place these chunks of meat in a large pot or dutch oven.


Add the water, soy sauce, sherry and ground ginger. Place the pot on the stove and turn the heat on high. Bring the mixture to a boil.


Once the meat boils, turn the heat down to low, cover the pot and let the beef simmer for 1 ½ hours.


After it has simmered for 1 ½ hours, add the sugar and simmer again for about 30 minutes longer, or until the meat is fork tender.


Serve over white or fried rice. Makes 3 generous servings


Related Articles
Editor's Picks Articles
Top Ten Articles
Previous Features
Site Map





Content copyright © 2018 by Lila Voo. All rights reserved.
This content was written by Lila Voo. If you wish to use this content in any manner, you need written permission. Contact Lila Voo for details.