Critter Camp Provides Sanctuary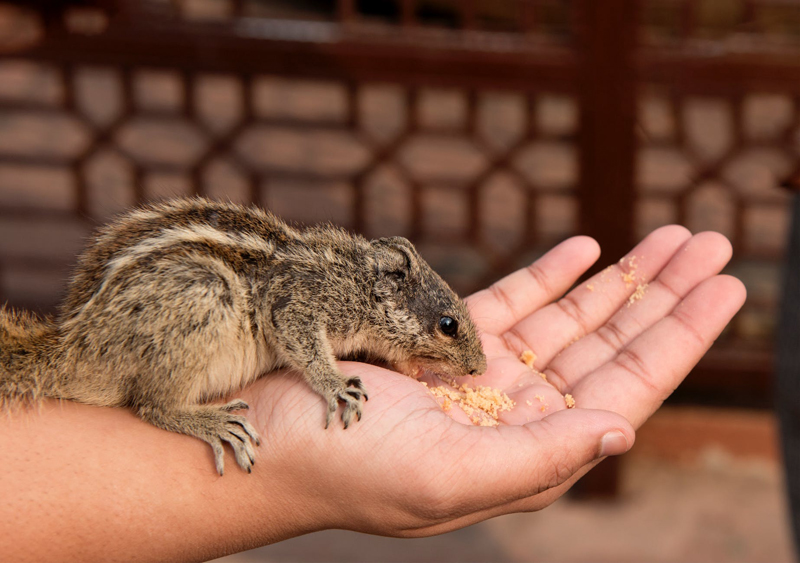 Because of lack of knowledge, unpreparedness, the endeavor to be trendy or just plain malicious intent, thousands of exotic pets suffer neglect or abandonment. Many of these exotic pets are left in deplorable conditions, killed, or "set free," where the animals suffer starvation, climate inhospitable to their needs, suffering agonizing pain until they die. Or else, they manage somehow to survive in the wild, however not in a habitat that is native to the animal, causing irreversible damage to the local native wildlife.
According to Director Beth Randall, of Critter Camp Exotic Pet Sanctuary, she has seen the consequences of the hardship these animals have endured. Exotic pets left alone to starve; the innocents that have no concept of why they are in pain and suffering.
"We have taken in a hedgehog that was found in a dumpster, a guinea pig so filthy, that once the caked on waste was shaved from his fur, he weighed half of what he did when he came in, a rabbit who had been tied to a tree and the skin had grown over his collar - just like you see in abandoned dogs, elderly hamsters that were left in a house when the tenants moved out; they were found by the new tenants, rabbits starving, ferrets in kidney failure because they were deprived of water for days, ferrets with cancer that had gone untreated, malnourished and filthy small animals, guinea pigs that were to be used as bait in a dog fighting ring, strays that people have found outside, in danger of being killed by predators or frozen, animals so mean, caused by abuse, that they were to be euthanized but were saved by a vet tech who knew about us," said Randall.
Critter Camp Exotic Pet Sanctuary
is the winner of Exotic Pets BellaOnline *Top of the Web Award.



A prestigious award rarely given. Critter Camp is a registered charitable 501c3 tax exempt nonprofit ,licensed by the United States Department of Agriculture (USDA) and the Illinois Department of Agriculture (IDOA) 100% no-kill, completely volunteer operated and a safe, healthy, and happy home for over 250 abused and abandoned exotic and unusual pets. "At a certain point re-homing pets, particularly the unusual and exotic pets, at all costs, often serves only to make the people involved, feel better about themselves. Regardless of the stability and continuity of care the elderly, abused, or ill animal, actually needs," explained Randall.

Many shelters will euthanize unwanted animals but Randall adamantly refuses to stoop to inhumane solutions to already suffering, unwanted, and unloved pets. According to Randall, euthanizing such animals brings the rescuer down to the universally despised level of "puppy-mills" in that; if an animal is no longer useful to humans it must be killed.

"This is incredibly heartbreaking," said Randall. "People bred every one of these pet animals for human enjoyment, for profit or both; therefore, we as humans have an obligation to provide quality care for these animals for their entire lives, whether or not they are 'pet quality.'"

Phoenix is a bearded dragon that was found out in the cold as a stray, by animal control near Chicago. He was nearly starved with a huge wound on his tail that was infected. After trying many treatments and antibiotics we had to have his tail amputated. He was so weak he almost didn't survive the surgery. But we pulled him through and hand fed him for weeks until he built up his strength. Now he eats on his own, but has lingering neurological problems. He now lives in a warm safe large (75 gallon) tank with fresh food and daily attention.




One of the solutions to this problem is education and awareness. Randall feels there is a consensus of what needs to be done to help eliminate the reoccurring problem of unwanted pets. Randall and her volunteers produced brochures on what to consider before you get a pet, they provide educational presentations, produce informational pages on their website, and answer questions on pet care both via email and phone calls, and provide hands-on educational tours at the sanctuary. "People have come from as far away as Australia, Canada, and Ethiopia to take our tour," said Randall.

Randall continues, "We reach thousands of people with vital information. Recently we partnered with Burpee Museum of Natural History in Rockford to give monthly talks on the care of exotic pets. We feature a different group of the animals each time and bring some for people to pet."

Randall explained they had not started out with the idea of starting a shelter or sanctuary. Randall is a single mom who was homeschooling her two gifted daughters, and her son with special needs, while incorporating their pets into the lessons.

At that time they had a dog, cats, hamsters, and gerbils. Nonetheless, they decided to add ferrets after spending a semester researching ferrets and their care. They ended up taking in a rescue ferret and his cousin. "Then the hedgehog, another gerbil, and parakeet came before long, word got out, and people were bringing us their unwanted animals."

When they reached 30 animals they decided they had to either stop accepting the homeless animals or make it a full-time endeavor and become a licensed shelter.

"We have grown to care for over 250 animals of 30 different species, utilizing over a dozen volunteers, and becoming a registered 501c3 non-profit organization," said Randall. "Volunteers from miles away now come to help us at Critter Camp. They help clean cages, build enclosures, exercise, feed and play with the animals."

Critter Camp is unique in other ways as well. According to Randall, Critter Camp is currently run by women, strong, animal loving, kind, and compassionate women who in some way have all faced adversity.

"Our board consists of Shary (who has a chronic form of leukemia and lost her daughter to illness), Diane (a breast cancer survivor), my 20 year old daughter Cassandra (who has spent her entire life helping with the care of her brother and these animals) and I am the director, (mother of a son with special needs, rheumatoid arthritis and also suffers from benign positional vertigo.) Cassandra and I are also both long time vegetarians," clarified Randall.

Critter Camp currently has approximately 20 volunteers, mostly women. Their most recent volunteer that came aboard is Katie. "Katie, is a young lady who works full time at a nearby animal shelter for dogs and cats, goes to college, takes care of her pets, and still manages to come help us out every week with cage cleaning," said Randall.

Critter Camp isn't just about feeding, housing, and medical care it is also about improving and enriching the animal's quality of life "The small animals have wheels and toys. The rabbits, guinea pigs, and ferrets all have large, free range areas to live in, not a cage. The large birds get 'out of cage time' daily. The fennec fox is free to roam the downstairs, out of her cage. The arctic fox is walked daily," said Randall.

Critter Camp depends entirely on donations and an occasional grant to fund all the expenses associated with the care of 250 exotic pets. As an exotic pet owner myself, I know about the huge expenditures connected with just a few exotic pets.

Critter Camp has a good chance of winning the Animal Rescue Site contest. "We are steadily gaining in the ranks - with a few more people voting for Critter Camp, we have a shot at the prizes, and that is amazing considering we are up against the big groups like Best Friends and NorthShore Animal league," exclaimed Randall.

You can help this amazing sanctuary by voting daily. The contests ends on December 20th just click the link, when you see the search box just copy and paste the Critter Camp Exotic Pet Sanctuary, put IL in the drop down box for state, click the search button then you will see vote. Bookmark the page and drop by daily to vote until the contest is over. This will give everyone a chance to make a big difference in helping Critter Camp, who has taken on a tremendous responsibility in caring for these pets. Vote Here

Critter Camp has plans to build a "green" state of the art sanctuary building, "We will be able to house nearly triple the number of needy animals and operate on wind power, passive and active solar power, compost the used bedding, keep a greenhouse for fresh produce year round, and much more," said Randall.

See an illustration of their plans Proposed Critter Camp Exotic Pet Sanctuary and Learning Center you will also find many ways of donating to the building fund.

Critter Camp has started an Emergency Help Program, funded in part by PETCO, to assist people in keeping their pets due job loss, foreclosure, natural disaster and more. "Critter Camp is partnering with Red Cross chapters, food pantries, homeless shelters and other agencies to help people keep their pets, thereby reducing the number of pets being abandoned or surrendered to shelters," said Randall.

Take the time to look at their website; in an era where we hear a constant flood of bad news, it is a ray of bright sunshine to find those that truly do care. They don't just talk the talk they walk the walk! You also can make a difference.

Critter Camp Exotic Pet Sanctuary

Please consider pet adoption and exotic pet adoption before purchasing. Where to adopt




Diana Geiger Exotic Pets Editoron


You can follow Karma Ferret on Twitter Karma Ferret


Ferrets: A Complete Guide available in paperback and Kindle. By Diana Geiger (me:) Five star reviews!






Ferrets: A Complete Guide - Paperback

Ferrets: A Complete Guide - Kindle

PDF Version Ferrets: A Complete Guide (Access to free PDF Reader)
Ferrets: A Complete Guide





Join Exotic Pets Bellaonline on Facebook - be sure to click the "like" Exotic Pets Facebook

Exotic Pets @ Twitter


Subscribe free to the exotic pets newsletter. It is quick and easy Just glance to the right or scroll a bit to the bottom and subscribe. I will only bug you once a week :) Be the first to be in the know! Your information is always private!

I am also the Bird editor if you enjoy pet birds subscribe to the Birds newsletter. Birds BellaOnline
This site needs an editor - click to learn more!

You Should Also Read:
Exotic Pet Shopping
Ferrets - A Complete Guide Paperback and Kindle
Children's Pet House




Related Articles
Editor's Picks Articles
Top Ten Articles
Previous Features
Site Map





Content copyright © 2022 by Diana Geiger. All rights reserved.
This content was written by Diana Geiger. If you wish to use this content in any manner, you need written permission. Contact BellaOnline Administration for details.