In German homes where there are children, and many where there are none, on
December 1st
another of Germany's Christmas traditions begins. It is time to open one of the numbered doors on the Advent Calendar.
This will be followed by another every day during the countdown until Christmas Eve, Heiligabend - Holy Evening, and the end of Advent. With occasionally an extra flap for Christmas day.
Behind each of these doors lie small chocolate angels, stars or snowmen, candies, or other little surprises, while for "more mature" tastes there might be chocolate truffles or liqueurs.
There are several legends as to their origins, but it's thought the first Advent Calendars were in 19th Century Germany's Protestant region where devout families marked each day to "Heiligabend" with a chalk line drawn on a door or wall.
Rather a long way from some 1.75 meter (5 feet) high Advent calendars sold these days, with their twenty four doors opening onto everything from designer sunglasses to photos of 8.5 meter (28 feet) speedboats that, for obvious reasons, do not fit.
By the late 1800's chalk lines had developed into a painted poster or card with its twenty four windows opening onto a biblical verse or religious scene, and families also began creating their own calendars.
The first mass printed Advent calendar is thought to be one with tiny colored pictures, one to be stuck onto its cardboard base each day, which was produced in 1908 Munich by
Gerhard Lang
, a pastor's son born in Maulbronn. A village in Southern Germany's Black Forest.
During his childhood Gerhard's mother had made him calendars with twenty four small boxes attached to a board, each carrying a sweet biscuit or small candle to mark the days to Christmas Eve, and he developed this idea beginning a new and popular Advent tradition in Germany.
Eventually he produced thirty different styles of calendar, with little doors or small attached bags containing pictures of the nativity, bible extracts or candy.
World War II brought an end to the custom, cardboard was rationed and Advent was not celebrated as it had been. Gerhard Lang's business closed, and it was not until 1946 that a commercial tradition was restarted in the US zone of post war Germany by Richard Sellmer, working in the living room of his Stuttgart home.
President Eisenhower bought some calendars for his grandchildren in the early 1950's when the idea was part of charitable business cooperation in the USA, while the custom itself regained popularity throughout Germany and began to spread worldwide. With chocolates or sweets being added behind the calendar windows by the end of the 1950's.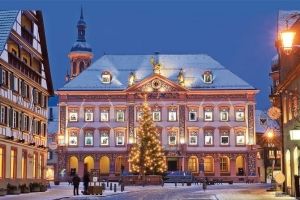 Many German towns feature a
Walking Advent Calendar
, where a painted and themed window on individual buildings is illuminated each day until twenty four decorate the dark streets, while in other towns and cities it's the Town Hall itself that becomes an Advent calendar when each evening another window decorated by school children or artists is revealed.
Gengenbach
, a beautiful medieval town of half timbered buildings and cobbled streets in southwest Germany's Black Forest, has the largest of these giant Advent calendars using twenty four of its pink baroque Town Hall windows.
While on the other side of the country in
Leipzig
, Saxony, a two by three meter (6.1/2 x 10 feet) three-dimensional window, is part of the largest freestanding Advent calendar in the world and opens each evening from December 1st until Christmas.
But almost certainly the most treasured of the Advent calendars are the ones that are brought out from the Christmas decoration box and filled with small surprises each year.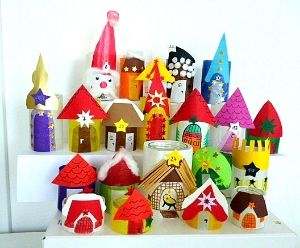 Handmade designs created while children are small, and most often with their help, handed down through the generations or bought from a
Weihnachtsmarkt
and treasured for their memories, they contribute to the feeling of tradition, continuation and charm that is a
German Christmas
.
Have a wonderful "Adventszeit".
Wooden Advent Calendar from Weihnachtsmarkt - Adventskalender am Rathaus von Gengenbach, the largest Advent calendar in the world, Alt Rathaus, old Town Hall in Gengenbach, in the Black Forest, Baden-Wuerttemberg, photographer Dieter Wissing, via Kultur-und Tourismus GmbH stadt-gengenbach.de - Crafted Calendar by wunderbare-enkel.de
For topics in the news

And you can follow German Culture on Facebook
For young and old, to bring the atmosphere of a Frohliche Weihnachten both for those who have experienced one and those who would like to. Filled with Songs, Traditions and Stories, this German Book & Audio CD Edition has easy to follow translations throughout
Here is a beautiful Advent Calender to bring out every year and help count those days to Christmas. By Eric Carle, of 'The Very Hungry Caterpillar' fame, it is the enchanting 'Dream Snow Pop-Up Advent Calendar'