Guest Author - Michelle Matile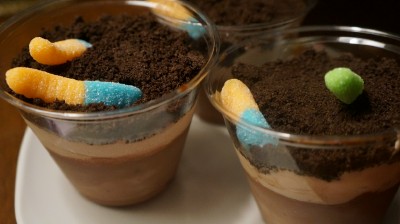 This recipe is a fun dessert to make for kids or a great recipe to get the kids involved. The dirt cups consist of chocolate pudding followed by a layer of chocolate infused whipped topping and topped with chocolate cookie crumbs that look like dirt. Gummy worms are the garnish. Another garnish option is flower lollipops, chocolate or candy. For this version I made homemade pudding. However, you can replace it with boxed pudding for an even easier dessert.
Chocolate Dirt Cup Recipe
Makes 8
Ingredients:
Pudding:
1/2 cup sugar
1/2 cup baking cocoa
1/4 cup cornstarch
4 cups half and half
2 tablespoons butter
1 tablespoon vanilla
1 oz. chocolate (I used Dove milk chocolate)
14 Oreo cookies or other chocolate cookies
1 (8oz.) tub of Cool Whip or other whipped topping
16 gummy worms
8 (9 oz.) clear plastic cups
Directions:
1. In a small bowl combine cornstarch and 1/4 cup of the half and half. Stir until combined and smooth and set aside.
2. In a medium sauce pan combine sugar, cocoa, and the remaining half and half and heat over medium to high heat.
3. Stir in the cornstarch mixture and allow it to boil.
4. Once it boils, reduce the heat to simmer and stir constantly for 2 minutes.
5. Remove the pan from the heat.
6. Add the butter, vanilla, and chocolate and stir until melted.
7. Set aside and allow the pudding to cool for 10 minutes.
8. While the pudding is cooling crumb the Oreo cookies in a food processor or blender.
9. Take 1/4 cup of pudding and stir it into the whipped topping. You can stir it in while the whipped topping is still in the container.
10. Assemble the cups by dividing the remaining pudding into each of the cups.
11. Then top with the whipped topping, dividing it equally between the cups.
12. Finally spoon the cookie crumbs (dirt) over the whipped topping. There will be plenty of cookie crumbs to be generous.
13. Garnish each dirt cup with two gummy worms.
Enjoy and sweeten the soul with chocolate!