Should You Use Cloth Menstrual Pads?
Many moms who use cloth diapers are also introduced to cloth menstrual pads. Often their reaction is the same as mine was initially. Eew! Who wants to wash cloth pads? Then I did the research. Cloth pads are simple to use, inexpensive, they come in dozens of cute styles, and they are more comfortable than paper and plastic pads. I quickly became such a convert that I now only wear cloth pads. I still have leftover disposables and I find myself reaching for cloth pads every time.
Why use cloth pads?
I am a big fan of the environment and one reason I promote cloth diapers and cloth menstrual pads is because they keep tons of solid waste out of our landfills. But I am also a creature of convenience. I use cloth pads because they are more comfortable. Paper and plastic pads are sweaty, the adhesive shifts constantly (I don't appreciate the free bikini waxes!), and I learned that they actually promote heavier bleeding and cramping. Some women report that they have lighter and less crampy periods with cloth menstrual pads.
The chemicals used in producing disposable pads and tampons can cause a whole slew of health problems, including cancer and infertility. Read more about the
health risks of disposable products
.
How do you wash cloth menstrual pads?
Washing cloth menstrual pads is much easier than I imagined. I use a plastic jar with a tight lid to soak my pads. I just add a little bit of tea tree oil to the water and drain it every day. At the end of my period or when I run low on pads I simply dump them in the washer. I run a cold water rinse and let them soak for about half an hour. Then I run a cold water wash with 1 tablespoon of detergent. If you have sensitive skin you may want to rinse a second time. Then I throw them in the dryer. You can line dry if you prefer. Voila, a pile of fresh, clean pads ready for reuse.
You can also store pads in a waterproof bag when you are away from home or if you prefer to store them in a dry bag instead of a wet pail. If you store your pads dry, be sure they are washed more often to prevent mildew. You may also need to soak longer than 30 minutes. If your pads develop stains you can let them sit in the sunlight for several hours to lighten the stains. Some people also use an oxygen based bleach to lighten stains. I simply choose stain resistant fabrics and don't worry too much about them. A new, completely natural product is now available that removes stains from cloth pads easily. Click here to learn more about
The Scarlet Secret
How much do cloth pads cost?
I have seen cloth pads for anywhere from $4-20 each. Lighter weight or panty liner style pads usually are the cheapest. For luxury pads you can choose high end fabrics such as minkee chenille, bamboo velour,or organic cotton velour with wool backing. Having at least a few really nice pads will make you feel special during your period. Pads come in many styles and patterns. You can get plain white pads or you can choose a pretty flannel print, a pretty color of fleece, or even tie dye!
You will need from 6-30 pads for your cycle depending on how heavy your flow and how often you choose to wash them. So you may spend from $24 for a few inexpensive pads to a couple of hundred dollars for a deluxe set. When you consider that the average woman spends over $100 a year on disposable products you can see a significant savings very quickly. Someone with a heavier flow or longer period will save even more. Cloth menstrual pads will last an average of 5 years. So, a $100 set of pads could save you $400-500 or more.
See some styles of cloth menstrual pads:
Comfy Cloth Pads
Happy Heiny Cloth Menstrual Pads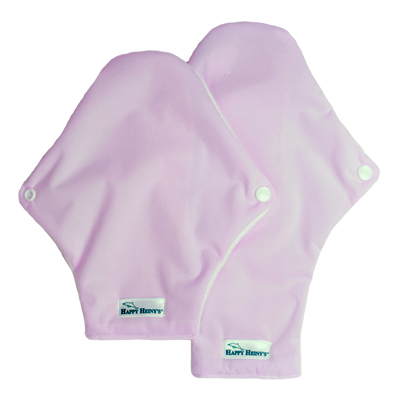 This site needs an editor - click to learn more!

You Should Also Read:
Breastfeeding Nutrition




Related Articles
Editor's Picks Articles
Top Ten Articles
Previous Features
Site Map





Content copyright © 2022 by Julie Renee Holland. All rights reserved.
This content was written by Julie Renee Holland. If you wish to use this content in any manner, you need written permission. Contact BellaOnline Administration for details.