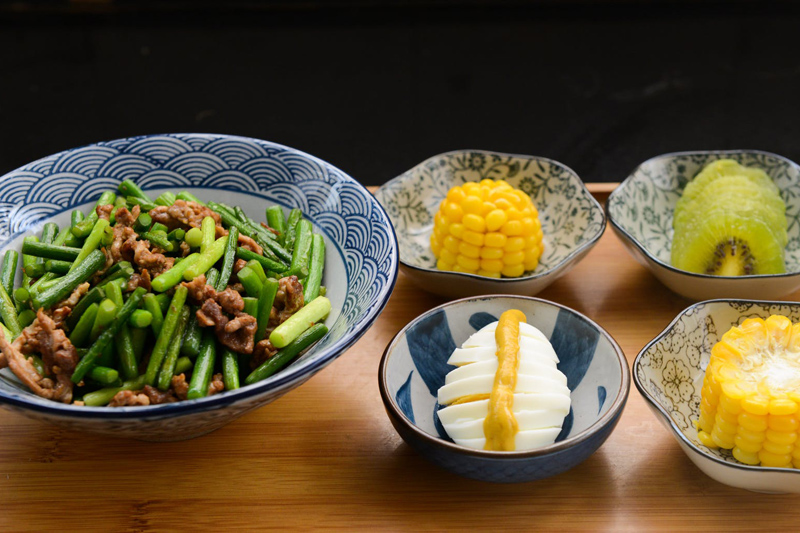 Hunan is a region in China that is known for its wonderful hot and spicy cuisine. Different from the dishes of Sichuan or Szechuan, which is another region known for its hot and spicy food, Hunan dishes often use more ingredients and take longer to prepare. Hunan recipes use dry chili peppers for spice and are often hotter than Sichuan dishes which incorporate both chili peppers and Sichuan peppercorns. The reason for this is because Hunan recipes usually call for both the chilies and their seeds to be added to the dish. The seeds are the part of the pepper that hold the most heat. These are what give hot dishes their extra, almost intolerable kick.
The recipe below is a simple Hunan dish that is quite quick and easy to prepare compared to most of the regional recipes. In this dish I do incorporate the seeds of the chili peppers. However, if you are wary of hot and spicy food, I suggest removing the seeds for the first time that you make this dish. It will still have quite a bit of spice, just not the overpowering heat. Try this recipe and let me know what you think in the Chinese food forum. Enjoy!
To see a video of these instructions click
here
.
1 lb lean beef
Marinade:
¼ tsp meat tenderizer
1 tbsp soy sauce
1 tbsp cornstarch
½ tbsp peanut oil
4 large dried Thai chilies
1 tsp salt
2 tbsp peanut oil
½ tsp jarred pre chopped garlic
2 tsp rice wine vinegar
2 tbsp soy sauce
1 tsp sugar
1/8 tsp ground ginger
Remove all the fat from the beef and cut it across the grain into thin 1½ inch slices.


Place the beef slices in a container with a tight fitting lid and add the marinade in the following steps. First add the meat tenderizer by sprinkling it sparsely so that it hits each piece of meat. Next add the soy and stir. Then sprinkle on the cornstarch coating each piece. Finally add the oil and stir to coat all of the meat.


Let the meat marinate at room temperature for 30 minutes.


While the meat marinates, chop the Thai chilies into tiny pieces. Once they are cut, set them aside. Again, if you or a family member is not fond of hot foods, simply discard the seeds at this point.


Once the meat has marinated, velvet it by bringing a pot of water with the salt and just 1 tablespoon of the peanut oil to boil.


Once the water boils, add the meat and let it cook for 1 minute. Then remove it with a slotted spoon and set it aside.


Heat the remaining tablespoon of peanut oil on high in a non stick pot or wok. Add the chilies and garlic and stir fry them for 1 minute.


Add the beef, ginger, vinegar, soy sauce and sugar and stir fry everything for 1 more minute then remove the wok from the heat.


Serve with steamed vegetables and rice. Makes 2 servings.


Related Articles
Editor's Picks Articles
Top Ten Articles
Previous Features
Site Map





Content copyright © 2019 by Lila Voo. All rights reserved.
This content was written by Lila Voo. If you wish to use this content in any manner, you need written permission. Contact Lila Voo for details.