The Thai Paradise of Ko Phi Phi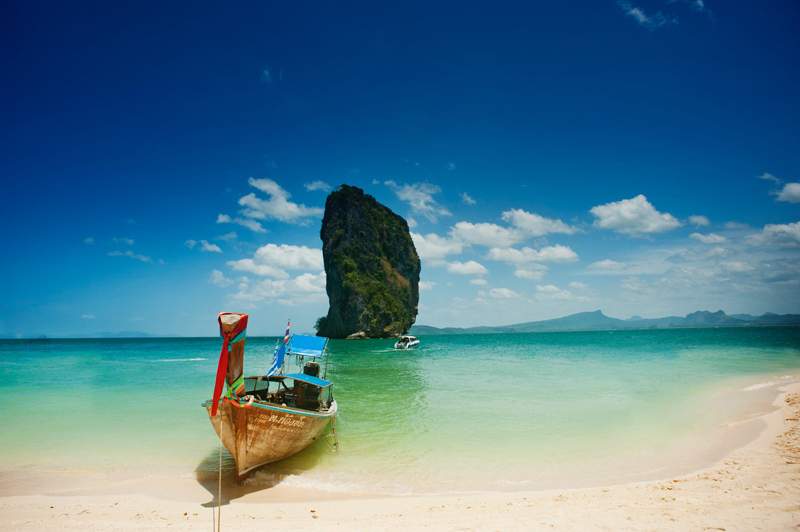 One of my favorite places in Thailand is the small islands of Ko Phi Phi, located off the western coast of southern Thailand. Accessible from coastal towns like Krabi (a place known for it's great rock climbing) and Phuket, one of the largest southernmost islands, you can hop a ferry from either location and set out for the picture perfect islands of Ko Phi Phi.

Ko Phi Phi Don is the larger, inhabited island. There is no motorized transport. If you want to get from one side to the other you can catch a longboat or make the trek yourself on foot. Most of the hub of the island is fairly concentrated on the harbor side. Here, you have countless choices of dive shops, souvenir stands, bars and restaurants. Most of the accommodation is tucked a bit further inland, but is a very short walk from the beach. You'd be hard pressed to find a room for under 900 baht (roughly 28 USD) whereas on the mainland you could find a decent room for 300-600 baht. I split the cost of a nondescript room with a fellow traveler, and we got two beds, a nice bathroom, and an air-conditioner. There was even a television which hilariously boasted a channel showing a live video feed of the beach, not a five minute walk from the hotel.

Ko Phi Phi Leh, the smaller satellite island, is a national park, and thus protected by the government. No one may live or stay even a night on this pristine paradise. However, there are several options for day trips to the island. Just walk around Ko Phi Phi Don and take note of the various packages offered by different tour operators on the island. Many include a visit to the Monkey Beach, where fearless, semi-tame monkeys will eat bananas right out of your hand. Still more include a stop at Maya Bay, the beautiful beach made famous by the movie "The Beach." You can catch a longboat, paddle a kayak, or ride along a large dive ship to get to Ko Phi Phi Leh.

Both islands are amazing to behold. Riding a ferry toward the island, I was transfixed by the steep and looming limestone cliffs plunging into the sea. Longboats floated on crystal clear waters and tropical fish could be seen fluttering through the blue depths. All in all, I felt I had reached paradise. The only downside was the amount of construction going on, which was due mainly to the tsunami rebuilding and the rise in tourism that "The Beach" produced. And at night, the island is a hopping party spot, with drink specials everywhere you look and hot young things partying until the wee hours of the morning. This of course, could be a good or a bad thing, depending on what you're looking for.



Related Articles
Editor's Picks Articles
Top Ten Articles
Previous Features
Site Map





Content copyright © 2023 by Ciara Sampaio. All rights reserved.
This content was written by Ciara Sampaio. If you wish to use this content in any manner, you need written permission. Contact Hanny Suriadi for details.