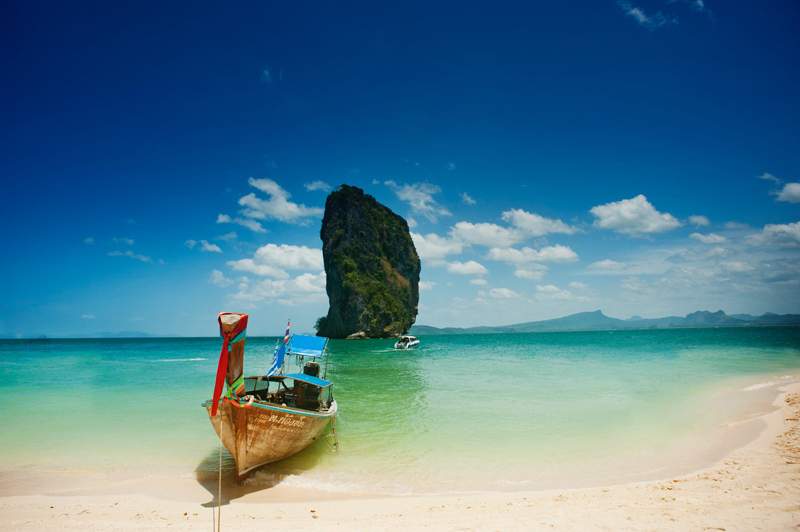 Probably the best known of any Thai dish, Pad Thai is sold throughout the world but is best from the street vendors in the cities across Thailand. It's a quick dish to make at home, so give it a try.

4-6 Servings


1 10-ounce package rice noodles
10-oz pkg. extra firm tofu
2 Tbsp. vegetable oil
1/4 cup chopped peanuts (or cashews)
1 shallot, minced
4 cloves garlic,minced
1 Tbsp. tamarind paste, dissolved in 3 Tbsp. water
2 Tbsp. sugar
2 Tbsp. fish sauce
1 t ground dried chili pepper
2 eggs
2 cups bean sprouts
2 cups scallions, chopped (reserve 1/4 cup)
2 limes


Soak rice noodles according to package directions. While noodles soak, dice tofu; set aside. Ideally, everything should be chopped and ready to go into the wok when it is hot.

Heat wok (or large saucepan) over medium-high heat, add oil. Add peanuts and roast until they are toasted; remove and set aside for garnishing.

Add shallots, garlic, and tofu, cooking until browned.

Drain the noodles (they should be soft, but not mushy) and rinse with cool water. Add them to the wok and stir quickly to keep them from sticking. Add the dissolved tamarind, sugar, fish sauce, and chili pepper. Continue to cook over medium-high heat, stirring constantly. If there is liquid still at the bottom of the wok, turn up the heat until it has cooked off.

Push the noodles up the side of the wok and crack the eggs into the pan. Scramble until it's almost cooked, then fold into the noodles. Add bean sprouts and scallions; cook another 2-3 minutes.

Pour onto the serving plate and sprinkle with nuts and reserved scallions. Serve with a wedge of lime to squeeze over each serving. Mix it together and enjoy.


NOTE: You can use chicken instead of tofu, if you prefer. Cut chicken breast into slivers and use in place of the tofu. Vegetarians that do not eat any seafood may want to use soy sauce instead of fish sauce.

Fish sauce, tamarind paste and rice noodles can be found at any Asian market as they are staples for cooking in most Asian countries.


Related Articles
Editor's Picks Articles
Top Ten Articles
Previous Features
Site Map





Content copyright © 2022 by Ciara Sampaio. All rights reserved.
This content was written by Ciara Sampaio. If you wish to use this content in any manner, you need written permission. Contact Hanny Suriadi for details.