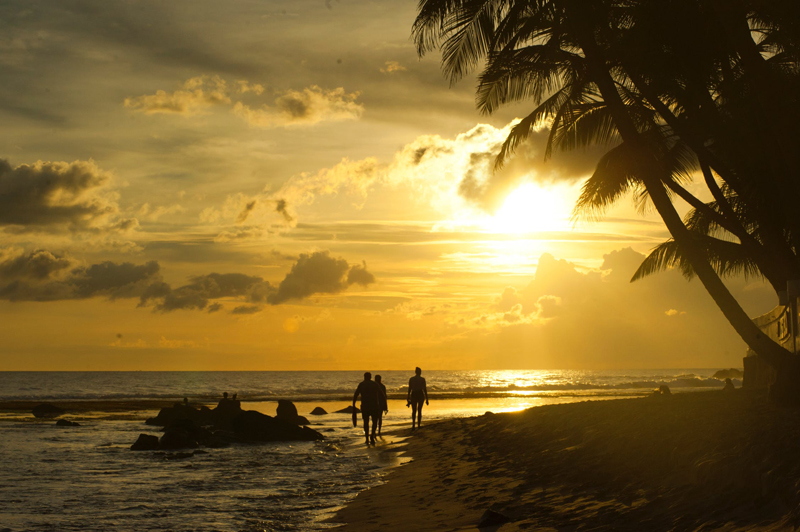 One of the most basic staples of the Caribbean diet is rice and peas. Rice and peas are nutrition rich and provide a good source of protein. It's a simple dish that doesn't require much work. Growing up in Texas, I don't remember eating rice much as a child, we were potato people. Of course rice and beans were served with Mexican food but the flavors of the island dish are completely different. Now that I live in the West Indies, I eat rice four or five times a week and my St Lucian husband loves to cook rice with peas. Primarily he uses lentils but when we get fresh pigeon peas he substitutes them.
The ingredients you will need are:
3 cups of rice
1 can or 1 cup of fresh red peas (either kidney beans , pigeon peas or lentils)
5 cloves of garlic (finely chopped)
1 uncut seasoning pepper (1 jalapeno pepper may be used as a substitute)
3 Scallions or spring onions
1 cup of coconut milk (optional)
1 teaspoon of salt
1 teaspoon of black pepper
2 sprigs of fresh thyme (2 teaspoons of dried thyme may be used as a substitute)
The first step is to soak one cup of fresh peas or beans overnight in a pot of three cups of water. Once your legumes have soaked (if not overnight then at least a few hours to soften), heat a large pot with about seven cups of water and add peas , salt and garlic. Bring to a boil.
If you are using canned peas or beans, there is no need for soaking, I would simply rinse and drain. But as they are already cooked, add these after the rice is almost finished cooking.
Cook legumes for thirty to forty five minutes until soft. Add rice, onion, pepper and thyme. Continue to cook for about forty minutes longer until all water is absorbed by rice. If you are using canned peas, add them after the rice has cooked for a half hour. Your hot, nutritious side dish is ready to serve.
Rice and peas are frequently served as a side dish to pork, beef or chicken, although you certainly could make a main dish of this hearty one pot dish. For a twist to the traditional method of serving, brown some minced or hamburger meat and add to the rice after it is fully cooked.






Related Articles
Editor's Picks Articles
Top Ten Articles
Previous Features
Site Map





Content copyright © 2023 by Lea Ann Fessenden-Joseph. All rights reserved.
This content was written by Lea Ann Fessenden-Joseph. If you wish to use this content in any manner, you need written permission. Contact Nick Marshall for details.