Cacti and Succulent Garden Kits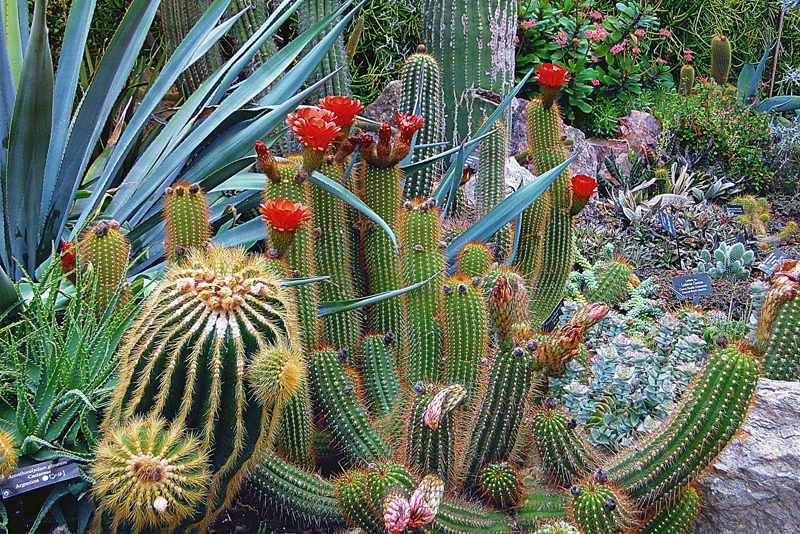 Some gardeners aren't content to buy plants. They like a challenge, and are willing to grow their own from seeds. If this idea appeals to you, cacti and succulent garden kits will be of interest. These are available at retail and online nurseries and garden centers.

The kits come with complete instructions, care manuals, and water-tight, contoured plastic domes. The covers should be removed once the seeds germinate.


The Desert Hothouse Kit

This kit includes a large, oblong, terra-cotta colored planter. It comes with mini-boulders, sand, gravel, and potting soil. This tabletop garden features seeds of over 25 desert species of cacti and succulents. These include yucca, organ pipe cactus, saguaro, century plant, and the Joshua tree. The seeds germinate in about a week.


The Dusty Desert Cacti Kit

This small terrarium-like dish garden is a little over five inches in diameter. It has seeds of easy to grow species, such as fishhook barrel cactus, the organ pipe cactus, golden barrel cactus, saguaro, and others. The planter is small enough to fit on a dish or tabletop.


Rock Garden Planters

Both the Desert Rock garden kit and the Soothing Aloe Rock Garden kit come with their own handcrafted rock planter. These rock planters can be used indoors or outdoors, depending on your hardiness zone you're in.

The desert kit has seeds of prickly pear as well as the desert marigold, which is a suitable companion plant for cacti. Prickly pear is one of the fastest growing desert species. The seeds will germinate in about a week.

The kit comes with planting mix, seeds, and gravel.


The Wild West Roundup Cactus Kit

Like the Desert Hothouse, the Wild West Roundup Cactus kit comes with seeds of over 25 different species. The difference between the two lies with the container. The Wild West Roundup comes with a plastic planter with 15+ separate compartments for the individual plants. The kit includes cactus planting mix, desert rocks, and over 120 seeds of 20+ species. Children will like the fact that this comes with three background cards featuring wild west scenes.


Odd Pods Kits

Kids will also like the Odd Pods kits in particular. These award winning cactus kits have been popular for several years. They include the same type of multi-compartment planter as the Wild West Roundup kit. The difference is in the color. Those of the Odd Pods are a glow in the dark blue, which is meant to evoke moonscapes. So, you could call this a moon garden if you like. The idea is for kids to create a moonscape with the plants. This comes with three different background cards showing space scenes.

With most of these kits, it is obvious these species are too tender to survive winters outdoors in cold climates.



This site needs an editor - click to learn more!


Related Articles
Editor's Picks Articles
Top Ten Articles
Previous Features
Site Map





Content copyright © 2022 by Connie Krochmal . All rights reserved.
This content was written by Connie Krochmal . If you wish to use this content in any manner, you need written permission. Contact BellaOnline Administration for details.