New Technology in Hair Care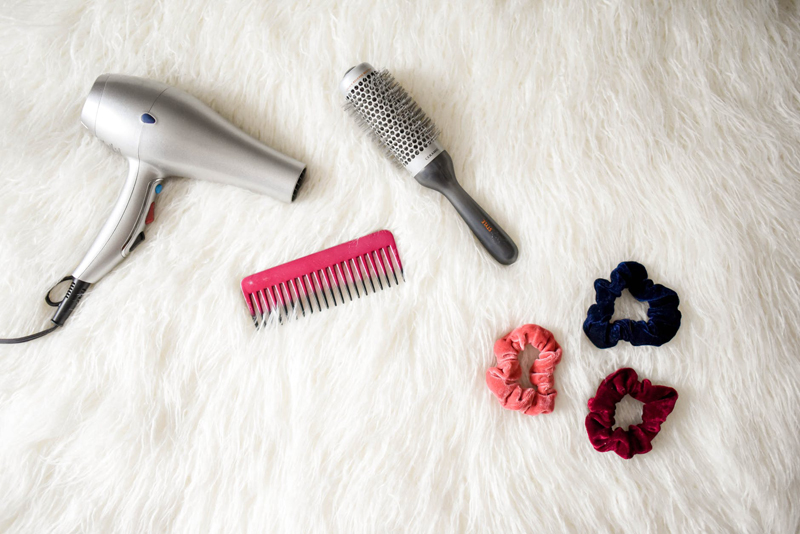 Do you remember when a blow dryer was just a blow dryer and heat was just hot air? Life was easy. We picked up any blow dryer and aimed it at our hair. But, the beauty industry and scientists are always searching for more efficient and safer ways for us to style our hair. When we go out to shop for a dryer or an iron now, we find some new and confusing words on the packaging. Some of the terms are listed here along with my understanding of what they mean and how they may affect the choice of blow dryer, curling iron or flat iron.
Ion

Simplified definition: An Ion is an electrically charged atom or group of atoms. A positively charged ion is called a cation and results from the loss of electrons during chemical reactions. A negatively charged ion is called an anion and results from the gain of electrons.

Ionic Dryer or Ion-Emitting Dryer
I am told that ionizing the air with negative ions helps to break down the water particles in wet hair. They become smaller droplets that can be dried faster, reducing the drying time by up to 60 per cent. Since the hair dries faster, it is exposed to less heat and is kept in better condition. Since the air from the blow dryer is working more efficiently (drying hair faster,) the dryer motor can be of lower wattage than older dryers.

Older dryers used AC motors because these motors lasted longer. The dryers were also noisier because the fan turned faster.
Since the new dryers use ionized air, they can use DC motors that are lighter in weight, They are quieter, the fan turns slower and the motors last longer because of less wear and tear.



EMF means Electromagntic Frequency. I am told that blow dryers that use the lowest EMF to project ions, break down the water molecules for quick drying instead of boiling them.
Ceramic:


Irons: Ceramic is a nonmetallic coating that is used on many new curling irons and flat irons. It can be heated instantly and produces an even constant heat.
Blow dryers: Ceramic heating elements in hair dryers heat quickly and are lighter weight than the older metal coils.

Infrared:
Infrared heat warms the hair from the inside out causing less surface damage. The heat is distributed evenly making it easier and faster to straighten hair.
Nano
Nanotechnology is the technology of nanoscience, meaning very small particles. Nano-sized ions transfer the heat quickly, creating shine and eliminating static.
Ozone
Ozone molecules consist of three oxygen molecules. This is used in some blow dryers to shorten the drying time, improve the health of the hair, hold color longer and eliminate frizz.
PTFC Heater
This was created by NASA and is now used in some flat irons. It produces infrared ions. It produces an even heat that is precise in temperature control and very efficient.
Titanium
This is a light weight metal that is durable and scratch resistant. It produces an even distribution of heat, reduces static and adds shine.
Tourmaline
This is a semi-precious gem. It is a natural source of negative ions and far infrared rays.

The Secrets of Ageless Beauty
Ebook
The Secrets of Ageless Women Secrets gathered from the women with timeless beauty. Learn their tricks and tips for lasting beauty. Whether you use every tip or just one or two suggestions, you will be rewarded with a more youthful and stylish appearance.
This site needs an editor - click to learn more!


Related Articles
Editor's Picks Articles
Top Ten Articles
Previous Features
Site Map





Content copyright © 2022 by Lynne Chapman. All rights reserved.
This content was written by Lynne Chapman. If you wish to use this content in any manner, you need written permission. Contact BellaOnline Administration for details.