Sailing on a Junk in Ha Long Bay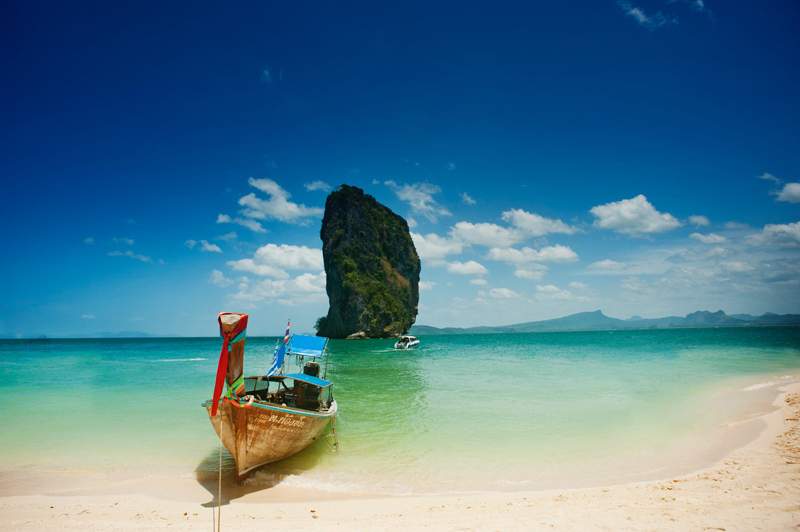 In the water off the northeastern coast of Vietnam, nearly two thousand rocky islands rise straight into the air. The verdant crags create a stunning vista as you travel between and through, making it clear why photographers, foreigners and artists are all drawn here.

For most tourists, Ha Long Bay is a must-see and rightly so—there are few places in the world with similar geological formations. Local stories tell a few versions of how it got its name: Bay of Descending Dragons. The gods, in one tale, sent a family of dragons to help the Vietnamese defend themselves. These dragons spit out jade and other jewels that grew into the islands that fill the bay. Throughout history, Ha Long Bay has served the Vietnamese well in times of war, its channels, caves and scope preventing the landing of enemy ships.

Today, the islands themselves are protected by UNESCO as a World Heritage Site, encouraging both foreign and domestic tourism. Located more than 100 miles from Ha Noi, it's best to take in the bay with a 2- or 3-day tour set up through a travel agent in Ha Noi. This can often be done through your hotel for a basic tour that includes a night on the large pirate-style boats called junks, anchored in the bay, plus meals. Most 3-day tours include one night on the boat and another on the largest inhabited island—Cat Ba Island at the southwest edge of the bay. More luxurious tours can be scheduled with agencies such as Buffalo Tours and Handspan.

The various tours often visit the same islands and highlight the same aspects of the bay: caves, beaches, kayaking, swimming and sales. Several of the islands are hollow and feature enormous caverns that tourists can wander through. A bit gaudy for some Westerners, the caves are lit with bright, colored lights highlighting various formations.

The emerald water is flat and perfect for swimming and kayaking when the weather is warm. As elsewhere, street hawkers are here, too, this time paddling up to the junks in low-profile boats filled with soda, candies, cookies and cigarettes. Make sure to bargain, though, as the prices are highly inflated.

A dozen or so fishing villages are located within the islands, some residing on land, others set up on the water with small floating buildings joined together by ropes. The limestone karsts that form the islands lend themselves to erosion and have some wonderful shapes; kids will enjoy trying to figure out what they look like, but keep an eye out for The Kissing Rocks and other anomalies.

Sailing around Ha Long Bay is best in the summer, when the cool breeze will be appreciated and the sun will shine down for swimming in the ocean water. May-December is best, though earlier in the spring is often a nice for the cooler temperatures.



Related Articles
Editor's Picks Articles
Top Ten Articles
Previous Features
Site Map





Content copyright © 2023 by Teresa Coates. All rights reserved.
This content was written by Teresa Coates. If you wish to use this content in any manner, you need written permission. Contact Hanny Suriadi for details.