Japanese Gardens Book Reviews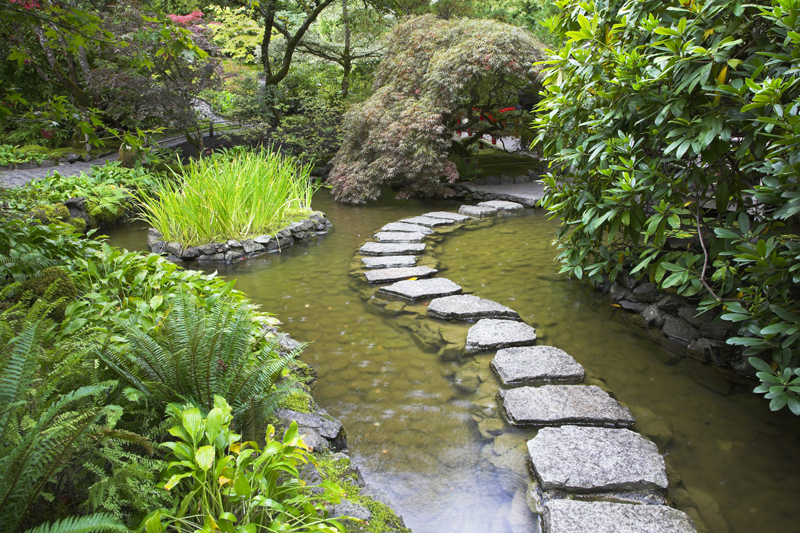 The first thing to consider before starting a landscape project is the garden style. Do you prefer the eclectic, the traditional, or perhaps an updated version of the English cottage garden? For meditative and contemplative purposes, the Japanese garden can't be beat. Here are some books that will inspire gardeners.

"Courtyard Gardens of Kyoto's Merchant Houses" features photos and texts by Katsuhiko Mizuno. This was released by Kodansha America. With 150 lush color photos, it presents the breathtaking beauty of 81 historic gardens. Japanese garden designers have learned to make full use of the limited space, and the results are just stunning.

This provides the complete history and background for each garden with details on the design and garden features. While some of the gardens are now private, others are open to the public. Sections are devoted to various kinds of gardens, including private residence gardens. Another section presents landscapes for restaurants, inns, and tea houses. The third deals with gardens for various retail business locations. There are garden plans and vignettes for each garden.

This also explains the kinds of plants and stones that are used in Japanese gardens. The introduction has an in-depth account of merchant house gardens, covering all the different eras of Japanese gardening history.

"Japanese Gardens-Tranquility Simplicity Harmony" by Greeta K. Mehta and Kimie Tada was released by Tuttle Publishing. Japanese gardens are living spaces that transcend time. This book reveals the essence of these gardens and what makes them different. It provides a comprehensive history of gardening in Japan.

Unlike the West where houses and gardens are separate entities, the Japanese approach is to unite the two into one visual scene. This book offers many lessons for western gardens. It features 23 gardens. Sections are devoted to temples, private gardens, and public gardens. For each garden, there is an in-depth profile covering the history of each garden, its origins and creation, the various garden features, and design techniques. Each garden is beautifully illustrated with stunning photos by renowned photographer Noboru Murata.

The Zen garden is a unique type of Japanese garden design. There's a delightful book on Zen gardens that is sure to inspire gardeners everywhere. "In a Zen Garden-Words and Wisdom for the Zen Gardener" is by renowned artist Judith Glover, who is known worldwide for her exquisite botanical art. She is also an award winning garden designer. It was released by Frances Lincoln.

This is about much more than just garden design. It takes us back to the very basics of the Japanese aesthetic principles. These can be used to create inviting spaces that can restore a sense of peace, harmony, and balance to our daily lives.

In this groundbreaking book, the author accomplishes quite a feat. She combines art with quotes from a range of sources to show how the basic principles of Zen philosophy can be applied to gardening and gardens. For example, while pruning gardeners can practice the act of mindfulness or being in the moment.

The introduction provides background information on Zen Buddhism and Zen gardens, explaining their reverence for nature. She captures the very essence of Zen gardens in a concise, accessible way.

The book is divided into four sections. The first part emphasizes the basic Zen philosophical ideas and how these can be applied to gardens and garden making. Another section focuses on the gardening seasons and how different plants convey a sense of transience. This also explains how Japanese art forms like bonsai and Ikebana can be used throughout the year to introduce the elements of nature into our homes.

This also covers routine garden maintenance, such as pruning and watering.




Related Articles
Editor's Picks Articles
Top Ten Articles
Previous Features
Site Map





Content copyright © 2023 by Connie Krochmal. All rights reserved.
This content was written by Connie Krochmal. If you wish to use this content in any manner, you need written permission. Contact Connie Krochmal for details.