Koh Samui - Jade Waters and White Sands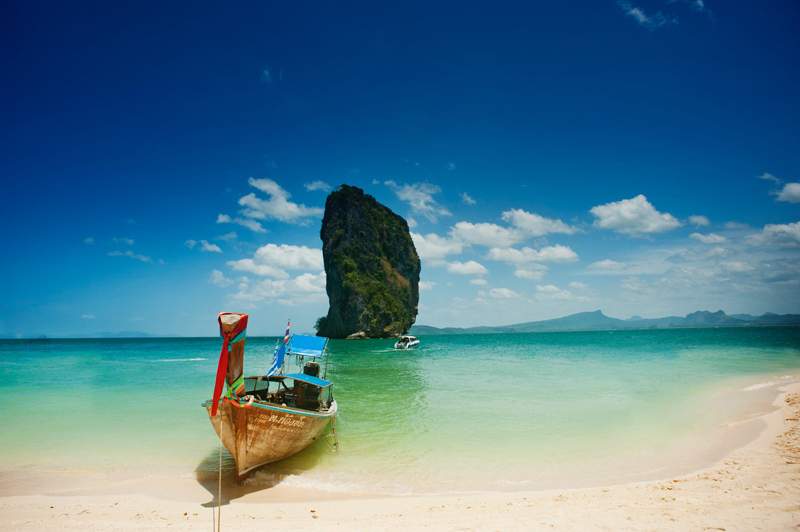 South of Bangkok in the Gulf of Thailand, a tropical paradise awaits. Of the more than sixty islands that litter the blue-green waters of the gulf, only a handful are large enough to handle much tourist traffic.
Koh Samui
has been one of those destinations for more than twenty years, but in the last decade it has become increasingly popular.
It's not surprising that Koh Samui is so well-loved. With its white sand beaches, swaying palms and warm weather, the island is utopia for many travelers. Formerly a district of the Surat Thani province, Koh Samui was granted city status in June 2008 and that fall, cruise ships made their first docking off the coast.
The center of the island remains uninhabitable jungle, surrounded by coconut plantations and exquisite beaches. By far the most popular,
Chaweng Beach
sits on the northeast coast of Koh Samui. If you're looking for the beauty of the tropics and familiar faces, this is the place to go. The beach is lined with resorts and luxury hotels, fast food joints and street hawkers. If you're craving coffee, there's a Starbucks nearby. McDonalds, 7-Eleven, Dairy Queen and Kentucky Fried Chicken have all set up shops here to cater to the foreigners. Nightclubs come to life at sundown with dancing and drinking. Four- and five-star hotels cater to the amenities that luxury travelers want, including Thai massage, wi-fi and private bungalows. South of Chaweng Beach,
Lamai Beach
is growing in popularity and becoming a smaller version of its northern cousin with Western shops and hotels.
On the western side of the island lies
Nathon
, where the locals congregate. There are only 50,000 or so people who live full-time on the island and many of them reside here. For a more honest look at life in Thailand, this is the place to visit where you can enjoy a shopping trip at the outdoor market and authentic Thai cuisine. If you'll be traveling by ferry to the mainland, you'll head out from here. There are several temples in the area, including Wat Chaeng and the gorgeous
Hin Lad Waterfall
south of town.
If you're interested in exploring the island, there are several ways to head out to the beaches with fewer tourists. For the athletic or for wandering around the local beach, you can rent bicycles from various shops or from your hotel. If you're there with another, you can even get a tandem bike to ride. For a quicker ride, or for further destinations, you may want to rent a motorbike or a jeep. You'll be okay driving (legally) if you have an International Driver's Permit or a U.S. Driver's License. For expats, it's best to look into getting a Thai Driver's License.
Other sites on Koh Samui to check out:
Ao Tong Takian is a small cove north of Lamai beach with several resorts. A long-time favorite with hippies, it's now gaining in popularity.


Choeng Mon is one of the smallest of Samui's tourist beaches, tucked into a bay on the northeastern tip of the island. If you're looking for peace and quiet, you'll find it here with the bright lights of Chaweng Beach just a few kilometers down the road.


Lipa Noi is one of the few places to swim on the west coast of the island and is a romantic beach to watch the sun set.


Bang Rak, also known as Big Buddha beach sits on the north side of the island. Famous for the enormous gold-painted Buddha (it's between 15 and 22 meters tall, depending on who you ask!), it also the spot to get on the ferry to the nearby Koh Phan Ngan island.


Related Articles
Editor's Picks Articles
Top Ten Articles
Previous Features
Site Map





Content copyright © 2022 by Teresa Coates. All rights reserved.
This content was written by Teresa Coates. If you wish to use this content in any manner, you need written permission. Contact Hanny Suriadi for details.