Cacti and Succulents as Ground Covers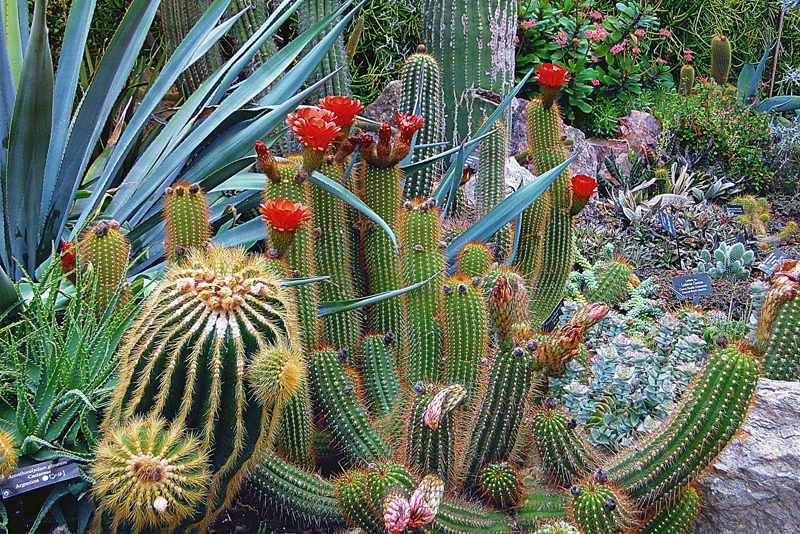 Cacti and succulents can fill many roles in the landscape. These aren't only for beds and borders. A number of cacti and succulents make great ground covers.

The purpose of ground covers is to cover the ground. There are various areas of the landscape where ground covers are very desirable. It may be spots where you don't want to mow, such as slopes and banks.


Before planting ground covers, prepare the soil properly. The spacing
depends upon how many cacti/succulent plants you want to buy. It also depends on how quickly you want the plants to spread and fill in the area.

Apply a mulch once all the plants are in place. Cacti and succulent ground covers will need to be watered on until the plantings are well established.

Be sure and keep the area free of weeds. Digging in the soil often brings weed seeds to the surface where they can germinate. Mulch will help to some degree.

Unless you're planting annuals like moss rose, be sure and choose hardy cacti or succulents as ground covers. Some species are suited to cold weather, while others aren't.

The following kinds are recommended. The low growing aloes (not the tree or bush types) are ideal as ground covers for warm climates. There are a number of species available.

The perennial crassulas are suitable for zones nine and higher. Some of these are mat forming. The recommended species include the silver dollar and club-moss crassula.

Suitable for warm climates, the low growing kalanchoes make great ground covers. These are usually a foot or so in height. The opposite leaves are fleshy. These are mostly native to Asia and Africa.

While it is true that many cacti and succulents used as ground covers need full sun, the snake plant is one that can tolerate some shade. The height depends on the species or cultivar. However, most are one to three feet in height.

In colder climates, annuals like portulaca and purslane are used as ground covers. There are also several species of annual ice plants as well that make great ground covers. Their appearances can vary slightly. Some of these can be grown from seed.

The delospermas or hardy ice plants spread very nicely. Typically, the ground hugging stems form a neat mound. All of the hardy ice plants make good ground covers. Several species and varieties of hardy ice plants are available. The hardiness and flower color can vary from one kind to another.

Though the yuccas or Adam's needles tend to be upright, these hardy plants are great ground covers for hot, dry sites. There are a number of species and cultivars available with the hardiness varying greatly.

Many of the hardy stonecrops are used as ground covers. The height and growth habit do vary greatly. So, check the catalog descriptions before you buy. Some like the goldmoss stonecrop are ground hugging or spreading. Others are more upright.

The various spurges or euphorbias are often used as ground covers. The cypress spurge is a favorite. Very hardy, this European native is less than a foot tall. Other recommended ground cover spurges include the cushion spurges and the leafy spurge.

Jovibara or houseleek is related to the hen-and-chick. There are several species. Less than a foot tall, these are hardy to zone five.

Hen and chicks have long been favored as a ground cover. There are so many species and varieties that you can pretty much take your pick of colors. These are less than six inches in height, and hardy to zone four or so.

The echeverias are less hardy than hen-and-chicks. However, they can be somewhat similar in appearance. Depending on the species, these are hardy to zone nine or so. Most are less than a foot in height. However, there are a few exceptions. They produce offsets just like hen-and-chicks.

This site needs an editor - click to learn more!


Related Articles
Editor's Picks Articles
Top Ten Articles
Previous Features
Site Map





Content copyright © 2022 by Connie Krochmal . All rights reserved.
This content was written by Connie Krochmal . If you wish to use this content in any manner, you need written permission. Contact BellaOnline Administration for details.