Rock Gardens with Cacti and Succulents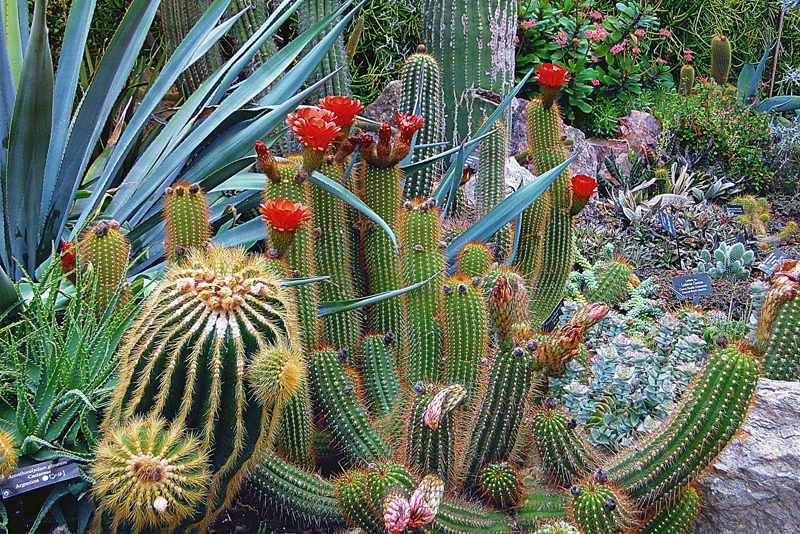 Rock gardens do occur in nature. But most are artificial. These gardens became popular about a century ago. Rock gardens offer perfect conditions for hardy cacti and succulents. This is a great garden project for cacti and succulent gardeners.

Think of a rock garden as a special garden bed. The goal of the rock garden designer is to mimic what one would see in nature.

The definition of a rock garden is simple. It is an outcropping of rocks. This can be natural or artificial. The beauty of the rocks is paired with that of the plants. Natural rock gardens are often on slopes. Between the rocks are pockets of gritty coarse soil where the plants' roots can catch hold.

What makes a rock garden so special is the perfect drainage. This is exactly what most cacti and succulents need.

Building a rock garden for cacti and succulents is a time consuming venture. Select a sunny site. Few rock garden plants need full shade.

If possible, choose a sloping area. The soil will drain better and dry out more quickly after heavy rains.

Avoid low lying areas where storm runoff might collect. In such spots, the soil can remain wet for too long, which is harmful to cacti and succulents.

It is harder to build a rock garden on level land than one might think. If that's what you have, you need to create a slope. Just be sure the runoff has a place to go.

Unless you have a natural outcropping, the soil will need to be excavated to a depth of one to 1½ feet. Replace this with a special rock garden soil mix. For example, combine equal parts topsoil, compost or leaf mold, and sand or fine gravel. Rock gardens are usually mulched with gravel.

Building a rock garden will also require a lot of rocks. About half of each rock will be buried underneath the surface of the soil. So, this means you need larger rocks than you might realize at first.

A rock garden should look casual and informal. So, the spacing between the rocks should be random. When designing a rock garden for cacti and succulents, the aim is to achieve a natural balance so the plantings don't look grandiose or artificial.

Once all the rocks are in place, pack the specially prepared soil around them. Allow the soil to settle into place for a few days before planting.

For the rock garden, choose cacti and succulents with different growth habits. Typically, a combination of rosette types and low mounding ones are used. For visual interest, mix and match hardy cacti and succulent plants with traditional alpine plants, such as thrift and hardy candytuft.

The various low growing stonecrops are ideal for rock gardens. So are the exquisite hen-and-chicks as well as the Lewisias.

A rock garden provides seasonal interest throughout the year with plants having different forms, textures, and colors. Unlike most garden beds where the goal is to have lots of flowers, a rock garden showcases the plants where they can be enjoyed year-round.


This site needs an editor - click to learn more!


Related Articles
Editor's Picks Articles
Top Ten Articles
Previous Features
Site Map





Content copyright © 2022 by Connie Krochmal . All rights reserved.
This content was written by Connie Krochmal . If you wish to use this content in any manner, you need written permission. Contact BellaOnline Administration for details.