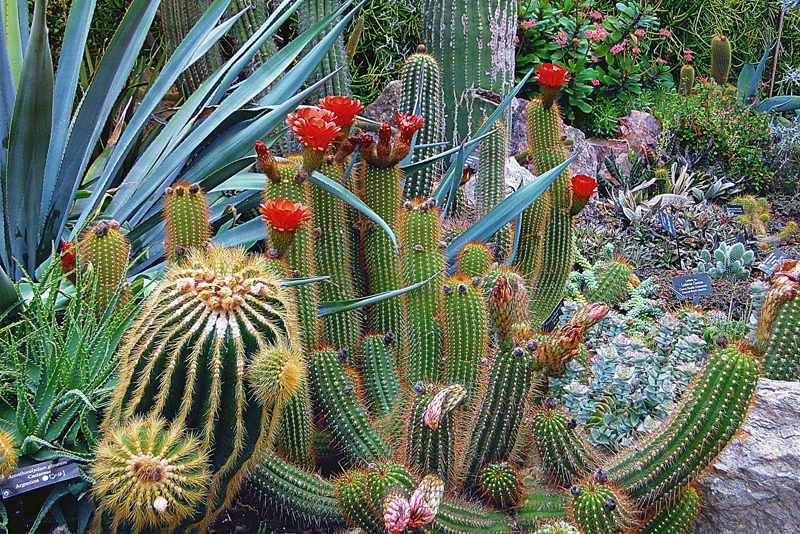 Among cacti, spines are very common. Spines are special plant structures. Though thorns and prickles are similar to spines, they're technically different. A spine is a thin, stiff plant structure with a sharp point. It can occur on a stem, leaf or other plant organ.

A cactus spine is really a kind of modified leaf that becomes rigid and sharp.

In general, most kinds of cacti have spines. The exceptions include the orchid cactus, mistletoe cactus, and a few others.

Spines can add considerably to the attractiveness of a cactus. The color can vary very widely from one species to another. In addition, the color is subject to change. In some cacti, this changes as the plant matures. The colors include black, yellow, red, brown, and white.

The size of cactus spines can also vary widely. While some of the spines are almost invisible, others can reach up to a foot in length.

The spines can be almost any imaginable shape. These include ones that are awl-shaped, spear-like, needle-like, hair-like, and feather. They can be flat, feathery, ridged, conical, round, hooked, or papery. They can even look like bristles. In some cases, the spines take on a very fine appearance like fine down or long hair.

Over thousands of years cacti have developed spines for a number of reasons. These serve practical purposes. For example, these are a means of plant defense. They protect the cactus from browsing herbivores.

In dry climates, spines can also serve other purposes. They capture dew and moisture from the air. This is more common in cactus with downy or hairy appearances.

On cactus plants, the spines tend to form specific patterns. For example, they typically occur in bunches. In some cases, the central spines within a group are larger. However, there isn't necessarily a central spine. The spines can also be arranged almost like the teeth of a comb.

The spines arise from specific points on cactus plants. For the rose cactus (pereskia), the spines form clusters at the base of the leaves. In the case of most other cactus plants, spines develop from cushion-like areas on the surface. These spots are called areoles. These are the point from which all plant growth occurs.

The areoles often form specific patterns of spirals. These patterns can be determined by the Fibonacci numbers. The number of areoles varies from one species to another.

This site needs an editor - click to learn more!


Related Articles
Editor's Picks Articles
Top Ten Articles
Previous Features
Site Map





Content copyright © 2022 by Connie Krochmal . All rights reserved.
This content was written by Connie Krochmal . If you wish to use this content in any manner, you need written permission. Contact BellaOnline Administration for details.