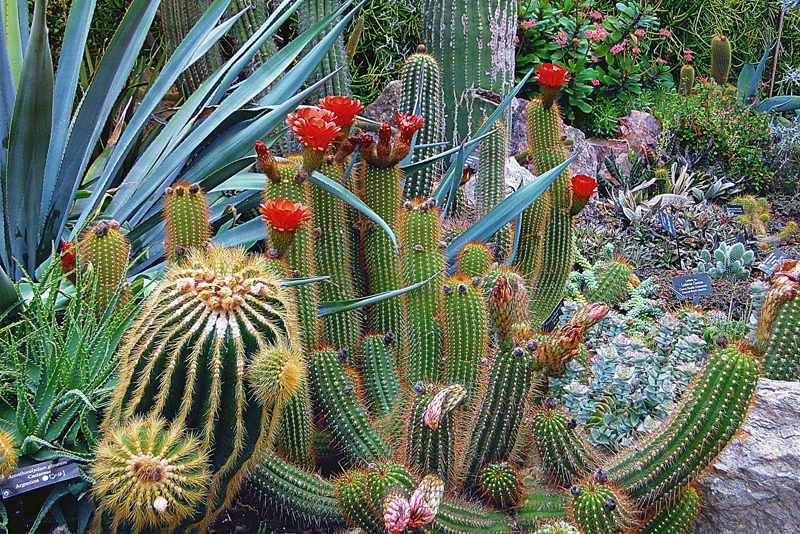 While it is true that many species of succulents have originated in many areas of the world, the same isn't true for cacti. With the exception of one species, these are unique to the New World.

There is a reason gardeners should care about the original habitats of cacti. We have to be able to duplicate these conditions in order to grow the plants successfully as house plants. Details for some specific kinds of cacti follow.

Cacti are native to various regions of the New World. These are often found in deserts, semi-deserts, and plains as well as tropical rain forests.

Cacti occur both in mountainous regions as well as flatlands. Many of them are found at high elevation in the Andes over 15,000 feet in elevations. Though they are also native to the highlands of Mexico, they generally aren't indigenous to coastal areas.

Many of the cacti grown as houseplants originated in deserts with the following being recommended for indoor gardeners. Typically, these will need a dry winter rest and a very well drained, coarse potting soil.

The bishop's cap or monk's hood cactus is native to the high deserts of central and eastern Mexico as well as Texas. These need cool winter temperatures. They're typically occur between 3000 to 6000 feet above sea level.

Old man cactus is a columnar species that occurs in the deserts of central Mexico. It is adapted to dry winds and blazing sun. This needs an alkalaine soil.

The barrel cactus is native to parts of the southwestern U.S. and Mexico where the nights are cool and the days are hot.

The hedgehog cactus occurs in Mexico and the southwestern U.S.

The fishhook cactus occurs from Mexico to Baja California.

While some mammillarias have originated in the West Indies, others occur in central Mexico.

Silver torch cactus is native to much of South America.

The sea urchin cactus was originally from the savannas and pampas of South America.

Cob cactus is native from Bolivia and southeast Peru to Argentina.

The ball cactus originated in sub-tropical South America. These will need watered during the summer.

The parodia is native to northern Argentina, Brazil, Paraguay, and Bolivia.

Crown cactus occurs in Bolivia and Argentina in the savanna and grasslands.

In addition to the desert cacti, a number of non-desert species are widely cultivated as houseplants. These include the following.

The opuntias are a special group for they're native to both temperate and tropical areas. Like the desert species, these need to be kept dry during the winter. From the Galapagos Islands to Canada, the opuntias occur over much of the New World in various climates. These occur in many areas of South America.

The orchid cacti or epiphyllums that we grow are generally hybrids. The original ones were epiphytes in sub-tropical and tropical rain forests of the New World. These need more water than most cacti. They prefer a richer soil and shade.

The Christmas and Thanksgiving cacti were originally from the jungles of southern Brazil where they occur as epiphytes.

Unlike most other cacti, the mistletoe cactus is native to Sri Lanka, Madagascar, and other areas of Africa as well as sub-tropical areas of the New World. As epiphytes, they grow in moist tropical jungles. Treat these like the orchid and Christmas cactus by using a richer soil, filtered sun, and more water than most other cacti.



This site needs an editor - click to learn more!


Related Articles
Editor's Picks Articles
Top Ten Articles
Previous Features
Site Map





Content copyright © 2022 by Connie Krochmal . All rights reserved.
This content was written by Connie Krochmal . If you wish to use this content in any manner, you need written permission. Contact BellaOnline Administration for details.