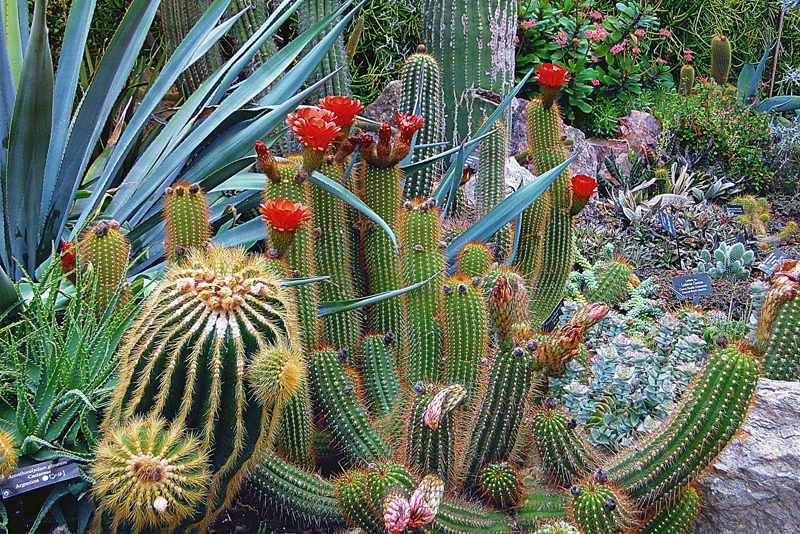 Cactus flowers put on quite a show. They're among the most beautiful in the plant kingdom.

Cactus blossoms often look quite delicate. They can even have a frilly apperance. These can be as exotic looking as orchids. Oddly enough, cactus flowers can look amazingly similar to other kinds of flowers. There are some resemble poppies, carnations, roses, lilies, fuchsia, hyacinths, and sunflowers.

Cactus blossoms can open either singly or in bunches. The flowers arise from a particular area of the plant. This spot is called the cephalium. The cephalium is easily recognizable since it has characteristic features, such as down, bristle, or hair.

About every natural color in the world can be found in cactus flowers. The only exception is blue, which interestingly enough is rare in some other kinds of plants as well.

Among the cactus, you can often see a riot of bright colors. These include yellow, orange, every shade of red and pink, reddish-orange, magenta, lavender, and even different shades of brown. Green is also another color that found in cactus blooms.

Vivid blooms use the color to attract pollinators that are active during the day, such as hummingbirds and bees.

Night blooming cacti often have white or very pale blossoms. This color is able to reflect much of the available light so the blooms will be more visible to night pollinators.

Cactus flowers can also be bicolored. Often, the centers are a contrasting color.

While some cactus blossoms are sweetly scented, this isn't always the case. The fragrant ones tend to be night blooming. The scent serves a valuable purpose. It makes the blooms more attractive to night pollinators, such as attracting bats, and moths.

There are several basic cactus flower shapes. Ones with bell shaped blooms are very common. The cereus has a thick broad flower tube that is bell shaped.

Other flower tubes are elongated with an example being the echinopsis. Small bell shaped blossoms can be found among the mammillarias.

The prickly pears have wide mouthed, bell shaped flowers. Cacti blooms can also be cup shaped. Others with flower tubes have elongated narrow openings.

The Christmas cactus blooms have a pistil with numerous stamens and tepals. The stigma reaches beyond the stamens. The stamens are the male parts of the flowers. These yield pollen. The female part is the stigma, which is receptive to the pollen.

Some cactus blooms yield copious quantities of nectar. Cactus honey is much sought as a gourmet treat.


This site needs an editor - click to learn more!


Related Articles
Editor's Picks Articles
Top Ten Articles
Previous Features
Site Map





Content copyright © 2022 by Connie Krochmal . All rights reserved.
This content was written by Connie Krochmal . If you wish to use this content in any manner, you need written permission. Contact BellaOnline Administration for details.