Cacti and Succulent Safety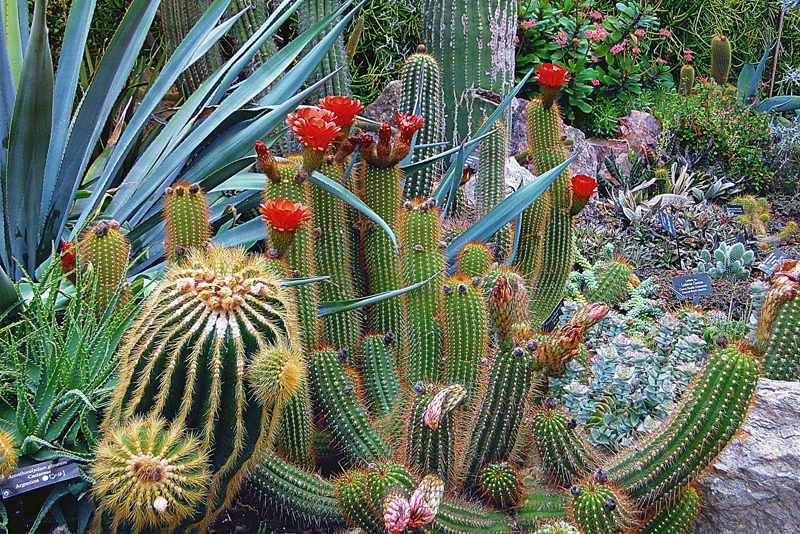 Can an innocent little succulent you bring home from the nursery send you to the hospital? Armed with caution and knowledge, you can keep yourself safe from dangerous plants.

The most obvious dangerous succulent is the cactus. The many spines protruding from its surface are there to protect it. If you brush against the spines or lean on them the spines may end up protruding from your skin. If the problem involves just a few spines they can be removed easily with tweezers. If you are covered with many fine spines hair removal wax can be applied to the skin and pulled off when it sets. If you don't have wax, white glue can be applied to the affected area and covered with thin gauze. Pull the gauze off when the glue dries. Be sure to remove all the spines and wash the skin afterwards. Spines left behind can cause inflammation so if you can't get them out, visit your doctor.

The best way to avoid being stuck by spines is to handle cacti carefully. Heavy leather gloves that come high on the arms offer some protection when you are planting cacti. If you are going to repot a cactus, wrap it in a thick layer of newspaper when handling it. Be sure to place your cacti away from pathways where people may walk into them. The same advice also applies to agaves with sharp toothed leaves and spiny euphorbias.

Some succulents have sap that can irritate the skin. Among these are the agave, Candelilla (Euphorbia antisyphilitica), and Jade (Crassula argentea ). Aloe vera is often used as a treatment for burns or dry skin but the sap of other aloes can cause allergic reactions. The pencil plant (Euphorbia tirucalli) has a milky sap that can cause temporary blindness when it touches the eye. If you are trimming this plant, wear gloves and do not touch your face with the gloves. Eye protection is also advisable if you are trimming a large specimen.

The milky sap of many succulents can also be toxic if ingested. Common kalanchoes (Kalanchoe bossfeldiana) have very toxic sap but poisonings are rare because animals aren't attracted to it. A good rule of thumb is to avoid ingesting any plant sap and to take care that your pets and children do the same.

Enjoy your succulents with these few simple precautions.

This site needs an editor - click to learn more!


Related Articles
Editor's Picks Articles
Top Ten Articles
Previous Features
Site Map





Content copyright © 2022 by Linda Genis. All rights reserved.
This content was written by Linda Genis. If you wish to use this content in any manner, you need written permission. Contact BellaOnline Administration for details.