Pollination of Cacti and Succulents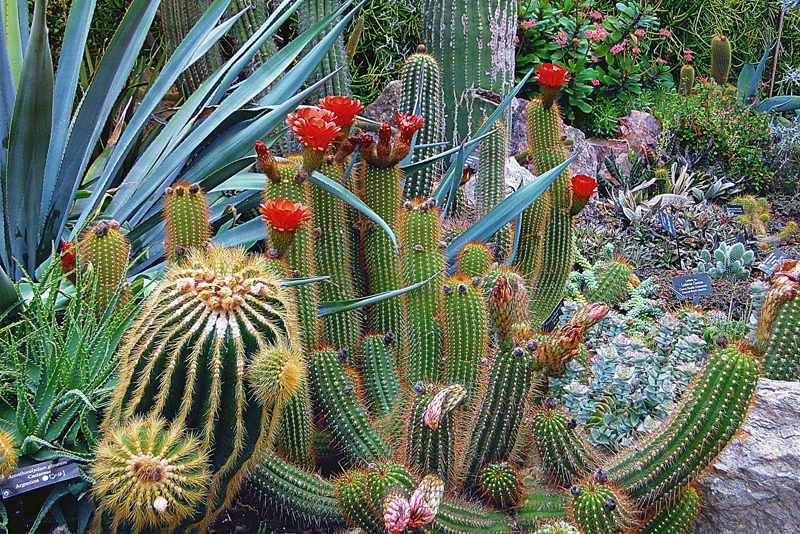 Pollination is critical for most cacti and succulents. A good crop of seeds are needed to ensure the survival of the species.

Under most circumstances, cross-pollination is preferred by most plants in order to sustain a strong healthy plant population. So, self pollination is usually an exception. This does occur in a few cacti and succulents.

In the case of frailea, this cactus takes the route of self pollination. Once considered to be an echinocactus, this is native to South America. These are rather small cacti with small blooms located on the top of the plant. These are unusual in that they can be pollinated without the flowers ever opening. Depending on the species, frailea flowers are often yellow. They open when the weather is sunny. Rather than wait for cross-pollination, the blooms often don't open at all. The reason is that inside the blooms are the seeds,
which were already produced through self-fertilization.

As an aid to pollination, some species of cacti and succulents have developed close relationships with their pollinators. These often rely on a few partner species to carry our pollination. For example, the plants can co-evolve with their animal helper. This is true for yuccas. If the nocturnal yucca moths aren't present, yuccas are unable to produce seeds.

In the case of the Joshua tree, scientists say that the plants in different areas of the Mohave Desert develop flowers for a specific species of yucca moth. There are two species of the moths within the areas. The plant is co-evolving by adjusting the length of the flower canal so this can receive the pollen from the appropriate species of yucca moth. This is a mutual relationship for the female yucca moth needs the pollen for her larvae.

The yucca moth collects the pollen, and shapes it into a ball. Then, she carries this pollen to a blossom of another yucca plant where she lays an egg. She places the pollen in with the egg so the developing larvae will have a supply of food.

Some cacti rely on wild bees that are called cactus bees. As solitary insects, these don't live in colonies like honeybees. The cactus bee is able to transfer just enough pollen to achieve pollination, which is less likely to occur with other pollinators in the area. The cactus bee is responsible for pollinating the barrel cactus, which seems to be disliked by honeybees.

This site needs an editor - click to learn more!


Related Articles
Editor's Picks Articles
Top Ten Articles
Previous Features
Site Map





Content copyright © 2022 by Connie Krochmal . All rights reserved.
This content was written by Connie Krochmal . If you wish to use this content in any manner, you need written permission. Contact BellaOnline Administration for details.